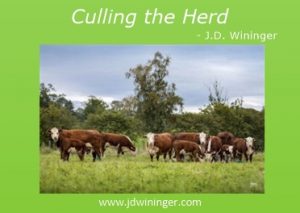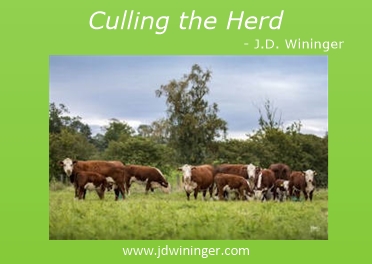 As much as I try to forget this when caring for our livestock, ranching is a business; and sometimes circumstances require tough business decisions. Like any business venture, good managers look at data, consider profit and loss, and decide to either continue investing or end the endeavor. Managing a cattle herd is no different. In our cow-calf operation, if you can't make babies, have babies, or fill someone's freezer, then you are not profitable.
After losing twins and developing mastitis, I realized I could no longer afford a non-productive cow that had lost three out of four calves in six years. Even with the cattle market in steep decline, the cost to feed and maintain a non-producing cow would only cost me more money. Whether it was poor genetics or other problem, "Ms. Lynn" had reached the end of her stay here at the Cross-Dubya. If I was lucky, the cattle auction would bring at least what I paid for her six years ago.
A big, beautiful Hereford, I had high hopes for at least eight years of calves from her. An important part of herd management is maintaining its overall health, vigor, and performance. Allowing animals to linger that don't produce strong, consistent offspring uses up valuable resources that we can apply elsewhere. Culling her was the right decision for my small herd.
I realized our brand carries with it certain expectations. Our Cross-Dubya ranch focuses on raising high-quality beef, always acting with integrity, and putting our Lord first in everything we do. Even though my mind told me that selling her as a "breaking cow" should place her at the higher end of the market, the decision still required prayer. As she dried up, I prayed.
During that time, I pondered a lot about the concept of culling. There were two predominant thoughts that kept coming to mind. The first was the great apostasy, or falling away of the church, the Apostle Paul wrote about in II Thessalonians 2:1-12. The second was the need to look deep into my own life to see what sins needed culling.
There have been warnings to repent, for the end is near for as long as I can remember. While not inclined to wear a sandwich board and stand on the street corner with a megaphone in hand, there is a place in the kingdom for those folks. I applaud them for having enough love for others and the courage of conviction to serve God in that way. I choose to use the megaphone of my words and the way I live my life as my platform to proclaim God's gospel message. Like many today, I too believe we are living in the end times and Christ's return is imminent. With God's name being erased from our national fabric and so many churches embracing worldly values rather than God's truth, it seems the great apostasy is upon us. I wondered, is this God's way of culling His church before the rapture?
How do we withstand the falling away of the church? We stand on the truth of God's word.
Click To Tweet
However, it was that latter thought that disturbed my soul the most. What do I need to cull in my life? I think myself a good man, a Christian man, a kind man. But when I invite the Holy Spirit to reveal what He sees in me, I'm ashamed at how stained my life is by sin. Yes, I know that when God looks upon me, He does not see me but His Son. I realize His blood washed my sins clean at my salvation in 1975, but I've trekked a lot of this world since then—and it shows.
How many of you have ever turned out the lights and looked at your bathroom using a black light? Can I just say it? YUCK! If we are sincere in our desire to see what sins need to be shown in our lives, the words of Psalm 139:23-24 will do the trick when honestly prayed.
"Search me, O God, and know my heart;
Try me, and know my anxieties;
And see if there is any wicked way in me,
And lead me in the way everlasting."
(Psalm 139:23-24, NKJV)
Inviting God to help you see what needs culling in your life can be both difficult and rewarding.
Click To Tweet
In praying this prayer, I started an arduous journey. Asking God to show you where there's more world than word can be disheartening, but it can also lead you to a closer relationship with God. In discovering that my righteous anger was self-righteous anger in disguise, it caused me to rethink how I view the world around me. Recognizing how my sometimes lack of patience isn't because I'm overwhelmed with everything going on in my life, but because I'm selfish and self-important hurt.
As my pastor shared, "When convicted of sin in your life, there's only one thing you can do. Nail it to the cross!" By doing so, we admit we can't live a sin-free life without God's help and God's power. Yet, in His strength, we can do all things (Philippians 4:13). Sometimes culling the sins in our lives is a long, laborious process. But the rewards my friends, they far outweigh the loss.
I pray this week that you invite God to show you what needs culling in your life so you can become a more productive member of God's holy herd.
God's blessings,

Please join me each Thursday evening at 9:30 Eastern as host Coach Mark Prasek and I take a trip Around the Cross-Dubya on PJNET TV. We discuss this week's blog post, offer insight about the lessons learned, and enjoy the fellowship of friends in the live chat room.