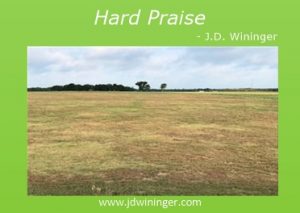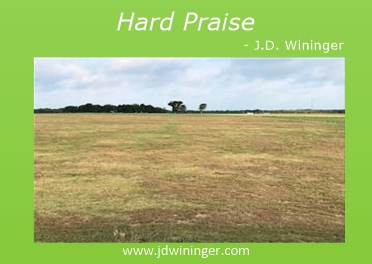 Praying comes easy. Farmers and ranchers spend a lot of time praying. We pray for rain, sun, health, help, and harvest. Praise doesn't always come as easily. It is sometimes difficult to praise God during a trial, but I'm learning that's the time I need to praise Him even more.
A few weeks ago, the Cross-Dubya experienced our yearly visit by armyworms. These carnivorous little creatures can wreak havoc on a lush green pasture, turning it into a brown, inedible mess within days. A type of cutworm, they feast on tender blades of grass; taking needed forage away from our cattle. When the August-September timeframe comes around each year, we begin our watch. There's only been two years since starting our ranch that we haven't had to fight this nasty pest.
As soon as the first brown patches of grass appear, we go on high alert. While it looks like drought damage, armyworms can cause significant damage to grass and some vegetables. They only come above ground to feed during the cool of the morning or late evenings, which is the only time you can exterminate them. We determine the extent of infestation by how many worms (larvae and caterpillars) we find in a square foot of grass. Insecticides aren't sprayed until we see three or more caterpillars per square foot of land. Smart farmers have their spray equipment ready to go in case the late summer invasion occurs.
As a licensed personal pesticide applicator, the use of restricted use pesticides (RUP) is something that we must weigh carefully. While non-RUP pesticides are available, they are less effective and are "contact kill" only. With any pesticide application, there are lots of factors to be considered. Using the right product to achieve desired results, potential damage to plants and other animals, and environmental risks, are all considerations. A major factor in applying any pesticide is the potential for drift, which is how far the droplets from the spray head (the nozzle the liquid comes from) travels. A simple way to think about drift is the higher the wind and smaller the droplet, the more the potential for drift occurs.
With winds varying from 15 to 24 mph, spraying insecticide for the armyworms was out of the question. So what do most folks do around here? We pray for God to calm the wind so we can safely spray the pesticide and eliminate the threat—minimizing the damage these pests can do. Once I discovered the worms, this is what I did. "Lord, calm the winds so I can get out and spray these little buggers before they eat my pastures." It was a sincere, honest, heartfelt prayer. For three days, my prayer went unanswered. I kept praying that same prayer several times per day, as I watched more and more of my pastures turning brown and lifeless.
On day three, it was still windy when I went out to feed around 7am. "Lord, why ain't You hearin' my prayers? And why haven't you helped me out, Father?" I raised my handheld anemometer and faced the wind. Twenty-seven miles per hour! "Lord, You know I can't treat these buggers in wind like this. I need Your help here Lord." About then, I felt my spirit stirring. It led me to look around.
In doing so, I noticed a large flock of barn swallows and other birds where all walking around my western pasture, feasting on armyworms. I shook my head in amazement that I hadn't noticed God's answer earlier. Focused on praying for what I wanted (less wind), I never even noticed God was answering my need in His way and not mine.
How many times have we missed a blessing because we're focused on what we want rather than seeing that God has given us what we need?
Click To Tweet
At that moment, I bowed my head in prayer to ask His forgiveness. How long had those birds been at this? I didn't know. Next, I lifted my hands in praise and joy in my heart as I began praising God for answering my prayer in His way. I marveled at how many birds were gobbling down worms. They weren't flittering about, chirping out their songs. Instead, they focused on eating as many of the caterpillars and larvae as they could.
When I looked at my other two pastures, then the neighbor's fields, I saw the same thing. "Thank you Abba for taking such good care of me." As I was laughing to myself, I told Bubba the dog that I'm not sure if all these birds will get off the ground. "There's so many worms out there, they're gonna be too fat to fly buddy!" He just wagged his tail and reached his head for another rub.
The birds continued to eat worms for two more days until the winds got below 10mph. As soon as I could, I sprayed my and my neighbor's land; ending the 2021 invasion (at least this one). There's always a chance they can come back until the end of October or so, but we seldom get more than one major infestation per year. I'm praying this year is the same.
The lesson I've taken from this is how important praising my way through trials is. I focused so much on God giving me the answer to the problem I wanted that I became oblivious to the fact that He had already answered my need. Not the way I wanted, but the way He chose to bless me. Yes, prayer is important, but we can't forget our need to praise God amid our troubles. When we do, we may find the blessing has already arrived.
Praising God during our trials helps us focus on the blessings He's already given us.
Click To Tweet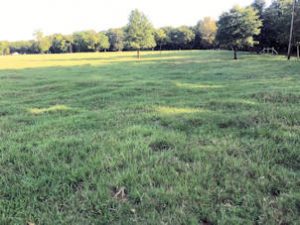 Because I praised Him for His answer, God continued to pour out His blessings upon me. In the week that followed the horrific loss of much of my summer grasses, including my new crop of summer forage, God brought two-and-a-half inches of rain. Unheard of in north Texas in August, the much-needed rain has reinvigorated my pastures and the lush green Bermuda grass has mostly returned.
The most wonderful gift I'm discovering on this journey called my Christian walk is that I never stop learning as God continues to pour His lessons into my life. I pray you also find things to praise and ways to grow in your journey.
God's blessings,

Please join me each Thursday evening at 9:30 Eastern as host Coach Mark Prasek and I take a trip Around the Cross-Dubya on PJNET TV. We discuss this week's blog post, offer insight about the lessons learned, and enjoy the fellowship of friends in the live chat room.