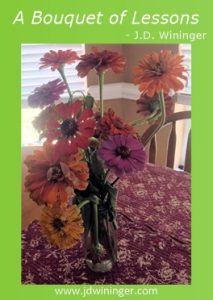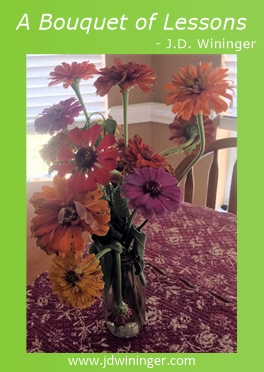 I watched her for over two years before stopping at the roadside stand. She toiled six days a week, often under a scorching Texas summer sun, tending her garden. I long admired her beautiful and simple flower arrangements. The collection of colorful daisies, zinnias, and other floral accents brightened the long trip from our Cross-Dubya ranch to the city.
Weeks ago, on my way back home, I finally stopped. A hot summer's day, I pulled onto the roadside and walked back to her flower stand. Awash with color, it stood in stark contrast to the browning pastures, cattle-dotted fields, and nests of modest homes that line the highway between Cooper and Sulphur Springs. As she wandered out from her flower garden to greet me, the weathered and slightly stooped dear sported a broad smile that said "Welcome."
As we spoke, I learned a bit about her flowers. I noticed the new building under construction at the back of their lot. Would it become a potting shed, or perhaps a meager dwelling? I didn't know, and it didn't matter. What I knew was I was intent on purchasing one of these bouquets for my waiting bride.
After inquiring about the cost, I purchased two. Arranged skillfully, the simplicity of the vase only enhanced their presentation. Not a fine crystal vase that comes from the florist, but a small glass bottle that was repurposed to make a fitting container. It's what you would expect from the country folks we live among. After some "Jesus talk" as I like to call it, I thanked her for the beautiful flowers, skill at arranging them just right, and promised I would be back.
Grateful for the unexpected gift, Ms. Diane placed one near her workspace and the other became our kitchen table's centerpiece. I love being able to brighten someone's day with a simple act of kindness or acknowledgement. That day, I made my very best friend's week. We both enjoyed their fragrance and beauty as we went about our days.
A small act of kindness often shows the love we have inside.
Click To Tweet
As cut flowers do, they start losing their luster after a few days. And even though you replace the water, add part of a crushed aspirin, and keep them out of the direct sunlight, the leaves and petals wilt within days. Sitting down for lunch almost a week after bringing them home, I noticed the pretty flowers weren't as colorful and were drooping. As God so often does, He used that moment to give me pause for reflection and learning.
Lapping up my heated leftovers, my eyes kept drifting back to the dying floral arrangement. I hadn't even noticed my wife had tossed the ones on her desk two days earlier. As my mind recalled verses from John 15, I knew a lesson was coming.
"I am the vine, you are the branches. He who abides in Me,
and I in him, bears much fruit; for without Me you can do nothing.
If anyone does not abide in Me, he is cast out as a branch and is
withered; and they gather them and throw them into the fire,
and they are burned." (John 15:5-6, NKJV)
Yes Lord, speak to me, I thought as I closed my eyes in prayer. As my heart listened, I heard, "Like these flowers, when My people cut themselves off from me, they wither and die." "Why are you doing this to yourselves?" Tears flowed as I realized that while I had thanked God for leading us back to corporate worship with other Christians, I had failed to lament the cost. During the pandemic, which still feels like an endless attack to cause fear and panic, I kept my family home. We watched several Sunday morning programs (Pastors Stanley, Jeremiah, and others), and we attended virtual church via Facebook Live events. Oh, we kept up on daily devotions reading, prayer life, and study of God's word, but felt something was missing. That something was fellowship with other Christians as part of the body of Christ.
We are not meant to live the Christian life in isolation.
Click To Tweet
The words of Hebrews 10:25 ring true as much today as when written. It is in the act of fellowship that the family of God comes together to bring out not only the best in ourselves, but in others. Our Pastor calls this "doing life together", and I can't think of a better way to describe true Christian fellowship.
Have you made it back to church yet?
Click To Tweet
Thinking about what God was showing me led me to pray His redemption of time lost and praise Him for leading my family back into sweet fellowship with others. Even though Ms. Diane is through her medical issues and surgery, and is continuing to recover well, we still exercise some caution. I want to point out that fear and caution are not synonymous. Fear is an emotion, based on the worst possible scenario our mind can think of. Caution is the purposeful exercise of care and protection to avoid fear.
Something that has been weighing on my heart for some time now is how fearful many Christians (and others) are over Covid. Is it a terrible illness/disease that has the potential to take lives? Absolutely. A statistic seldom shared though is that Covid deaths in 2020 were far behind those attributed to heart disease and cancer, both here in the US and around the world.
Many have allowed the fear of this latest virus to keep them from living their lives. If you're in this category, and please know I'm not judging or suggesting your fears are unreal, I encourage you to ask yourself this question. Do you believe that any illness or disease will take your life one millisecond prior to the time God ordained before you were born? Whether Covid-19 or a cement truck running a traffic light, your life will not end any sooner than God has determined. Let us once again live our lives with #FaithGreaterThanFear and rejoin the body of Christ in the fellowship we need to navigate and prosper in this world.
God's blessings,

Please join me each Thursday evening at 9:30 Eastern as host Coach Mark Prasek and I take a trip Around the Cross-Dubya on PJNET TV. We discuss this week's blog post, offer insight about the lessons learned, and enjoy the fellowship of friends in the live chat room.