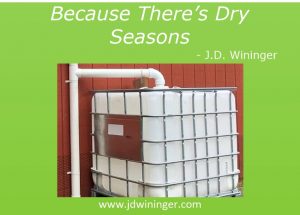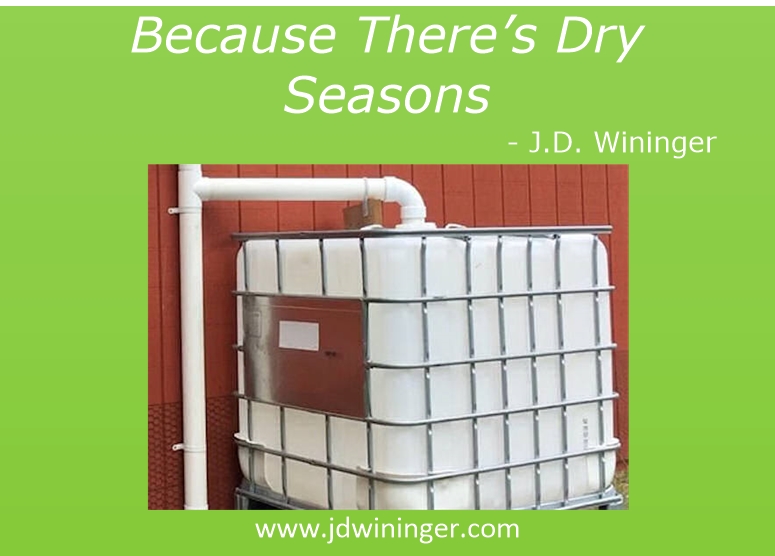 Sometimes our lives become a desert, devoid of the life-giving water that normally flows through our souls. It doesn't always happen in the heat of summer, but can happen in the midst of a cold, dark winter season. I've experienced thirst in both. In the heat of battle, when adrenaline is coursing through our body, we aren't even aware of our thirst. During a winter of discontent, our lives can become so cold and desolate that our heart pipes freeze and the water of life cannot flow.
My writing friend, Mrs. Christy Bass Adams, shared a post in June (Real Rain – Christy Bass Adams – Learning As I Go) that inspired me to write this post. I had written the idea for this post in my Idealog almost two years ago, but never got around to writing it. Ms. Christy's post reminded me of a concept God showed me in 2018. That concept was the importance of being prepared for dry seasons.
Like now, during that hot summer, we experienced long dry spells with low humidity and temperatures in the 100s. Not willing to spend money to water the fruit and nut trees around our home, I watched as peaches, pears, apples, and pecans dried up and fell to the ground. My grass, trees, and flowers dried out and turned brown and appeared lifeless. Then, with a rare afternoon rain, some life and color returned to our yard. I decided that year I needed to build a rainwater collection system.
Using IBC totes, rain barrels, and some good old common sense, I developed a system that reroutes the rainwater from my gutters into storage containers I can use later. With this system, I collect a couple thousand gallons of God-provided, nutrient-rich, rainwater I can use around my yard for plants and our fruit trees with each good rain. The water from the metal roofs on my barns is safe for human and animal consumption, so I use it to water the livestock.
I also use county water to keep my cattle hydrated during these hot summer months, but it isn't free. Nor is it nearly as nourishing. Stored rainwater allows me to keep the fruit trees in good shape during the hot Texas summers. God-provided water is nitrogen-infused and has other natural minerals that plants need. An interesting fact is that rain from a thunderstorm contains more plant-enriching nitrogen than a soft rain.
The reason for that is because the storm's generated lightning has enough power to break the bonds of the nitrogen gas molecules found in the air. This results in having free nitrogen atoms that can combine with oxygen atoms to create nitrates, which dissolve better in rainwater than nitrogen gas. Most plants can't use nitrogen gas but can use these nitrates. This makes thunderstorm rain even better for our plants and trees.
God-provided water does more than hydrate, it nourishes.
Click To Tweet
So now that the science lesson is over, let's focus on the spiritual lesson God showed me. While praying about this system, God showed me a wonderful lesson. He reminded me of the many times I've experienced dry seasons in my life, and how His word written upon the storehouse of my heart has sustained me.
How does the living water of God's word sustain you when you thirst?
Click To Tweet
Although I love all of God's word, the Psalms have always held a special place in my heart. I think my fascination with them comes from my ability to relate them to events and seasons in my own life. In preparing to write this post, I thought about how many times I've likened myself to Psalmist who cried out with a thirst that only God can satisfy. Often, as I complete chores around the Cross-Dubya, my mind recalls one of my favorite verses from the Bible. This happens as I come to a stop atop the hill on the western edge of the ranch or under the pine trees near the barns.
"As the deer pants for the water brooks,
So pants my soul for You, O God." (Psalm 42:1, NKJV)
When my soul is parched and dry from spiritual drought, I seek to draw from the storehouse of God's word written upon my heart. Like my rain catchment system, my plants and animals can drink from that which has been stored for this time. In the same way, I can drink from the well of living water that is stored up within me. Also like my rainwater collection, if I don't replace the water used, I too will begin to run dry.
Lord, please refresh us with Your heavenly rain. (Isaiah 44:3-4)
Click To Tweet
My prayer for you this week dear friend is that you allow God to refresh your soul and help you store up His living water for those times in the future that you will thirst for Him.
God's blessings,

Please join me each Thursday evening at 9:30 Eastern as host Coach Mark Prasek and I take a trip Around the Cross-Dubya on PJNET TV. We discuss this week's blog post, offer insight about the lessons learned, and enjoy the fellowship of friends in the live chat room.