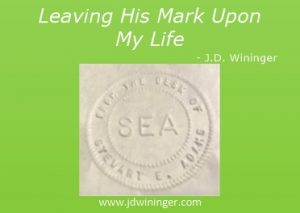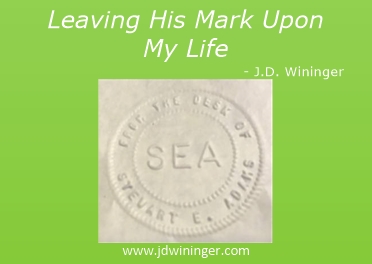 Three letters, S-E-A. Who could ever imagine the magnitude of the legacy they would leave behind? When did I first see those initials? That's right, it was when I was helping mom reconcile the Napa Auto Parts charge tickets at our family's Texaco station. Asking who signed for those parts, mom replied, "That's Dad's signature boy. Don't you even know his name?" I knew folks called him Stewart, Stu, or Mr. Adams, but his initials were new to me. I wondered what the "E" stood for.
My dad used his initials to sign everything. Checks, charge tickets, and fuel invoices. Some months later—when watching him pay shop bills one evening—I noticed he used an embossing stamp that lived on his desk on every check he wrote. The large brass stamp had a lever that majestically pointed skyward above his desk. Its polished surface looked so impressive to a poor kid who had never even seen a desk outside of the schoolhouse before. I asked him once why he embossed every check.
His response was profound to a 15-year-old. My dad took a sheet of paper and placed it between the jaws of his fancy desk tool. Then he lowered the lever, returned it to its upright position, and withdrew the paper. Dad invited me to run my fingers over the embossed seal. Pretty impressive, I thought; it's like it becomes official or something. As I looked at him, he explained. "That seal is my mark. There's not another one like it, it's mine and mine alone. It's my guarantee that I will stand behind every document bearing that seal."
He explained how he viewed that stamp as a sign of his integrity, honor, and faithfulness. "I want my name to mean something", he said. "When I emboss each check, I guarantee that I will stand behind it. It is my promise to stand good on everything I do." I didn't realize it back then, but I had received my first lesson in what it meant to Ride for the Brand. Words like honor and integrity weren't mere words to my dad. He taught me their value by the way he lived them out in his life.
I think back over the decades of my life and I can remember how business people would greet me, even long after I had left working at dad's garage. They would ask, "You're one of Mr. Adams' boys, aren't you?" With my affirmation, there was nothing more that needed to be said. His name was all the collateral I needed for store credit, bank loans, and help of any kind.
What does your brand mean to others? Does your mark reflect Christ's presence in your life?
Click To Tweet
After dad's entry into Heaven's glory, my sister Sue asked me what I wanted of my dad's possessions. I shared he had long ago gave me his vintage 1940s armature lathe and how I display it in the farm office in the workshop. I added that rather than the Model T or anything of value, the item with greatest value to me was his brass embossing tool that sat on his desk.
With no markings to show date of manufacture, my Dad's embossing stamp could be as old as I am. I noticed when he lived with us here in Texas that the upper portion didn't make as good an impression as it did years ago. Another example of how my dad impacted my life appeared as I applied the problem-solving techniques he taught me as a young man. The summary of this technique—of which I've benefitted from my entire adult life—consists of examining the issue, understanding the root cause, and then applying a corrective action.
Can you think of some lessons others taught you that continue to bless your life?
Click To Tweet
Like his life itself, the old stamp showed the visible signs of a lifetime of faithful service. Its once-perfect finish now tarnished and worn; and it doesn't work as well as it used to. In noticing how my dad's embossing stamp had been well-used and worn down through its life, I considered how the same thing happens in our lives. Our levers are depressed and pressure applied from all sides many times (2 Corinthians 4:8-10). When we are in Christ, however, the more we allow God to use us, the more valuable we become in His kingdom.
Theorizing that the lever and piston shaft were worn down through the many decades of use, I placed a penny between the upper plate and the piston. To prove my theory, I stamped a Post-It note. The entire image was once again crisp and clear. We solved another problem together Dad. Thank you again for your many gifts.
As my days of celebratory grieving for my dear friend, confidant, and mentor continue, I pray God fills them with precious memories of the lessons he shared. I hope many of you who have lost parents, grandparents, and other loved ones who enriched your lives will reflect upon the marks they left upon you. Also, I pray you will consider the mark God has left on your life in Christ. If you can't see it clearly, then dear friend, it might not be there. Jesus Christ can remedy that with just one heartfelt request.
Do others see God's mark imprinted upon your heart?
Click To Tweet
If not, then you can solve it using my Father's problem-solving technique.
Examine the issue: Lack of salvation.
Identify the root cause: The sin curse upon mankind.
Apply the corrective action: Surrender your life to God's matchless grace, available only through Christ's salvation.
God's blessings,

Please join me each Thursday evening at 9:30 Eastern as host Coach Mark Prasek and I take a trip Around the Cross-Dubya on PJNET TV. We discuss this week's blog post, offer insight about the lessons learned, and enjoy the fellowship of friends in the live chat room.