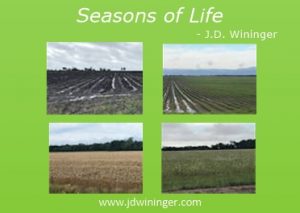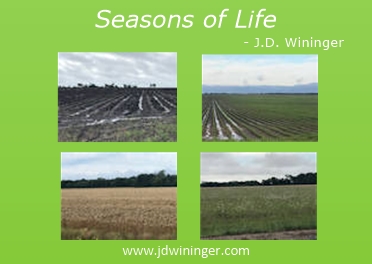 Among the many joys I find living in what we call "God's Country", being able to experience nature up close and personal everyday ranks high on my list. It's there in His created beauty that I most easily connect with God. Recently I was driving to Bonham, TX for an appointment. As in most rural areas of this nation, the backroads are often the most direct route, which means I get all the nature I want. It ranges from dense forests and rolling hills to pastures filled with livestock and lots of farmland.
On this day, God grabbed my attention on a two-mile stretch along a desolate country backroad to share a spectacular lesson with me. As noted in the four photos above, I drove past four adjacent fields, each in a different season of growth. In this microcosm of nature, God brought Ecclesiastes 3:1-8 to the forefront of my mind.
To everything there is a season,
A time for every purpose under heaven:
A time to be born,
And a time to die;
A time to plant,
And a time to pluck what is planted;
A time to kill,
And a time to heal;
A time to break down,
And a time to build up;
A time to weep,
And a time to laugh;
A time to mourn,
And a time to dance;
A time to cast away stones,
And a time to gather stones;
A time to embrace,
And a time to refrain from embracing;
A time to gain,
And a time to lose;
A time to keep,
And a time to throw away;
A time to tear,
And a time to sew;
A time to keep silence,
And a time to speak;
A time to love,
And a time to hate;
A time of war,
And a time of peace.
(Ecclesiastes 3:1-8, NKJV)
With that, I had to pull over, turn around, and park on the side of the road to consider what He was showing me. As I considered each field, I asked God to help me understand what He was teaching me.
In the field prepared for the coming cotton crop (top-left), the ground was tilled and the cotton bedded (to prevent its feet from getting too wet). God brought the words of Hosea 10:12 to mind; helping me understand that sometimes God has to till my soul deeply. In this way, He prepares my soul to accept the seeds of righteousness He wants to sow within me. This field showed me how God must sometimes prepare the soil of our heart for planting His word.
In the field next to it was an emerging corn crop (top-right). The planted seed had sprouted and was in tillering stage (an early stage of crop growth). During these early growth states (commonly referred to as V2 to V6), the young plants are extremely vulnerable to disease, pests, and other threats. As I considered the beautiful, straight, long rows of corn (I love rowing up a nice stand of row crops), I thought of the words of 1 Corinthians 3:1-3. Like young corn, new and immature Christians are very vulnerable during their early stages of spiritual growth. Another similarity is that like the corn, we can't always know at this stage the quality or quantity of the harvest they'll produce.
Two fields down was a beautiful field of winter wheat (bottom-left), ready for the harvest. I thought of Hebrews 5:14 as the morning's soft breeze filled my nostrils and my heart sang "… amber waves of grain". I thought of the mature wheat, full, hardened, and easily separated from the chaff. When they harvest this crop, some of the seed will fall to the ground; and if not eaten by birds, new plants will sprout up.
Between the corn and the wheat lay a fallow field (bottom-right). It was purposely lying dormant for a season of rest. With Psalm 23:2 echoing in my head, I thought about the many times in my Christian life when it seemed my personal growth and ministry efforts were in neutral. Not gaining or losing, I felt God placed me in park and at a slow idle. Little did I realize it was in those seasons that God was allowing me to rest after a hard-learned period of growth as He prepared me for what was coming. It hasn't always been easy, but I've learned that when I find myself fallowed, I accept the opportunity for rest, recovery, and await God's leading. When I was young in my faith, I wanted to be the next Billy Sunday or F. F. Bosworth. Sitting in park and idling meant I wasn't doing God's work. I was too immature to realize God was doing His work in my life during those periods.
Continuing on my journey, I thought about how all these different fields were in different seasons of growth. It was then that I recognized how God was showing me a microcosm of my life. God orders the seasons of our lives to align us to His plan. I realized that different parts of my life and service to God can simultaneously be in multiple stages. In my Christian writing life, God may have me planting seeds of faith through a manuscript I'm working on. At the same time, another part of my life, perhaps spiritual growth, is fallow and undergoing a season of rest.
The next month, He might have me mentoring a young person or discipling a new Christian—sharing what I've learned in my journey of faith. As I'm maturing like the beautiful golden wheat, I'm learning to trust God in controlling the seasons of my life.
Have you found your spiritual life has different seasons too?
Click To Tweet
In my physical life, I'm certain I'm like that wheat and am nearing the harvest. When I consider my spiritual life, I often think I am much like the emerging corn—having lots of growth yet to do. Looking back upon my nearly half-century of being a child of God, I lament the time I spent as a fallow Christian. When I cry out to God for forgiveness for all those wasted years, I sense Him placing His arm around my heart. I listen as He whispers in that soft still voice, "Yes child, but oh, once I got you primed." I pray He redeems all my lost time in service to Him.
God's blessings,

Please join me each Thursday evening at 9:30 Eastern as host Coach Mark Prasek and I take a trip Around the Cross-Dubya on PJNET TV. We discuss this week's blog post, offer insight about the lessons learned, and enjoy the fellowship of friends in the live chat room.