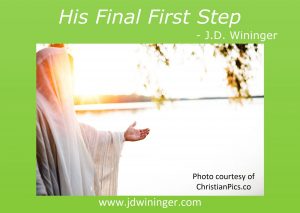 "How can I feel joy when I'm grieving so Lord?" This is the question I prayed as my dad was leaving the confines of this earthly life to enter eternity with our Lord and Savior. The Holy Spirit answered my question by bringing four words to the forefront of my mind. His-Final-First-Step.
It's been nearly two-and-a-half years since I returned my beloved adopted dad to Florida to live out his life. None of us siblings expected he would be with us in 2021. Had the health we helped restore when he was with us here in Texas made a difference? He was on death's doorstep when I brought him back with me after going home to say my last goodbye in 2018. He stated on the ride to Texas, "I just want to live a little more. There's more in the tank." I knew I had to do my best to help him achieve that goal.
I wrote about taking him back home here Going Home – J.D. Wininger, Christian Author (jdwininger.com). I accept that choosing my health over his was actually choosing his happiness over mine. Once he got settled in the family home, he got to reconnect with his oldest son and daughter-in-love who had spent most of their lives overseas as missionaries. He tinkered with his beloved Model T, turned a few more items on his wood lathe, and enjoyed evenings admiring the natural beauty of the lake behind their home. Among his favorite days was going to the family auto repair shop his son Raymond still operates today and watching the busyness and seeing old customers.
Greatly loved by all his children and grandchildren, who visited as often as possible in person or via FaceTime™, he cherished his lengthened days. In recent months, we often spoke of his impending death. He knew his life was ending and although I did my best to prepare him for that day, it was once again becoming all too real to him. Dad told me, "I don't fear death because I know I'll see Jesus and my family in heaven; I fear the dying."
When my dad first came to Texas to stay with Ms. Diane and me, I spent many nights holding his hand, trying to calm his night terrors. It seemed the only thing that helped was my touching him and reciting the 23rd Psalm over and over as he slowed his breathing and regained his peace. In time, I discovered that his fear was of dying. He was afraid of the many unknowns about what was beyond death's door. He knew heaven, but had so many questions. Sadly, I didn't have all the answers he needed.
As he often did, he wandered into my office around 5:00am one morning as I was finishing my "God time." He asked me if I would pray with him to help him find peace with things happening in his life and for answers to what happens when he dies. As we sat together with his once-powerful hands in mine, we did just that. During our prayer, God reminded me of a story I'd read long ago of a man diagnosed with a terminal illness and afraid to die.
He asked his doctor "What lies beyond death" and the doctor responded that "he didn't know for sure."
The patient said, "But you're a Christian! How can you not know?"
The doctor lowered his head. "There are many things that I can't know because God has not chosen to reveal them to me yet. But let me share with you what I know." With that, he walked over to a door in his office and placed his hand on the doorknob. The man heard whimpering behind the door. The doctor opened the door and his furry friend bounded into the room. His tail wagging, his puppy-sized body was quivering with excitement. The doctor patted his friend, then looked at the man. "'Champ' here didn't know what was beyond that door. He's never been in this room before. He did not know what to expect, but he knew his master was there and that was all he needed to enter without hesitation."
The dying man nodded his head in understanding and accepted that we can't know everything that awaits us beyond death's door. For those of us who die in Christ, we will have eternity with our Master and that's enough to cross that threshold into eternity.
Do you have the assurance you need to take that final first step?
Click To Tweet
During today's prayer, God revealed the words "His Final First Step" to me, and it caused me to think about the many first steps in our lives. In my dad's very full and blessed life, some of them included:
His laughter-filled first steps as a small child that brought freedom of movement,
The joy of learning to walk again after spending nearly a year hospitalized and bedridden with Rheumatic Fever as a young boy,
Stepping out with his best girl on their first date,
Surrendering his life to Christ and taking his first tentative steps as a new Christian,
Leading his new wife down the aisle immediately after their marriage in a small Methodist church in Massachusetts,
Taking his children in his hand as he helped them take their first steps,
Becoming a husband, father, provider, and friend to his children,
Purchasing their first home,
Walking his beloved daughter down the aisle as she began her life as wife and mother,
Opening his own business,
Having the courage to adopt a wayward young man into his family and giving him the love, respect, attention, and guidance needed to become a godly man and worthy husband,
Stepping into retirement as he transferred his successful company to his sons,
Taking those first tentative steps after major heart surgery to have valves replaced and blockages repaired,
Stepping out of his bedroom for the first time without his beloved wife of over 50 years beside him,
Getting through that first morning knowing that his youngest son was no longer in this world, and his final first step,
Taking Christ's hand as He led him into heaven's glory with his family members welcoming him home.
There are many first steps in our lives. Some are memorable like those listed above, and others lost to the ages. The one thing each of them required was the courage to take that first step. My dad would tell you that taking that first step isn't nearly as important as what you do afterwards. Words like responsibility, kindness, integrity, honesty, compassion, and service were important words to my dad.
He worked hard to instill those values into each of his children. Another word I think of when I think of dad is "Forgiven." While he may not have been perfect, he was never afraid or ashamed to ask someone's forgiveness, and he was always quick to forgive others. Mr. Stewart E. Adams, my dad, has left his children, grandchildren, and great grandchildren a wonderful legacy of love, compassion, and caring for others. His legacy will guide those of us remaining to continue serving God and mankind so we might honor the memory of a much-loved man.
Have you considered what your life's legacy will be and what influence your life will have on those coming after you?
Click To Tweet
Before dying, my dad lost his ability to speak. In knowing him, I believe he would tell us:
Whatever else you do in this life, reconcile your life to Christ
through God's free gift of salvation, learn His ways, endeavor to be
the best you can be, and don't be afraid to take that first step.
My prayer for each of you is that you consider the legacy you will one day leave behind and you know your eternal destination is secure through God's grace and faith in His Son (John 3:16).
God's blessings,