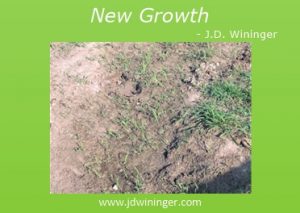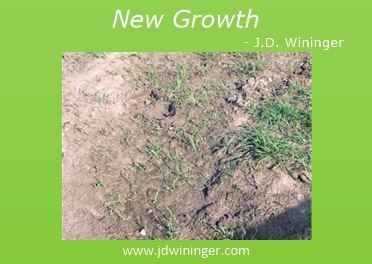 For me, the greatest thing about farming and ranching is how God's word comes to life each day. I relish looking back and seeing where His word was at work in my life. God's principles of sowing and reaping, preparing the soil of our hearts, and growing in Christ have special meanings for those who work the land. Recently, I marveled to see my summer grass emerging from the earth less than 10 days after being sown.
Thanking God when my seed sprouted and the summer forage crop emerged, He reminded me how I am but a co-laborer with Him here at our Cross-Dubya ranch. I thought of the prayerful days asking for the rain to stop and the land to dry up enough I could prepare the soil for planting. There were countless hours spent preparing the land, maintaining equipment, sowing the seed, and harrowing; all of it covered in prayer. Looking across the pasture at all the new growth, I felt a sense of pride well up inside me.
It was at that moment, the words of 1 Corinthians 3:7 sprang forth in my heart. "So then neither he who plants is anything, nor he who waters, but God who gives the increase." (NKJV) With that simple ego check, I knew God wanted my attention on Him. We're each different, but when my heart brings scripture to the forefront of my mind, I recognize it as a learning opportunity. I know God is preparing to pour into my life.
On this morning, God wanted to show me that our work was just beginning. While the seed had sprouted forth with new life, the tiny seedlings were far from reaching their full potential. Sudangrass takes 80 to 100 days to mature, and will grow to reach almost seven feet tall. To reach full maturity, much work remains. Fertilization, hydration, sun, weed control, and rest are all required elements in growing a quality cover crop.
With my hungry cows on pasture, I expect little of it to reach full maturity. Still, if it is to produce the forage I need to grow and sustain my cattle herd, it will require more work. As is always the case, God uses our ranch as His classroom, and on this day He offered an important lesson on growth. He wanted me to understand how I need to be making these same investments in the spiritual growth of my family. It led me to consider in what ways I am sowing, tending, and supporting my family's spiritual growth. How am I helping Him to mature their faith?
And moving beyond my immediate family, God prompted me to consider how I help others around me. My friends, strangers at a store, or brothers and sisters in Christ at our church; the example I set and life I lead affects all of them.
In what ways does your life support and encourage spiritual growth?
Click To Tweet
Writing this, I can't help but think of the young man sleeping in the room next to my den. As Jeremiah is spending some time with me and Nonni Diane, I'm asking myself what seeds I'm sowing into his life. As he grows to become an adult, what lessons from his time around me will he carry forward? Have I shown him compassion, grace, mercy, goodness, and so many other characteristics of Christ? Has he seen Christ in me at all?
Whether or not we realize it, Christians are all "God's farmers", and we each have a responsibility to work alongside Him to help grow other Christians. Have you considered what new growth you promote through your life and the example it sets? We might teach Sunday School, lead a Bible study or discipleship class, help someone understand scripture, or lead our family in prayer at meals. There are many ways we can help God increase the harvest, but I believe it all has to start with ourselves.
For our lives to make a positive impact on those around us, we must first ask God to help us grow. As He pours into you, the overflow will pour into those around you.
I pray this week that we each ask God to show us those areas of our life that we need to grow. Let us endeavor to become better co-laborers in carrying out His great commission, both within our families and the world.
God's blessings,

Please join me each Thursday evening at 9:30 Eastern as host Coach Mark Prasek and I take a trip Around the Cross-Dubya on PJNET TV. We discuss this week's blog post, offer insight about the lessons learned, and enjoy the fellowship of friends in the live chat room.