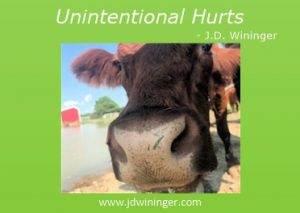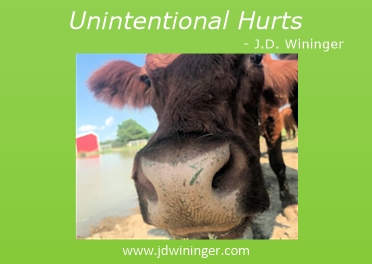 So far this year, I've only broken two toes. It happens innocently enough. As I'm pouring out a bucket of feed into the bunk feeders, one of my cows will get excited and there goes another one. In their zeal to get the first mouthful, they'll inadvertently step on my foot. Not long ago, my sweet "Aunt Louise" stepped onto my right boot before I could get out of her way.
My muck boots aren't steel-toed, so it smarted a considerable amount. I stumbled backward and fell into the mud, which meant the bucket of feed went flying and "Weezy" (as I call her) pressed forward toward me, looking concerned. Of course, that served to increase the pressure and force on my right foot.
After I steadied myself, I tried to pull my throbbing foot from beneath her front hoof. Wasn't happening! So after yelling a few not-so-Christian words (I forgot I knew some of those), I did what any rancher would do. I punched her right in the nose. Not enough to cause harm, but enough to get her attention and cause her to back away.
As she lifted her front leg in retreat, my foot felt like one of those cartoon characters whose foot gets ran over by a steam roller. I hobbled through the rest of my feeding chores, dreading having to pull my boot off when I got back to the house. Would it be bloody? Bruised? Broken? I didn't know, but knew that rascal was hurtin' pretty good.
I couldn't be angry with my beloved mama cow; she's given me the blessing of five beautiful healthy calves, of which I've been doubly blessed by two of them adding four more calves to the herd. Later that morning, I went back out and rubbed her head while I apologized for smacking her. She lowed her acceptance and happily ate the treat I offered her.
A few weeks later, in another pasture, her son "Giuseppe" did the same thing on my left foot. It was a good reminder to always keep your head on a swivel when you're working around large animals. They can hurt you when they do the most normal things if you're not prepared for it. When you've had cow slobber flung all over you before breakfast or one knock you off your feet as they swing their head to swat at a fly you'll understand.
Have you considered in what ways you might unintentionally harm those around us?
Click To Tweet
Thinking about how my carelessness resulted in some broken toes this year, which isn't the first time, God revealed some important truths in my life. Within my spirit I heard, "How many times and in how many different ways do you unintentionally hurt others?" It made me think about how not all hurts are physical. In my life, some of my greatest scars are emotional.
I asked God right then and there to reveal to me how I have unintentionally hurt others in the past. Some of what He revealed was shocking, and led me to repentance. They included:
Poor attempts at humor. How often have I tried to make a joke about someone, only to hurt their feelings or make them feel ridiculed or singled out? I wasn't being funny, I was being mean.
Being worldly. As a Christian, whenever I allow my sinful human nature to rule over me and I act in a worldly manner (thoughts, actions, and words), I harm my Christian testimony. I can't be an effective Ambassador for Christ when I behave like every other sinner. Where's Christ if other don't see Him in me?
Putting my mouth in motion before my brain is in gear. Oh how many times I've been guilty of this. I voice my opinion, often unsolicited, before I filter it through God's word. Often, after it's been said, I feel as bad for saying it as those around me who heard my outburst. Another example is when I feel I have to show I'm the smartest person in the room. In reality, I'm only being far too proud.
I think we're all guilty of these unintentional hurts from time-to-time, but the difference we can make is in our desire to correct them. Too often, we shrug it off; or we justify it by saying, "They're just thin-skinned or have no sense of humor." What we as Christians should do is to go that that person and ask their forgiveness; and then go to God and seek His help in improving our behavior.
As I was praying on this, God reminded me of His words in Psalms 37:23 and 119:133-136. I pray you also consider how your steps can be more measured each day so we avoid causing those unintentional hurts in another's life.
God's blessings,

Please join me each Thursday evening at 9:30 Eastern as host Coach Mark Prasek and I take a trip Around the Cross-Dubya on PJNET TV. We discuss this week's blog post, offer insight about the lessons learned, and enjoy the fellowship of friends in the live chat room.