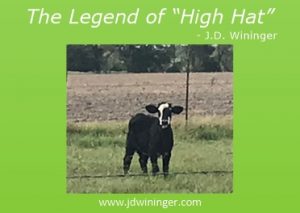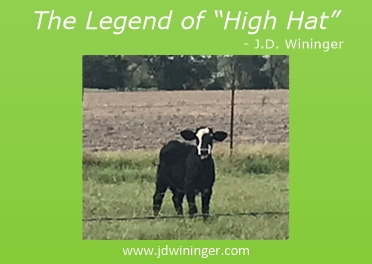 Isn't it funny how words can have a different meaning based on how you use them of where you're from? Growing up, I learned the term "high hatting" meant someone was acting aloof or "better than you", to the point of exclusion. When I became a rancher, I found the term had a much different meaning. While we might still accuse people of high-hatting from time to time, when it's a cow it means they are watchful, nervous, anxious, and jittery. A little calf spent seven months teaching me that lesson.
The tiny black baldy heifer calf looked to be three months old. Turned out a couple of months early, or escaped from mama, she was in the wind. For two weeks, my neighbor Mr. Tom and I would watch the tiny calf make its way from his woods to my north fenceline. With my winter grass coming in, I'm certain the allure of fresh forage was tempting. Each time he or I would attempt to approach it, hoping to identify its owner, the little calf ran away. One morning as I was feeding, I noticed I had an extra cow butt at the bunk feeder—and it was black!
As soon as I started toward it, the little calf bolted away; running to the other side of my pasture. With that, I nicknamed her "High Hat." I checked my north fenceline for breaks in the wire, but there were none. My guess is that she was so small, she slipped between my one and two wires (the two bottom strands on the fence). I let her alone and integrate with the rest of my herd. While I had calves younger than her, and all my cattle are red, she would be easy to monitor. Later that afternoon, most of my herd made their way into the small, southeast pasture.
While she followed along with the rest of my herd, and tried to nurse a couple of my mamas, my girls would have little to do with her. I've learned that cows are like many people in that respect; we're pretty guarded around new folks. True to her nature, she kept her head on a swivel and whenever I would approach the fenceline, she would run and hide. With a safe distance established, she'd stop and look back at me with watchful eyes. I chuckled as she reminded me of a base runner looking to steal second; she'd get a lead, and then at my first move towards her she'd scamper back. As I watched her watching me, I recited Matthew 6:25; and thought about Philippians 4:6-8.
"Therefore I say to you, do not worry about your life, what you will eat or what
you will drink; nor about your body, what you will put on. Is not life more than food
and the body more than clothing?" (Matthew 6:25, NKJV)
Deciding she must belong to one of my other neighbors, I caught her on the east-most end and I closed the pasture gate so she couldn't escape. Knowing my cattle would respond when I called, they all headed for the gate. "High Hat" remained at a safe distance. Soon, all my cattle headed back to my west pasture, and I contained my little friend.
Sometimes, our fears and anxious thoughts betray us.
Click To Tweet
I called Mr. Freeman and told him he could come get his nervous little calf. I thought perhaps they'd rope her, then load her up and take her home. He suggested that as small as she was, he worried he'd break her neck roping from a horse. He asked if I would let her stay with my herd for a few days until I could catch her in my feedlot. From there, we could safely load her into a trailer through the barn. As neighbors do for neighbors around here, it wasn't a problem at all.
It was a brilliant plan, but no one thought to tell "High Hat." Even after I moved the feeders back into the feedlot, she would not enter when I was anywhere around. I would not trap her again. After a month of playing cat and mouse with this nervous little rascal, I just let her hang around. I applied the Matthew 11:29 approach on her; by letting her hang with my calm herd, perhaps it would help gentle her.
Over the next six months, I saw quite a change in the little calf. While not quite a yearling, and never fully accepted by my herd, she calmed down to where I could approach her without her taking flight. As she hung around with my calves, when weaning time came, it was much easier to get her caught in my barn. Once separated from my calves inside the barn, some cowboys working with me that day could load her and take her back to her owner.
With all this taking place while the Covid pandemic was in full swing, I pondered how her anxious behavior and fears were like so many people. During 2020, how everyone wore masks, no one seemed to look you in the eyes or smile, and many were so afraid they locked themselves away saddened me. I wondered if the little calf missed its herd, mother, or fitting in. I thought of how there was little fellowship anymore with churches closed, no visitation with loved ones and friends at hospitals or nursing homes, etc. These things made us divided individuals, rather than community.
Another thought was how the little calf had adapted to living with, yet outside, my herd. She found comfort in knowing she wasn't alone, even though she was outside the group. Oh, they'd let her eat a few bites from the same feeder, and even munch on hay or graze with them. But they never allowed her within the interior of the protective circle. I was grateful that "Frances", my grand dame who had lost her calf at birth last year, let her stay close by.
As I look back on this experience, it concerns me how we as a people are forgetting the importance and blessing of fellowship. We have gotten so comfortable being alone, of living remote/virtual lives, and being hyper-vigilant about everything that we're becoming like little "High Hat." Please friends; don't immerse yourselves so deep into this world that we forsake Christian fellowship and community. It is when we stand together, united, that we are strongest.
God's blessings,

Please join me each Thursday evening at 9:30 Eastern as host Coach Mark Prasek and I take a trip Around the Cross-Dubya on PJNET TV. We discuss this week's blog post, offer insight about the lessons learned, and enjoy the fellowship of friends in the live chat room.