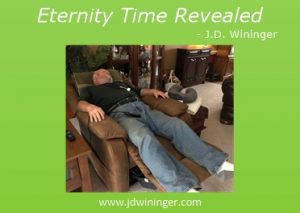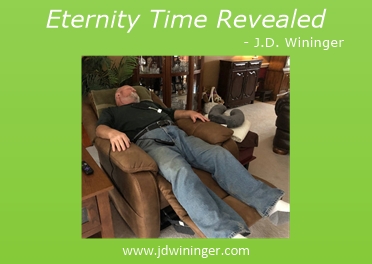 What are those strange sounds coming from the great room? Was that a grunt? What is that infernal racket? And where's JD this morning, he's not in his den? These were the questions running through my wife's mind as she walked down the darkened hallway leading from the bedrooms into the rest of our home.
My wife's announcement she was awake before me and ready for her coffee disrupted my Saturday morning. Most of you know I awaken at o-dark-hundred most mornings to get my "God time" in, comprising Bible reading, prayer, and devotionals, before my day starts. What my wife discovered is that on Saturday's I often have "Eternity time" afterwards. What's that you ask? Allow me to explain.
Eternity time is the term I use for deep meditation with God. Sometimes it starts with prayer; and other times I listen to the Gideon Bible App on my smartphone. Almost always, it moves into the musical portion of the program; often Jim Hendricks' "Country Mountain Hymns", Alan Jackson's "Precious Memories", the Gulf State Quartet, or Joey and Rory's "Inspired". It almost always ends with a peaceful nap.
Without east coast clients sending emails, telephone calls starting at 8:00 a.m., or schedules to keep, I cherish my quiet Saturday mornings. With few distractions or commitments, I can delay getting the rest of my day started; which allows me time to rest in God and recharge my soul. The donkeys braying, calves bawling, and cows lowing while the rest of my world is silent adds to my rest. The fenceline chorus begins just a few minutes after sunrise whenever the livestock doesn't hear the UTV starting. I'm usually well into the nap portion of my meditation by then.
I'm sure some of you may question how effective my meditation is when I end up napping, but let me assure you; it works for me. When I shut out everything else in the world around me, and focus on God alone, He transports me into His presence. No; it's not an out-of-body experience but more, an out of this world one. When I can escape the worries, fears, threats, and challenges of this world, I find the rest and peace my soul often longs for.
It is when I experience God's deep abiding love; which I feel when I push everything else (but Him) aside, that He refreshes my soul.
Click To Tweet
Since discovering my Eternity Time secret, Ms. Diane has found another source of humor in our home. After my afternoon livestock checks or when I've finished the day's chores, I come in the house and wash up. Then she gleefully asks, "You going to meditate for a while now?" I smile, chuckle to myself, and head to my recliner. As she laughs, she adds, "When would you like me to wake you?"
I hope I've brought both a bit of laughter and a small amount of wisdom into your home this week. However your Eternity Time looks, please set aside a few minutes of your busy life to rest in God and let Him recharge your soul. Thirty minutes alone with God—as His word, music to His glory, or silent prayers fill my thoughts—leaves me feeling more refreshed than a full night's rest in this world.
God's blessings,

Please join me each Thursday evening at 9:30 Eastern as host Coach Mark Prasek and I take a trip Around the Cross-Dubya on PJNET TV. We discuss this week's blog post, offer insight about the lessons learned, and enjoy the fellowship of friends in the live chat room.