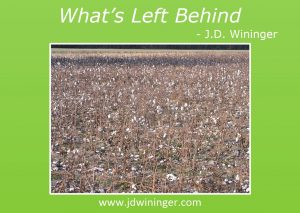 In 50+ years of reading, studying, and teaching, there are two facts about God's word I'm certain of; it's true, and I'll never fully understand it all in this life. Another certainty is that God can, and does, communicate with us using everything He's created. The harvested cotton field (pictured above) is an example.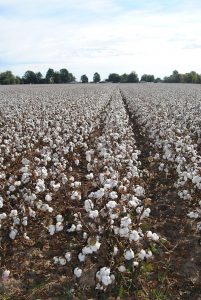 Week's earlier, the vast field was a sea of white as they prepared the defoliated cotton crop for harvesting. As I drove by the field outside of town, the Holy Spirit brought John 4:35 (NKJV) to the forefront of my mind. "Do you not say, 'There are still four months and then comes the harvest'? Behold, I say to you, lift up your eyes and look at the fields, for they are already white for harvest!" I thought about how each boll of cotton represented a Christian soul; and that soon, a mighty harvest of Christ's true church will take place.
In this part of Texas, folks harvest cotton using a cotton stripper, removing the entire boll (seed, husks, cotton fibers, etc.) and some stalk. Depending on the harvester used, they make round bales or transfer the cotton from the harvester to a boll buggy that transports the cotton to a separate module builder. With bales (5,000 lbs.) or modules (20,000 lbs.) of cotton taken from the field to the gin, it leaves a farmer with a field full of stubble. Stubble refers to the dried plant stalks remaining attached to the roots.
Among the stubble was a remnant of harvested cotton fibers that weren't baled up and taken to the gin. At $0.60 per pound for cotton, the white fibers appear quite noticeable against the stark contrast of east Texas blackland. I wondered how much profit was lying on the ground; lost. Less than a month ago, it elated me to see harvest-ready cotton for as far as my eyes could see. Thousands of acres, with millions of pounds of cotton, coupled with thoughts of the coming return of my Lord and Savior left me feeling energized. On this day, looking at stubble and cotton remnants, the same field that was teeming with life felt foreboding, abandoned, and empty. My sense of elation turned to dread.
The stubble from the cotton harvest caused a sense of uneasiness in my soul.
Click To Tweet
Instead of thinking of how successful this year's crop was for my neighbors, my mind fixated on the story of Ruth; and how these fields would not be gleaned. Soon, they would be tilled and readied for planting wheat; or they would lay fallow until the spring planting. My heart cried out, but what of the remnant? As I lay in bed that night, I couldn't let go of those thoughts and images. Unable to turn my mind off, I moved to my recliner to pray and meditate. What are you trying to show me Lord? Help me understand, please.
Somewhere during my plea, my heart heard, "What was left behind is lost. What was expecting harvest finds itself abandoned and lost." In that moment, tears flowed; realizing the remnant of cotton lying abandoned in the field represented those deceived souls of today's church who will experience the coming great tribulation. It is my belief that the coming rapture of the church, whenever that occurs, will reveal a larger number of unsaved Christians than we can even imagine. It grieves my heart to think of how many will suffer because they were deceived.
I wish not to enter an eschatological debate with anyone, as we must each work out our faith for ourselves, based on what's revealed to us through God's word. Nor do I wish to discuss the various views on Dispensational Premillennialism. God's word tells me there is a Judgment Seat of Christ for true believers taken in the rapture (aka the Bema Seat) in 2 Corinthians 5:10. It also speaks of a Great White Throne Judgment in Revelation 20:11-12 for all others. If it's two different events, with two different outcomes, then logic tells me it must be two different times.
Today, there are at least five false gospels being taught in evangelical Christian churches around this nation and world.
The Prosperity Gospel
The Suffer for Success Gospel
The Poverty Gospel
The "God is Love Only" Gospel
The Christ-less Cult Gospel
When I read reports and studies from the Barna Group, Pew Research Center, and LifeWay Research, they show how many self-proclaimed Christians are deceived. As John 14:6 states, there is but one way to reach heaven and that's being saved by grace through faith in the gospel of our Lord and Savior, Jesus Christ.
My purpose of writing this is not to condemn your beliefs or church. Instead, I encourage each of us to take a hard, honest look at our lives, our beliefs, where we place our faith, in whom we place it, and our salvation. If you're not sure of your salvation, then please reach out to me or someone else you trust to help you be sure. I'm praying I'll get to see each of you in heaven's glory one day soon.
How sure are you of your salvation?
Click To Tweet
Until that time my friends, God's blessings; and Maranatha ("our Lord come!").
God's blessings,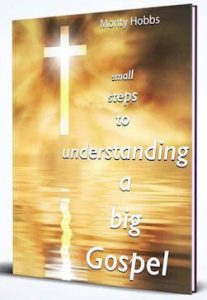 If you're unsure of your salvation or just want to better understand how salvation and your subsequent sanctification works, I highly recommend one of the best books (outside of the Bible, of course) to help you. It was written by a dear friend and brother in Christ, Mr. Monty Hobbs. It's entitled Small Steps to Understanding a Big Gospel. Click the title to preview and order your copy today through the publisher or at Amazon.com.
Please join me each Thursday evening at 9:30 Eastern as host Coach Mark Prasek and I take a trip Around the Cross-Dubya on PJNET TV. We discuss this week's blog post, offer insight about the lessons learned, and enjoy the fellowship of friends in the live chat room.