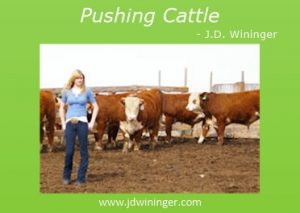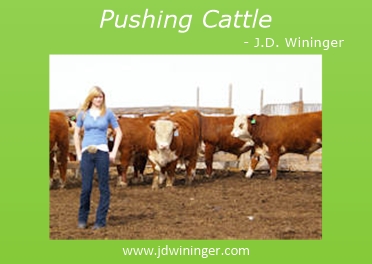 Mr. Dan Boyd, a cowboy preacher from Kansas and Facebook friend, reminded me of a lesson I learned several years ago. His profound statement was; "It's easier to lead cattle, and most people, than push them. Jesus leads, while Satan pushes." His example, like the lesson I learned earlier, came from learning to herd cattle. It's much easier leading them gently than pushing them from behind. While I applied this principle in my professional life for many years, I'm always amazed at how many leadership lessons from those decades transfer to the ranch.
Contrary to what many believe, cattle can learn good manners and be handled and worked safely. Much like employees, the most effective manner is through gentle leading and not demanding pressure. With cattle, I learned the more excited I get, the more uncomfortable they become. The more calm and purposeful I am, the easier they are to work with. Example: If I want to move a cow somewhere, I can either call them or flank them (lead from alongside them). Doing so results in less time and energy than trying to single one out, or pressure them to do something they don't wish to do.
Are you seeing where I'm going here? I hope I'm leading you to understand that we humans react much the same way. Folks always respond more favorably to being asked to do something rather than being forced to do something. Ask me to help and I'll usually respond with kindness. Bark orders at me and I'm apt to tell you what you can do with your order. Sometimes, be it people or unruly cows, you must meet aggression with equal aggression. Then again, I've stood my ground and been run over a few times too. I never claimed God made me the smartest fella on the block.
When I first started working with cows, I would watch people yell, wave, and run-around while the animals became disoriented, nervous, and dangerous. This left me fearful of being in an enclosed area with these large animals. Then I remember watching shepherds and exhibitors at county fairs during the livestock judging. With them, you saw a calm demeanor and intentional actions. Their animals, accustomed to being handled in that way, reacted very differently. I took the latter approach with my herd. It increased everyone's safety, all-around comfort, and cooperation.
It's easier to lead than push.
Click To Tweet
I can't share this message with you without mentioning how our Lord and Savior, Jesus Christ, taught us this principle of living. "Take My yoke upon you and learn from Me, for I am gentle and lowly in heart, and you will find rest for your souls." (Matthew 11:29, NKJV). As He spoke these words, He invited us to yoke ourselves to Him; allowing Him to come alongside, guiding and teaching us how to live a Christian life.
While our Savior is certainly higher than us—and deserving of our praise and adoration—He is humble enough to come down to our level and show us the way. When I worked, I called it servant leadership. I remember telling every team member I hired, "I will never ask you to do something I'm not willing to do myself." There were lots of nights and weekends spent, more than many of them, living up to that statement. I still apply that leadership style today around the Cross-Dubya. To be honest, the livestock respond better to it than some of my team members through the years.
I wonder what the results in our families and churches would be if we all adopted this example of servant leadership. What if when a new Christian comes to Christ through faith, we yoked ourselves to them so we could disciple them from an equal position; rather than authority? Could we do the same with our spouses and children? Can we meet our employees, students, or others at their level?
In my life, the lessons I learned best were the ones my adopted dad taught in his calm, patient manner. Growing me to become an auto mechanic sometimes required every bit of patience he could muster. It required the same in teaching me to be a son, man, husband, and leader. I pray there is someone who can come alongside you and lead you through this maze called human life; helping you to realize the plan God has for your life.
God's blessings,

Please join me each Thursday evening at 9:30 Eastern as host Coach Mark Prasek and I take a trip Around the Cross-Dubya on PJNET TV. We discuss this week's blog post, offer insight about the lessons learned, and enjoy the fellowship of friends in the live chat room.