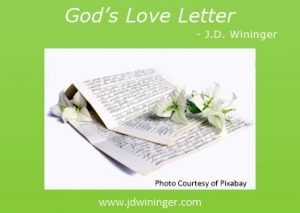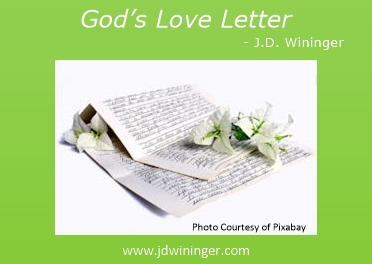 What!? No cows, dogs, donkeys, or farming? Am I sure this is J.D.'s blog? I promise you friends, it's me. But as Ms. Diane sometimes tells me, "I change things up now and again so you don't become complacent." With that thought in mind, I'm led to give this last month of the year to God. In doing so, I pray I honor Him for all He gives me throughout the year. Thank You Lord for all the inspiration, ideas, words, thoughts, and guidance you have given me this year. I love You Lord.
"I love you." Can there be any combination of words sweeter than these three? Most of us, first hear them from our parents. And while we are very young, we develop our understanding of love by the actions done on our behalf. We are fed, clothed, played with, held, hugged, and yes, disciplined with love. It's safe to say that most children are immersed in it, and many don't even realize it.
As we grow, we discover the emotions of love. The first time you hold hands with that special someone. The first kiss shared with them. Your wedding day is dripping with love. Of course, there are breakups, heartaches, grief in the loss of a loved one, and corrections among these moments—all of which demonstrate the depth and breadth of love. Love has varying degrees and takes many forms. Yet, were it not for love, we would not exist. It was from love that God created humankind.
Firmly entrenched among the top 100 words found in the Bible is the word "love." This is the case no matter what translation you choose. That distinction is evidence of its importance to God.
First Corinthians 13:13 reads "And now abide faith, hope, love, these three; but the greatest of these is love." This verse comes right after the Apostle Paul's description of what God's agape love is. Here, we find three amazing "Forever Gifts" from God. By that, I mean that faith, hope, and love are spiritual gifts that once you receive them, they last forever. When I think of those three forever gifts, I have to agree with Paul; love is the greatest among them.
Why? Because God's love is the impetus for the other two "Forever Gifts" from God. Without God's love, we could not attain the initial faith needed for our salvation. John 3:16 settles this in my mind. Without God's love and faith in His word, we would not have hope. When I think on love, the verse that always brings things home for me is 1 John 4:8 (NKJV); "He who does not love does not know God, for God is love." Another thought is this; what did Jesus say were God's two greatest commandments, in Matthew 22:37-40?
For me, John Calvin put it best when he wrote "Because faith and hope are our own: love is diffused among the others." In other words, faith and hope benefit us, the possessor of faith and hope. Love, on the other hand, always benefits another.
When this world starts to get me down; when worldly events and actions do their best to envelop me in their darkness, I turn to God's word to find comfort, courage, peace, and love. The Bible, God's immutable word, is my source for all of these blessings. As I have grown in my faith through the years, I look back at all the years I suffered without this source of encouragement and instruction.
God's word, found only in His inspired Bible, is the source for man's encouragement and instruction.
Click To Tweet
A few years ago, I came across a one page letter written by Mr. Barry Adams in 1999. This letter has comforted many; and helped me achieve a better understanding of God's love for me. His basic premise for this creative work is that the Bible, in and of itself, contains God's love letter to us—His dear children.
Some have argued that this letter is skewed, because it only shows one side of God. Others say it leaves out the fact that God hates sin. To those, I say, "Yes, God hates sin, but with His love He loves the sinner at the same time."
I view Mr. Adams' Father's Love Letter as a forward-looking document. In his letter, he paraphrases the inerrant, forever truth-filled word of God. Each statement made is supported by the Bible. I've attached a downloadable copy of this letter so you might read and refer to often, as I do. I pray you read this with the mindset of not the way this world is today, but how our world will one day be upon Christ's return if you find the courage and faith to follow Him as your Lord and Savior. (Click here to download a copy of Father's Love Letter)
Love is core to God's character and it should be the central theme in the lives of Christians. The law of Christ is to love God and love others with His love. Love is in all that God does and it should be present in all that we, as His children, do. So you see, this post is about my cows, dog, donkeys, ranching, and farming; for all these things are a result of, and benefit from, God's love, residing in me.
As Christians, God's love should be at the core of who we are and all we do—in His name.
Click To Tweet
God's blessings,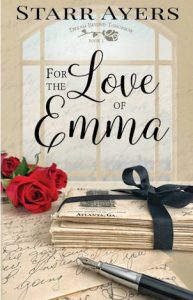 In thinking about love letters this week, I wanted to share with you a few thoughts on a new book, released December 8th, by my friend and fellow author, Mrs. Starr Ayers. I was blessed to read an advanced review copy of For the Love of Emma and was moved to give it a five-star review on Goodreads and Amazon. Here's the link to it on Amazon.com For the Love of Emma: Ayers, Starr: 9781943959884: Amazon.com: Books
I don't read many fiction books these days, but this is one I highly recommend. My Christian fiction writing friends, like Ms. Starr, Mrs. Ane Mulligan, Mrs. Gail Kittleson, and others have greatly expanded my reading world this year.
Please join me each Thursday evening at 9:30 Eastern as host Coach Mark Prasek and I take a trip Around the Cross-Dubya on PJNET TV. We discuss this week's blog post, offer insight about the lessons learned, and enjoy the fellowship of friends in the live chat room.