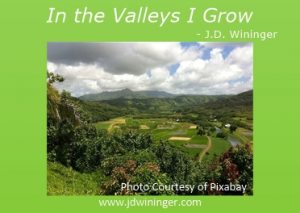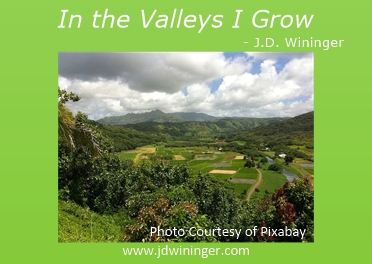 "Mountaintops are for views and inspiration, but fruit is grown in the valleys." Among the countless quotes from Reverend Billy Graham, this one has long been an anchor in my life. With the Cross-Dubya nestled between the Red River valley and the Piney Woods of east Texas, we have a few hills but no mountains. Still, I love stopping and admiring the beauty of the world God created whenever I'm out doing chores each day.
When I do admire God's handwork in nature, the words of Psalm 104, the Psalm of Praise, often come to mind. Throughout, its words praise God's goodness and grace in ruling over and caring for His vast creation. When I read this stirring psalm, I remind myself of the beauty in creation surrounding our little farm and ranch here in Texas. And as much as I love our home, there's something that takes your breath away when you view the world from a mountaintop.
I think of places I've seen across our great nation. The Wasatch mountain range in northern Utah, Salt River range in Wyoming, Great Smokey Mountains in Tennessee and the Carolinas, Alleghany mountains in Pennsylvania, Appalachian mountains in Kentucky and West Virginia, the Cascades in the northwest, and the Berkshires, White, and Catskills ranges northward. And last but not least, the Rocky Mountains of Colorado and the surrounding area. I look upon these in awe, wondering why God would take the time to fill our world with such beauty and inspiration. Because He loves us so.
Have you ever crossed a mountain ridge and stopped to look at the valley below? If so, you can attest the plants, trees, and grass in the valley are much more vibrant than atop the ridge. Have you ever wondered why things grow better in the valley than on the mountaintop? There are several reasons. Water follows the law of gravity and it moves downward, thus more water/moisture collects in the valley. The surrounding mountains shelter the plants and trees in the valley from the strong winds that whip around and cause damage. And last, refractory light often reflects off the mountainsides, giving plants in the valley more light and opportunity to grow.
Like plants, we too can experience greater growth while in the "valleys" of our lives.
Click To Tweet
A key word in the phrase above is "can." Unlike plants, whose growth responds to the forces and sources applied, God created humans with free will. He gives us the choice to grow  and worship His majesty. In the same way, He allows us to choose to remain in sin and wither and die without the light of His love to nourish us. Free will gives us this choice; eternal life or eternal death.
When we find ourselves in the valleys of life, we can either wither in the darkness or grow in God's light.
Click To Tweet
Several years ago, I was blessed to come across a poem I fell in love with. The poem's author is a dear, sweet church volunteer at Grace Baptist Church in Williamsburg, VA. With God's endless grace, Ms. Jane Eggleston granted me permission to share her poem with you.
It's In the Valleys I Grow
Sometimes life seems hard to bear,
Full of sorrow, trouble and woe.
It's then I have to remember
That it's in the valleys I grow.
If I always stayed on the mountain top
And never experienced pain,
I would never appreciate God's love
And would be living in vain.
I have so much to learn
And my growth is very slow.
Sometimes I need the mountain tops,
But it's in the valleys I grow.
I do not always understand
Why things happen as they do.
But I am very sure of one thing.
My Lord will see me through.
My little valleys are nothing
When I picture Christ on the cross.
He went through the valley of death;
His victory was Satan's loss.
Forgive me Lord, for complaining
When I'm feeling so very low.
Just give me a gentle reminder
That it's in the valleys I grow.
Continue to strengthen me, Lord
And use my life each day
To share your love with others
And help them find their way.
Thank you for valleys, Lord
For this one thing I know.
The mountain tops are glorious
But it's in the valleys I grow!
Written by Ms. Jane Eggleston, Williamsburg, VA, 1977. Used with permission.
We each need to experience the glory of mountaintop views of God's creation and the hard living in the depths of life's valleys, where we learn to lean upon God's grace. My friend Ms. Jane and I pray you come to enjoy both; and that you give God the glory in it all.
God's blessings,

Please join me each Thursday evening at 9:30 Eastern as host Coach Mark Prasek and I take a trip Around the Cross-Dubya on PJNET TV. We discuss this week's blog post, offer insight about the lessons learned, and enjoy the fellowship of friends in the live chat room.