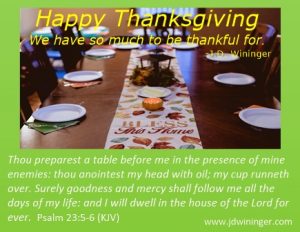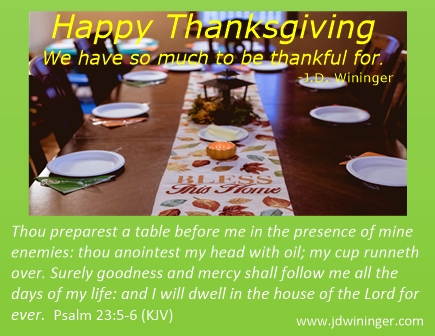 As Thanksgiving rolls around each year, many of my favorite life verses come to mind. One of those, I use as a Life Anchor, is "And whatever you do in word or deed, do all in the name of the Lord Jesus, giving thanks to God the Father through Him." (Colossians 3:17 NKJV).
I want to take a moment to express my thanks for everyone's support on this Christian writing journey. Many of you comment on my blog posts, send notes of encouragement and support, purchase books, comment on articles and devotionals I've published this year, and share my words through social media. I am encouraged and humbled by your support, kindness, and most of all, your prayers.
Everyone at our Cross-Dubya ranch—Ms. Diane, Bubba the chocolate lab, Magic and Elpis the donkeys, all the cows, the barn cats, a few skunks, and one pesky armadillo—wishes you and your family a very Happy Thanksgiving. Even amid this tumultuous year, we have much to be thankful for.
I leave you with this thought from Pastor Chuck Swindoll; who along with God's word has taught me to embrace an attitude of gratitude.
"Life is 10% what happens to you and 90% how you react to it." –Charles R. Swindoll
God's blessings,