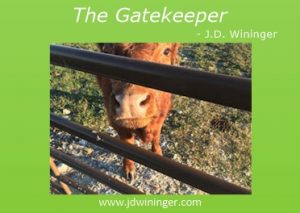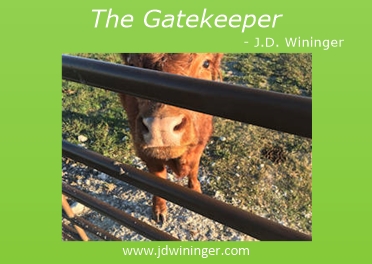 "Buongiorno Giuseppe. Posso entrare?" (Italian for Good morning Joseph. May I come in?). All 600 pounds of him stands at the gate each morning. He doesn't budge until I've hand fed him three cubes. Then, after I've paid the toll, he allows me to open the gate and drive through with the feed buckets. The oldest, and largest, of this year's weaning calves; Giuseppe quickly assumed his role as the dominant steer in this pasture. His extroverted nature led him to be the first calf to let me pet and feed him by hand. In the pasture outside my den's window, I watch all the other calves follow his leading throughout the day.
Like the troll in the Norwegian children's story, The Three Billy Goats Gruff, Giuseppe stands firm on the other side of the fence. He bellows loud and long until he hears me start the UTV each morning. Almost always beating me to the gate, he refuses to move until I've paid my entrance fee. After a few cubes fed through the gate, a pat on his head and a rub of his chin, he'll back up and allow me to drive inside the pasture.
He never tries to escape, but stands at the end of the open gate until I stop. When I get out to close the gate behind me, he walks around and moos his request. One more morsel and I can close the gate. It's always funny to see all the other calves standing there licking their faces, some drooling; but they all stand a few paces behind Giuseppe. Sometimes, I'll extend my hand to offer one of them a treat, but they always back away as the big guy moves in to steal it away.
A natural leader, whenever I look in on them he's the one standing guard; and wherever he goes, the others follow. With only a month gone by since weaning, he still stands at the fence and calls for his mama now and then. As she's nearing the last trimester with her next calf, she no longer comes running when he calls. This morning, the words of Nehemiah 12:47 came to mind as I drove up to the gate.
"In the days of Zerubbabel and in the days of Nehemiah all Israel gave the portions for the singers and the gatekeepers, a portion for each day. They also consecrated holy things for the Levites, and the Levites consecrated them for the children of Aaron." (NKJV)
In his role as Gatekeeper, Giuseppe feels he should receive his version of a first fruits offering. As Bubba the chocolate lab and I drive across the pasture towards the bunk feeder, I call, "Vieni qui miei vitellini. Vieni a mangiare bambini." (Come here my little calves. Come eat babies.). As they run toward the feeder, I can't help but smile. When time permits, I'll sit on the opposite side of the feeder and talk with each one. There's something special about how they look up at you when you speak their name. Some allow me to pet them, while others still back away. Not wanting to pressure them, I'll take my leave and move on to feed the other livestock after a brief visit with each one.
Exiting the pasture this morning, the need to better understand why that verse came to mind overwhelmed me. Opening my Bible when I got back in the house, I read the surrounding passages and understood what God was teaching me. As a more mature Christian, I must stand as a Gatekeeper at God's temple (His church, the body of Christ). I must accept the responsibility of this role, understanding that I will receive my reward in glory. My next task was to comprehend what it means to be one of God's gatekeepers.
My first step was learning who the gatekeepers of the restored temple were in Nehemiah's days. Coming from the tribe of Levi, gatekeepers were Levite priests who protected the Lord's house (the rebuilt temple in Jerusalem.) As gatekeepers, they had three primary responsibilities:
Protect the Lord's house. Their job was to ensure nothing unholy entered the temple. Guarding and controlling the gates to the temple accomplished this task. Other responsibilities included protecting and caring for all the items of worship and the temple's treasury.
Watch for the Lord's return. They did this by serving as watchmen on the walls of the temple. They were also responsible for selecting, training, and assigning others to serve as watchmen. With a deep faith, they were ever watchful for the Lord's return and exhorted others to always be ready.
Help those who stray from God. Much like a shepherd or sheepdog, the gatekeeper helped any of God's followers who strayed from God to find their way back to the right path. This responsibility required them to call out anyone who was not worshipping and serving in the right way. Bold speakers of truth, they weren't afraid of ridicule or rebuke, wanting only to save that person from hell.
Among the most important roles of a gatekeeper for God is protecting the Lord's house.
Click To Tweet
With no temple in Jerusalem (yet) to guard, what can we gatekeepers do today to honor this role and serve God? One way we can "protect the Lord's house" is to guard the church. More than being part of the church's security team—sadly, a much needed role in today's world—it is being a staunch defender of the truth of God's word. As gatekeepers, we ensure that no unholy acts (false teaching, misleading, misappropriations of any kind, or other acts) take place within our church. We must stand up to apostasy or anything/anyone else who attempts to alter God's word; including those who do not teach the full word.
As the gatekeepers in Nehemiah's time, we must be "watchmen on the wall", keeping watch for Christ's return. As watchmen, our job is to encourage others to be ready. In like fashion, we must also be sheepdogs and shepherds to help those who are struggling in their faith. We must help those who are unsaved or have fallen back into their old carnal ways without repentance. To do this, we must speak boldly, pray vigorously, and be on constant guard for both others and ourselves.
As one of God's gatekeepers, like an elder or deacon in the church as Paul wrote in his letter to Titus, we must search ourselves to ensure our worthiness. Leadership in your local church will require great sacrifice, but with that sacrifice comes great reward from God. Be strong, vigilant, humble, righteous, and gracious; but above all be God's.
God's blessings,

Please join me each Thursday evening at 9:30 Eastern as host Coach Mark Prasek and I take a trip Around the Cross-Dubya on PJNET TV. We discuss this week's blog post, offer insight about the lessons learned, and enjoy the fellowship of friends in the live chat room.