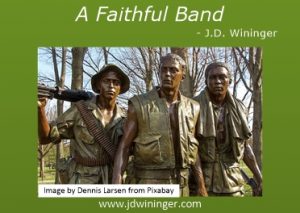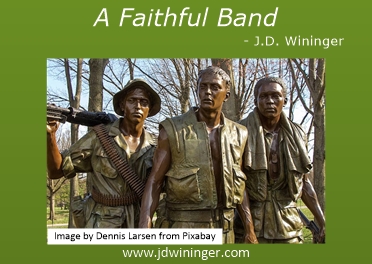 I think back to a time long ago when I reported to the military; just a young kid fresh out of high school. In the folly of youth, I convinced myself I was going to be a career soldier, live a life of adventure—filled with tales of heroic actions and daring escapades. But alas, like most dreams of youth, reality set in and I put away those childish thoughts.
Two hours after reciting my oath to uphold and defend the Constitution of the United States of America, I was on my way to Fort Jackson, South Carolina for in-processing. I found my new adventure in life filled with rules, regulations, and a strict training doctrine. Their time-tested approach was a proven method of transforming a diverse group of young men into a cohesive unit who effectively performed assigned tasks. A few days later, I found myself on a bus headed for Fort Benning, home of the U.S. Army's School of Infantry. It was also home for Airborne, Ranger selection, and Sniper schools; I was going to be near Columbus, GA for a while.
What stood out for me most in those early days of military service was how effective the Army was at breaking down a group of raw recruits with such diversity. In little time, they united us and rebuilt us into a disciplined, focused group of soldiers. We learned to work together toward a common goal (mostly dislike of our drill instructors). In forming our training squad, platoon, company, and battalion, I met other young men from all over the United States. Each of us had different reasons for serving, expectations, and goals.
Some were simple "country boys" like me who came from small towns all across the nation. Others had the sophistication and street smarts of the big cities. Most were volunteers, but they gave a few the option of either serving jail time or their country. Like any organization, there were schemers who wanted only to work the system and avoid any actual activity; there were a few "gung ho" young men with chips on their shoulders who thought they were God's gift to heroism. The Army soon knocked them off.
While some seemed to have lived a comfortable life, others were hardscrabble and had worked for everything they earned. Last, there were a few who just tried to keep our heads down, mouths shut, learn well, and become effective soldiers. We came together in the coming weeks, learning to depend on one another and work together to accomplish our tasks.
After reaching my permanent duty station on the other side of Georgia, I developed strong bonds with my fellow soldiers. The more experienced operators took the new guys under their wings and taught them the endless number of things you can't learn from books. Those men realized that when they engage the enemy, their lives depended on those youngsters knowing what to do. In time, we became a Band of Brothers as we ate, trained, prayed, laughed, fought, played, and cried together. Some, I've forgotten to the ages. Others, I hold in the highest esteem to this day.
Much older now, I understand how similar my life as a soldier was to how my life as a Christian is today. Grateful that God saved me before becoming a soldier, I recognize, almost four decades later, how my time as a soldier prepared me for my lifetime enlistment in God's army. As a member of the body of Christ, I am honor-bound to contribute the gifts and talents God has given me in His service. When combining my gifts with others, we execute the mission of spreading Christ's gospel together. In both cases, I learned that it isn't about me, but those willing to stand with me.
Both soldiers and Christians understand the sacrifice required to achieve their objectives.
Click To Tweet
In the military, I used the skills they taught me to:
Become a highly effective marksman,
Interpret foreign languages,
Skillfully navigate through hostile terrain, and
Instruct others in the tradecraft of being a soldier.
In God's army, I use the skills He's taught me to:
Keep focus on the target,
Interpret different languages (today's youth speaks a different language than I grew up using),
Navigate safely through the hostile environment of this world, and
Instruct those who will come after me in the ways of our Lord.
Some of you may think being a soldier and being a Christian is not so different after all; good for you. Whether soldier or Christian, our job is to stay focused on the mission and work as a team to execute it. The Apostle Paul explained it best in his words to Timothy, "No one engaged in warfare entangles himself with the affairs of this life, that he may please Him who enlisted him as a soldier." (2 Timothy 2:4, NKJV).
On this Veteran's Day, I ask each of you to send up prayers for our veterans, current service members, future vets, and their families. Each one deserves your respect, support, and gratitude. I close with the words Mr. Charles M. Province, a US Army veteran, wrote in this poem.
IT IS THE SOLDIER
It is the Soldier, not the minister
Who has given us freedom of religion.
It is the Soldier, not the reporter
Who has given us freedom of press.
It is the Soldier, not the poet
Who has given us freedom of speech.
It is the Soldier, not the campus organizer
Who has given us freedom to protest.
It is the Soldier, not the lawyer
Who has given us the right to a fair trial.
It is the Soldier, not the politician
Who has given us the right to vote.
It is the Soldier who salutes the flag,
Who serves beneath the flag,
And whose coffin is draped by the flag,
Who allows the protester to burn the flag.
-Charles M. Province, ©Copyright 1970, 2005 by Charles M. Province
God's blessings,

Please join me each Thursday evening at 9:30 Eastern as host Coach Mark Prasek and I take a trip Around the Cross-Dubya on PJNET TV. We discuss this week's blog post, offer insight about the lessons learned, and enjoy the fellowship of friends in the live chat room.