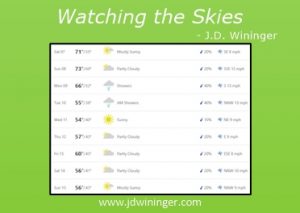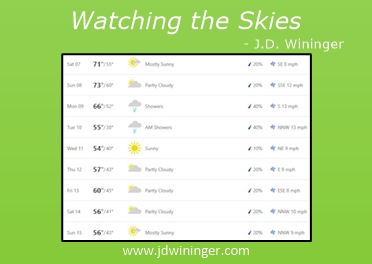 Ask any farmer "What do you look at the most?" and they'll respond with, "The weather." We order our lives by it. Did it just rain? No mowing, tilling, planting, or harvesting today. Is it fixin' to rain? Better hurry and get the seed drilled in, the fertilizer slung, or the drainage cleaned out. Scorching hot sun or below-freezing temperatures, some constants remain in a farmer's or rancher's life. We care for the livestock, do chores, and we thank God while praying for a better day tomorrow. Since the weather can quickly change, we also prepare so we can adapt to changing conditions.
Climate affects much of what we do each day here on the ranch. When it's hot, we find things we can do in the shade. If it's cold, we try to find things we can do quick. Since starting the Cross-Dubya, one lesson I've learned well is that every time I tell God my plans He laughs and says to Himself, "wanna bet?". The lesson was to leave the things of God up to God and take every day for the gift it is. I've learned to prepare for whatever weather God might bring to my day.
Writing this post before the national election on November 3rd comes with mixed emotions. I know this nation is being ripped apart from inside and cannot continue on this path of self-destruction. Part of my prayers over the past six months has been a fervent request for God's will in this once great country. Either way this election goes, I suspect more troubled times are coming. However this election's outcome, it will be God's answer to my prayers. Our country will have a little more time to repent and return to the moral character and national values our nation was founded upon; or it will descend further into chaos. In either case, we Christian's had better keep our souls clear and our eyes on the sky—the winds of change are blowing.
While we cannot know the moment, we can prepare for the promise of Christ's return.
Click To Tweet
In the same way we can't know who will win this election beforehand, or when Christ is coming for His church, we can be certain He is coming. For that reason, we must make certain we keep our lamps filled with oil, as Jesus taught in Matthew 25. I suspect many of you know this parable, so I won't include it here. My take-away was, since I can't know when He's coming, I need to keep oil in my lamp (be the watchman on the wall) at all times. As a young Christian, this sent me on a journey of discovery to figure out what was the oil and where was my lamp.
My journey of discovery was a long one. It took me years of thoughtful Bible study and prayer before God revealed it. Using an old Coleman™ lantern, God brought Proverbs 20:27 to life; showing me that His light doesn't come from the lamp, but from the flame inside. "The spirit of a man is the lamp of the Lord, Searching all the inner depths of his heart." (Proverbs 20:27, NKJV). I understood how I was the lamp and that God's light shines in my life when I allow the fire of His Holy Spirit to burn inside me.
While refilling that old lantern, my mind knew the oil I was seeking to understand was the Holy Spirit Himself. He is the oil that fuels God's light living inside me. As a lamp, I am a vessel that stores the oil. The oil of gladness, the oil that anointed Christ (the Anointed One) himself, is what fuels the illuminating flame that is God's light unto the world. Isn't it amazing how so many scriptures reference the Holy Spirit as oil, yet many cannot recognize or make that connection?
If we're the lamps that shine God's light into this world, we must ensure the Holy Spirit fills us. We must be prepared to shine brightly as the night becomes even darker around us. The phrase "It's always darkest before the dawn" was first used by English theologian Thomas Fuller in 1650 has long intrigued me. As a soldier, I can recall some of the darkest nights in my life. Waiting in a hide, beneath a triple canopy jungle somewhere below the equator, the darkness was so enveloping even light-gathering night vision gear failed. The same foreboding sense of darkness is encroaching upon our lives today. Our only weapon to battle the coming darkness is God's light and love within us.
Among my favorite gospel songs is "Midnight Cry", written by brothers Chuck and Greg Day in 1986 (https://www.youtube.com/watch?v=vsXdz-52UWo). When I think of the words of this song, my heart soars as I hold onto God's promise that he'll return for His children. Oh, how I long for that day; and more, I long to see many loved ones and friends there with me. We won't miss the ones who choose not to avail themselves of God's gift of salvation, but surprised when we see those whose souls were more fertile than we thought.
I pray you'll join me in keeping your lamp full so we might shine God's light into this world while there's still time. I both fear and rejoice in my belief there's only seconds left. Let us not waste one more second on the humanistic concerns of this world, but on our task of being Ambassadors for Christ and His gospel.
God's blessings,

Please join me each Thursday evening at 9:30 Eastern as host Coach Mark Prasek and I take a trip Around the Cross-Dubya on PJNET TV. We discuss this week's blog post, offer insight about the lessons learned, and enjoy the fellowship of friends in the live chat room.