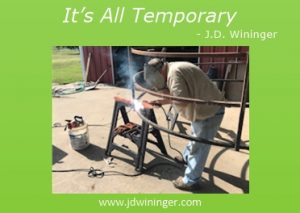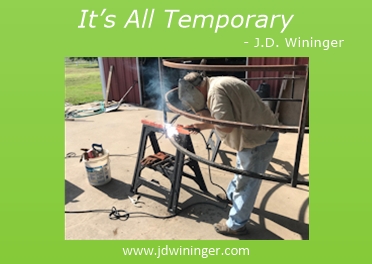 At the Cross-Dubya, as with any ranch, something is always in need of repair. It's just a fact of life when farming and ranching. And if you're not handy with tools and able to come up with innovative solutions, you'll soon be a broke farmer or rancher. My three-year-old hay rings are a good example. They make each hay ring from thin-walled steel tubing, measuring over seven-feet in diameter; with four horizontal rings, supported by 12 vertical pieces. This allows livestock to eat the hay stored inside the ring without them scattering it all over the pasture.
Sitting in mud during wet winter and spring seasons, then baking in hot and humid summer and fall, steel takes quite a beating here in Texas. After only three years, one of my hay rings had rusted and deteriorated so much the bottom ring crumbled and fell apart. At $120 each, this meant keeping the cows from spreading their hay all over the pasture was costing me $40 per hay ring per year. Not good economics. Determined not to let the others meet the same fate, I brought them out of storage and decided to "weatherproof" them, hoping to prolong their useful life.
I brushed off the rust and sprayed rust killer on the lower portion. Then I applied a generous amount of Flex Seal™ rubber coating to the bottom eight inches of each ring. My thinking was that if water can't get to the metal, then it can't affect it as much. Since hay rings lay in the mud and muck, get stepped on by large hoofed animals, and exposed to the elements, helping them last longer made perfect economic sense.
In preparing to complete the last one, I found I was almost too late. The bottom ring that lies on the ground had already rusted and broke loose from the vertical piece keeping the rings in place. That's when you realize how blessed you are to have a neighbor with a portable welder.
My friend Mr. Tom came over with his welder and we got to work. Using vise grips, we aligned the two pieces together, but realized too much metal had rusted away to weld. Using farmer ingenuity, my friend reached into his shirt pocket and offered a solution. By using a 16-penny nail as filler material, he welded the nail around the void in the joint; creating a sturdier connection than the original.
Working on extending the life of my hay rings reminded me of how temporary everything in this life is; including my life. As we were repairing a broken weld on a rusty old hay ring, God reminded me of the words His Son spoke to His disciples over two centuries ago.
"Do not lay up for yourselves treasures on earth, where moth and rust destroy and where thieves break in and steal; but lay up for yourselves treasures in heaven, where neither moth nor rust destroys and where thieves do not break in and steal." (Matthew 6:19-20, NKJV)
While Tom was welding my hay ring back together, I was praying God's blessings upon my friend for his act of kindness. In that moment, God reminded me how the things we Christians do to help one another on this earth are "investments in eternity." My neighbor and I will forget the minor repair job we did one morning. God has eternally stored his kind gesture to help another in the annals of heaven.
What we do in God's name here on earth will reflect in the rewards we receive upon heaven's upward call.
Click To Tweet
Here in "God's country", our Christian friends and neighbors are always willing to lend a hand to help one another. Welding an old hay ring, borrowing or loaning equipment, helping with a harvest, or re-wiring a burned out fuel transfer pump—helping each other is a way of life. We do it not for financial or personal gain, but because that's the example of selflessness Jesus Christ showed us while on this earth. I hope you'll look for ways you can make an investment in eternity in your part of the world this week.
God's blessings,

Please join me each Thursday evening at 9:30 Eastern as host Coach Mark Prasek and I take a trip Around the Cross-Dubya. We discuss this week's blog post, offer insight about the lessons learned, and enjoy the fellowship of friends in the live chat room.