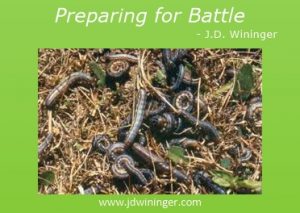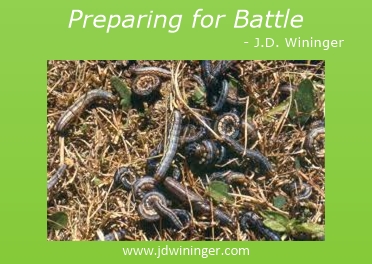 Each year in late August, the reports trickle in. By mid-September, you hear of them almost daily. If you're not prepared to do battle before you spot large brown spots in your pasture, you lose. What do farmers and ranchers in east Texas battle each year as we transition from summer into fall? Army worms!
These little carnivorous insects cause millions of dollars in crop and forage losses each year. With a lifespan of 2 to 45 days (four stages), these little buggers have a voracious appetite. Depending upon how bad an infestation you have, they can devour an entire pasture in less than two days. With a sweet tooth for Bermuda grass, if your pasture is nearing its hay cutting, army worms can cost you a couple hundred dollars in hay per acre.
From one year to the next, we never know how bad they'll be. Smart farmers and ranchers prepare for them here in Texas as early as June by making sure our spraying equipment is ready to go. We lay in supplies of needed insecticide and personal protective equipment (PPE). We also ask our neighbors to watch for them and look for telltale signs. Since they like to eat early morning and at dusk, we watch our pastures morning and night. We look for an increase in birds in our fields, small light-colored moths (adults) in our pastures at night, and translucent tips on the leaves of grass. Each adult army worm will lay up to 2,000 eggs, which guarantees next year's infestation.
At one and a half inches long in caterpillar stage, you have to look very close to find the little rascals. With Bermuda grass in the yard around our home, I usually spot the caterpillars first on the carport between our house and the workshop. Once spotted, I spring into action. Just like fighting spiritual battles in our lives, success depends on how well you are prepared.
How well are you prepared to fight the battles in your life?
Click To Tweet
Battling army worms means moving the cattle, water tanks, feeders, and mineral tubs. Once you prep the battlefield, it's fire up the tractor, mix up a tank of insecticide, and the war begins. In preparing for spiritual battles, which happens every day (in my life at least), I find it's best to always be on alert.
Some ways I prepare for spiritual battle include studying God's word, seeking Him in prayer, and leaning on the fellowship of other Christians to join me in the fight. I have to do the same for them.
Another key component to a successful engagement with the enemy is the right tools and equipment. In the spiritual arena, my PPE is the Armor of God (Ephesians 6:10-20). I suit up by reading or reciting The Warrior's Prayer each morning before I begin my "God time." For years, I've kept a framed copy on my desk. I was first introduced to this prayer when my adopted mom sent me a copy while I was serving in the military.
If you're not familiar with this prayer, you can get a copy of it using this link.
http://files.faithgateway.com.s3.amazonaws.com/freemiums/warriors-prayer-printable.pdf
I pray it helps you to prepare each day for the coming battles. Knowing I never fight these battles alone is the greatest blessing in my life since my salvation. The Lord of hosts (as uttered by Hannah in 1 Samuel 1:11) defends His children with heaven's army.
God's blessings,

Please join me each Thursday evening at 9:30 Eastern as host Coach Mark Prasek and I take a trip Around the Cross-Dubya. We discuss this week's blog post, offer insight about the lessons learned, and enjoy the fellowship of friends in the live chat room.