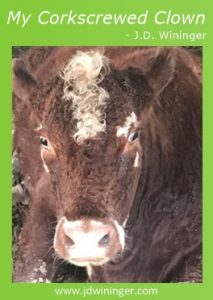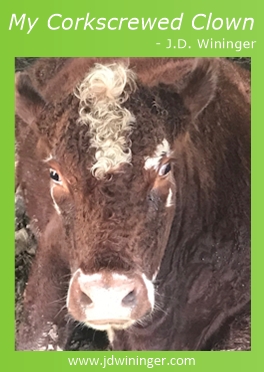 A few months after delivering her first calf, my clown-faced cow "Lulu Belle" developed a debilitating foot problem called corkscrew claw. Thought to be hereditary, this Saler-Hereford cross is one of my favorite brood cows and is as gentle as they come. One of the few calves I got to name; she got her name because of the white tears under each eye. As a newborn calf, she looked up at me and those tears reminded me of the greasepaint clown tears you often see.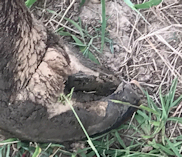 Corkscrew claw is a disease where the outside (distal) toe of a rear hoof twists; eventually placing the hoof's sidewall in direct contact with the ground. The condition often begins to show itself with toes pointing inward instead of forward and leads to lameness due to improper distribution of weight within the toe. My large animal vet told me this disease is often hidden until after the first calf is born.
Almost always the first one to the feed trough, I first noticed her lagging behind the others. Two weeks later, she began to show signs of lameness. By the time I saw a noticeable limp, I knew it required investigation. Upon discovering the cause, I called the vet. Giving a pedicure to an 1,100 pound nursing mother is not something you normally try and do yourself. Unless you like getting kicked across the barn that is.
I'll save you the challenge of getting a nursing mama to load onto a trailer without her calf; but after just one busted gate, we arrived a few minutes late. Dr. Sherman and his staff helped offload her and guided her to the tilt table. This hydraulic device allows the vet to secure the cow, and each leg to a vertical table. The cow is then laid onto its side so it can be evaluated and treated, ensuring safety for both staff and patient.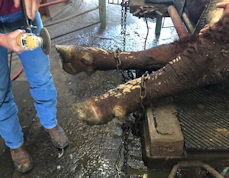 After evaluating her hoof, he began trimming off over three inches of excess. Then, the electric grinder came out, to remove more material and dress the hoof. That's when the extent of the injury became apparent. Having walked on the outside of her hoof for several weeks, the interior hoof wall cracked and her foot became infected. Cleaning out all of the infection was a nasty, foul-smelling job, but necessary to allow healing.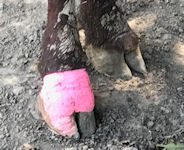 Once the wound was packed with copper sulfate and a dressing applied, "Doc" gave her a shot of strong antibiotics and she was loaded for the trip back home to her baby. We kept her and her calf separated from the others for 10 days to allow healing to begin by keeping her out of the pond. Lulu's favorite thing to do in the summer is to make her way to the "Texas Hot Tub" every afternoon and lounge neck deep in the stock pond for a few hours.
As I watched Lulu Belle closely over the next week, I kicked myself for not realizing the extent of her injury sooner. My lack of knowledge could've resulted in losing my sweet cow. While praying for her complete healing, God reminded me of the importance of using His gift of discernment in my life. I never considered how it applies to caring for my livestock.
I thought about how often we view others on what we see and not what we sense through the Holy Spirit. The spiritual gift of discernment (1 Corinthians 12:10 and Hebrews 5:14) allows Christians to judge well. For me, it manifests itself as the ability to sense when something, or someone, isn't right.
Someone's inside condition can be much worse than what you see. Complete healing happens from the inside out.
Click To Tweet
The Holy Spirit reminded to me how His gift of discernment can be used to "sniff out" good versus bad, right versus wrong. Just as the infected material in Lulu's foot had a distinct color and odor, God developed an instinctual ability to discern situations and people in me. While it's not perfect, I've learned to heed those overwhelming feelings of despair, danger, and discomfort.
Those emotions become beacon lights to show me when something isn't right about a situation. When it comes to people I meet, I see colored auras around them. In the same way my cow's infection was hidden deep inside and had to be uncovered, we often do the same with our sins. Others may not see them, but be assured someone will sense them. Remember too that we can't hide from God.
As I've learned to understand these spiritual cues, I often sense danger, sincerity, falsehoods and fake emotions, and desperation. In using the spiritual gifts God has blessed me with, I've been able to discern when to use caution or reach out to help someone troubled.
God used a lame cow to remind me of His gifts in my life. I treasure the myriad of ways He shows me His direction, patience, and love. My fervent hope is that you allow God to show you how to use one of the spiritual gifts He's blessed your life with.
God's blessings,

Please join me each Thursday evening at 9:30 Eastern as host Coach Mark Prasek and I take a trip Around the Cross-Dubya. We discuss this week's blog post, offer insight about the lessons learned, and enjoy the fellowship of friends in the live chat room.