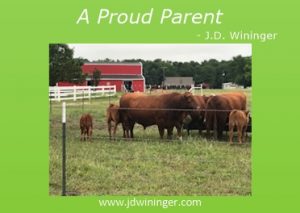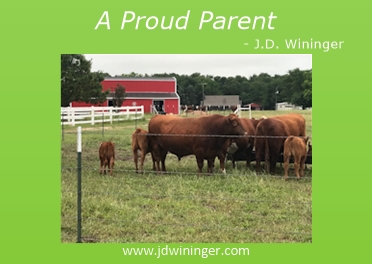 Among the greatest blessings of living in our little farming and ranching community, is how we share our lives. I enjoy saying, "We know when folks are married and buried." We pray when someone is ailing; we celebrate achievements and milestones together, and we pitch in to help our friends and neighbors whenever we can. I grew up much like this, but I spent most of my working career in big cities. A very different way of life there; with "big city" mindsets of keep your head down, think of yourself first, and keep most folks at arm's length.
Whether or not you know me, chances are if you visit the Cross-Dubya, you're going to get a tour of the ranch and its history. I'll show you each cow and let you hand feed the donkeys. Once you know your way around, I'll sit in the rear of the UTV so Bubba can take his place in the co-pilot's seat beside you for the ride back. If you're a rancher, then I can give you each cow's lineage; and recite their vaccination record. When I come to your place, I get the same. We don't do this to brag about ourselves, but to share all the wonderful blessings God provides in our lives.
Often, we'll stand out on the porch or lean on a gate and just look over the place. We'll talk about the coming harvest, auction and feed prices, and other news and events happening around town. It's a comfortable, laid-back lifestyle. And while some may think our un-rushed way of doing things is less productive, I assure you that is not the case. I think our inner peace is a natural outcropping of living without all the sirens, horns, traffic noise, and constant interruptions. Country folk have learned the secret of living in concert with our surroundings.
Still, get us talking about high school football, agricultural issues, or cattle breeds and our preferences, and we can get more than excitable. In our little farming and ranching community, we share our lives. I can't help but think this is what God intended for mankind. The biblical word for living in this manner is koinonia. A Greek word often associated with fellowship, examined more in depth it means to "share everything with one another, and with Christ." It's hard to do that when you won't lift your head to smile and look another person in the eye.
Sometimes I like to think God is like a proud parent at their child's dance recital or football game. I smile, imagining Him looking over at His angels and saying, "Did you see what my kid just did?"
Does God have a scrapbook of all our accomplishments for His kingdom?
Click To Tweet
Many Christians today are deceived; believing God maintains a score card or ledger, and if they do more good than bad, they'll be admitted into heaven. Being a Christian isn't about keeping score; it's about surrendering your will to God so He can do His transformational work to make you more like Christ. As you grow and mature in your faith, you'll find your works become more about bringing God glory than yourself.
While all of our works since the moment of our true salvation will be judged after we're raptured, it isn't to determine your eligibility to be in heaven. It's to determine the rewards you keep. Using the Parable of the Talents (Matthew 25, 14-30) as an example, it's important to understand the concept of sowing and reaping. What we do with the blessings God has given to us is less about what we do here, but what we will do in eternity.
How we steward all that God gives us says a great deal about our relationship with the Lord. If we long for and expect Christ's impending return, then we will work to expand His investment in us by working in His service. Our works will show our desire to give back to Him more than He has given to us.
I suspect many of you share my longing that God views me as a proud parent. May we each one day hear the words we've worked toward throughout our Christian lives; "His lord said to him, 'Well done, good and faithful servant; you were faithful over a few things, I will make you ruler over many things. Enter into the joy of your lord.'" (Matthew 25:21, NKJV)
To remind myself of the importance of what I do with each day, I have a note on the whiteboard in my workshop's office that never gets erased. The last thing I do at the end of each day is to glance at that whiteboard, just before I turn off the lights. The question is, "Have you made God proud today?" To me, it reminds me to take stock of everything I did this day. If I followed Christ's teachings and the Holy Spirit's guidance throughout my day, I can rest peacefully knowing I've honored Christ's sacrifice. If not, then I know I've got some more praying to do. I hope you'll consider how you might answer that same question this evening.
God's blessings,

Please join me each Thursday evening at 9:30 Eastern as host Coach Mark Prasek and I take a trip Around the Cross-Dubya. We discuss this week's blog post, offer insight about the lessons learned, and enjoy the fellowship of friends in the live chat room.