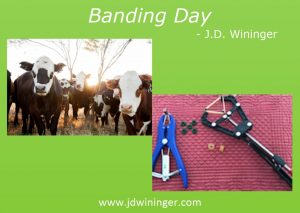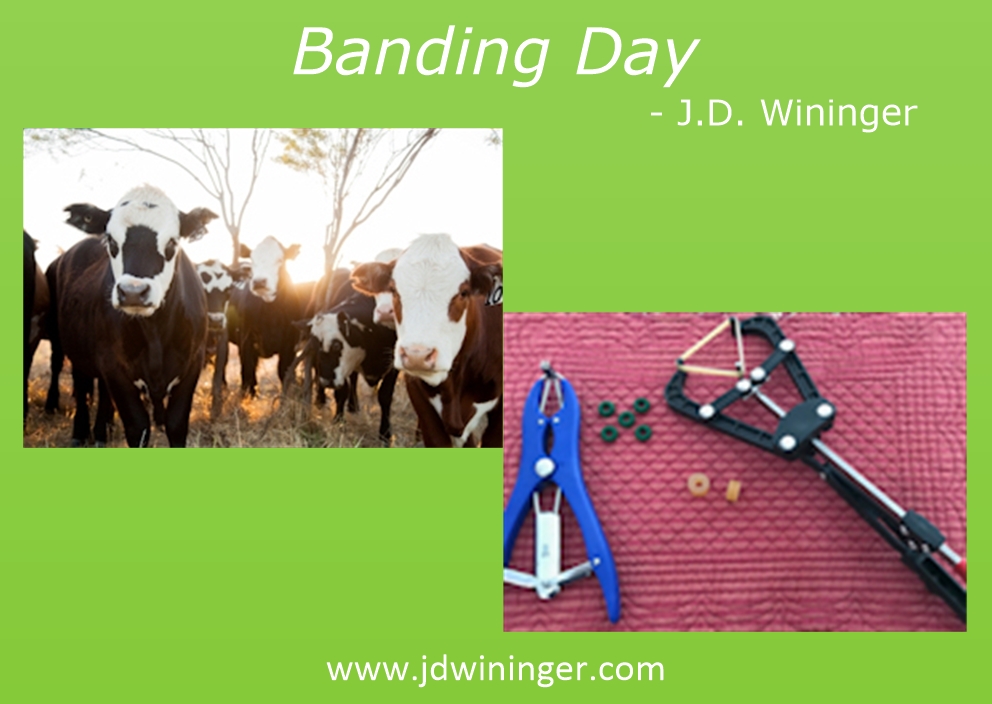 "Boys will be boys." That same adage applies to bull calves too. Health issues resulted in delaying some things I do around the ranch this year. Banding my bull calves was one of them. In a typical year, I'll band bull calves, which turns them into steers, within just a few weeks of their birth.
Our male calves ranged in age from three to five months old this year, before banding day arrived. The purpose for turning bulls into steers is threefold; safety, taste, and profit. As with any testosterone-filled male, there's a natural aggressiveness exhibited. By castrating them when young, they become gentler and that makes for safer handling and sharing pasture with other cattle. Testing has shown a steer's meat is tenderer and has a milder taste as compared to bulls; again because of their testosterone. Last, steers gain more weight on average than bulls, and when combined with already bringing a higher price as commercial steers, it increases profit.
I prefer to wean calves from their mamas at about six months old. This gives the already pregnant mama cow a chance to recover during the last two trimesters of their next pregnancy. Weaning is stressful for everyone involved, so I prefer to background my calves (vaccinations, banding for the males, worming, etc.) before I wean them. This helps minimize stress on the animals.
In preparing to band calves, I consider several factors. Environmental conditions, such as clean equipment, tools, and animals; and dry ground to help prevent infection are important. Castration method used, either elastration (banding) or knife (using a sharp pocket knife or Newberry knife); both have their pros and cons. Last is the age and size of the calf. As mentioned earlier, it's best to do this soon after their birth as it prevents many safety issues and performance problems.
Here at the Cross-Dubya, we choose to band as it is less intrusive with potentially less side effects. The risk in banding calves is that we don't capture both testicles, requiring surgical intervention later. Without getting too detailed, banding places a small rubber ring (shown above) over the bull's scrotum, cutting off blood flow. The scrotum and testicles atrophy and fall off between one and six weeks later.
When banding day arrived, I was grateful for help from some experienced ranch hands. With three of us, it made the process easier. I herded the cattle into the tub and then down the alley. Mr. Wayne operated the head gate and applied the bands. My friend Mr. David had the toughest job, which was keeping the calves from kicking Wayne or lying down in the chute. Placing a timber behind their rear legs kept them from kicking our friend in the face. David then worked as the "tail-twister", in which he would twist their tail and lift upwards to keep them from sitting down on his friend.
I have gentle livestock, but when any mama cow hears her calf crying out for them, she comes running to investigate. It was touching to watch the mama come up to low and lick her calf's face. No charging and little bellowing meant all of us were safe. As soon as completing the process, we freed the calf; mama and baby then escaped to private for some nurturing. We completed banding in less than two hours, and all enjoyed a cool drink after a job well done.
Thanking God in prayer for His protection, safety, and guidance throughout the day, some thoughts came to me, as they often do. I recognized how the transformation occurring after banding is like my salvation. While it will not guarantee my new steers eternal life, the similarities amazed me. Upon my salvation, God's gentling process began. With time, I too became less aggressive and safer to be around.
How has God changed your disposition or sweetened your spirit?
Click To Tweet
As the sanctification process continues, my fruit increases in quantity and quality. When following God's lead, the fruit of my works (my offerings) create a sweet aroma in heaven. I pray the works God encourages me to do for His glory will make me more valuable in heaven's economy. My "investments in eternity" during my short life here on earth create a wonderful legacy of love for those I leave behind; and prepare me for eternity's work.
Christ will judge as promised in 1Corinthians 3:12-13, the faithfulness in which I served. If I performed works in a way that brought glory to God, then my rewards will remain after the refining fire of the Bema seat, the judgement seat of Christ. He will not judge my salvation; sealed long before. This judgment is testing the rewards I've earned through my faithfulness to my Lord. At this judgment's end, I pray not to stand empty-handed before my Savior; having nothing left to offer Him for His great sacrifice for me.
In the same way banding transforms my calves into gentle, submissive, sweet, and more profitable animals for our ranch, God's sanctification of His children adds to our value as Christians; both on this earth and in heaven. I pray you willingly submit to the transforming power of sanctification without any need for headgates, squeeze chutes, and tail-twisting.
God's blessings,

Please join me each Thursday evening at 9:30 Eastern as host Coach Mark Prasek and I take a trip Around the Cross-Dubya. We discuss this week's blog post, offer insight about the lessons learned, and enjoy the fellowship of friends in the live chat room.