I recently won a copy of "In High Cotton", written by my friend Mrs. Ane Mulligan. Since I had already ordered a copy of this just released novel, I asked Ms. Ane if she would allow me to share a paperback of this riveting novel with my followers. She graciously agreed, so we'll be selecting one winner from those who comment on this week's guest blog.
While I don't read too many novels these days, the intro of her latest book piqued my interest. I've read and learned from Ms. Ane's instructional articles on writing for several years. One thing she taught me is that if you want to write like the masters, you should study their work. Although we've yet to meet in person, I consider this dear lady a friend and one of the most encouraging people I know. When I think of Ms. Ane, the poem "Warning" by Mrs. Jenny Joseph always comes to mind. I trust you will enjoy her guest post this week.
Please remember to leave a comment to be entered into the giveaway drawing.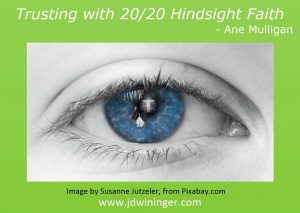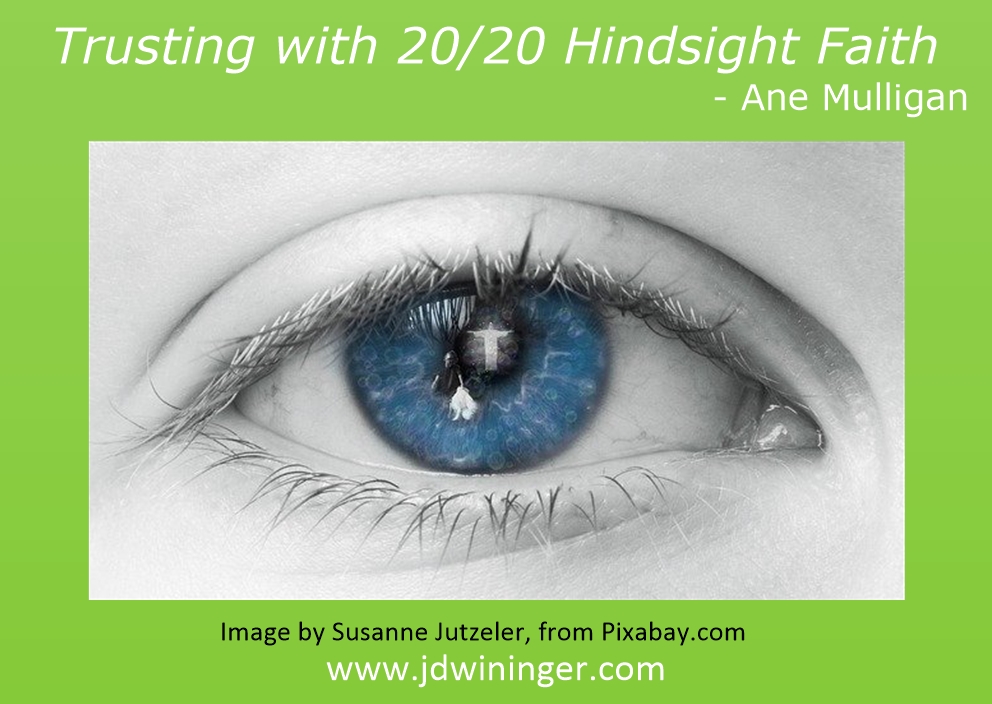 J.D. posted a wonderful article titled "Learning to Trust" in which Elpis had to learn to trust the farriers. I truly enjoyed reading it and learning more about donkeys. Of course, J.D. has a wonderful way with words and tells a captivating story.
Trusting God is the common theme throughout all my books. I guess that's because it's one of the most difficult aspects of the Christian life. I mean, here we are on this earth with tasks to accomplish. God gives us talents and grace to do that. But when something disrupts our normal way of life, we freak out.
"God, why didn't You prevent this? Why did you allow it to happen?" We look for miracles, and a way out instead of help through.
A young widow is raising her little boy on her own. Her husband died before they even knew she was expecting. Then the stock market crashes. Her little boy is kidnapped by his grandfather. How can she find the strength of faith to go on?
Drawing from real life
The above is from my novel, In High Cotton. But I drew from my own life's darkest moments for Maggie's emotions. I interviewed friends for their most difficult time of trusting God. A mother whose twenty-one-year-old son was leaving for a three-month missionary tour. He went fishing with his father that afternoon, just a few hours before he was to board the airplane. He slipped on a rock, hit his head, and drowned in three inches of water.
As each story unfolded, one thread was common to all: God showed up in the form of good friends to help them through that dark time. Later, when stories of lives changed began to filter in, the blessings came.
In all my books, I show we can trust God for and in all things. In High Cotton takes place during the Great Depression. I chose to set it in rural South Georgia. Rivers End, a fictional town, lies in sparsely populated, rural farmland. And don't think lush green crops. Between the boll weevil and cash crops, the land was depleted, and life was hardscrabble, to say the least.
Drawing from my own life
As for me, all my life, I wanted sisters. My brother and I were both adopted. While our childhood was idyllic, I missed having sisters. When I was sixty-two years old, I discovered my birth sisters. I won't go into that whole story here. You can read it on my website. The point is God showed up. He was faithful with my dreams when I left them at His feet.
When in 1990, I suffered a complete occlusion of the left anterior descending artery (called by the medical profession "the widow maker") God showed up in the form of paramedics who refused to give up. The continued to defibrillate me until my heart finally responded. That was thirty years ago, and I haven't had a single episode since.
One would think my 20/20 Hindsight Faith would be 20/20 Faith all the time. It's not. Like everyone else, I go bonkers when things happen. But not for long. I look back, trace God's hand, then tell the devil where to get off. I choose to trust God. It's a conscious choice.
Trusting God through life's challenges is a conscious choice.
Click To Tweet
In my story of Maggie, she didn't see God stop the bad things. When she wondered where He was, she only needed to look at those "angels" closest to her. He surrounded her with four strong women to help her.
In High Cotton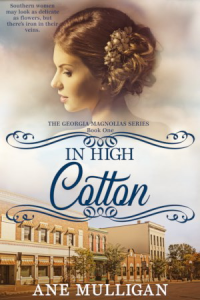 Southern women may look as delicate as flowers, but there's iron in their veins.
While the rest of the world has been roaring through the 1920s, times are hardscrabble in rural South Georgia. Widow Maggie Parker is barely surviving while raising her young son alone. Then as banks begin to fail, her father-in-law threatens to take her son and sell off her livelihood—the grocery store her husband left her. Can five Southern women band together, using their wisdom and wiles to stop him and survive the Great Depression?
Available online at Amazon, Target, LPCBooks, and in bookstores.
To read the first chapter free, go to Ane's website and scroll to the DOWNLOADS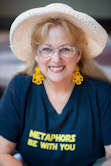 Ane Mulligan has been a voracious reader ever since her mom instilled within her a love of reading at age three, escaping into worlds otherwise unknown. But when Ane saw PETER PAN on stage, she was struck with a fever from which she never recovered—stage fever. She submerged herself in drama through high school and college. One day, her two loves collided, and a bestselling, award-winning novelist emerged. She lives in Sugar Hill, GA, with her artist husband and a rascally Rottweiler. Find Ane on her website, Amazon Author page, Facebook, BookBub, Goodreads, Pinterest, Twitter, and The Write Conversation.