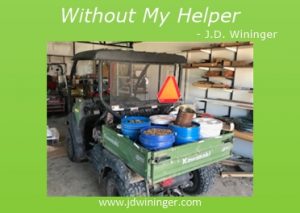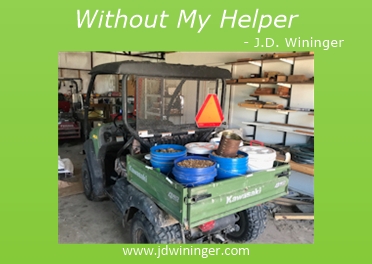 Recently, my Utility Task Vehicle (UTV) had to go to the repair shop for a driveline problem. Being without my "helper" meant morning chores took much longer and required more effort than usual. Not only did I fill the multiple buckets with feed, but I had to tote them out to the feeding areas for the livestock. This meant several trips to and from the workshop where I store the feed; carrying feed-laden buckets each trip. Once poured out, the return trip wasn't as difficult, but for an old guy with coronary artery disease, morning feedings required more sublingual nitro than usual.
Maneuvering across uneven pastures with a 35-pound bucket of feed in each hand required periodic breaks. The problem with stopping was two-fold. First, the cows thought they should come eat right out of the buckets. Two, I then had to contend with hungry cows pushing on me to get a mouthful of food through the rest of the journey. Alas, a rancher's life; we do what's needed to get the job done.
As I was walking back from feeding the donkeys, the longest trip of the morning, I stopped and shared a thought. Lord, I've sure walked a lot of this old earth in my days. I'm so glad You're always with me. During my rest, I thanked God for having always been present in my life.
I reckoned it was God who saved me from an abusive childhood. It was God who kept me safe in the military, even though I had turned away from Him during much of that time. During those heart-wrenching days following my divorce, it was God crying out in my soul to turn back to Him. I thought about how many times He's been there for me; and I lamented hardening my heart toward Him repeatedly. Standing there catching my breath, with a nitro under my tongue, I recalled Stephen's words in Acts 7:51.
As stiff-necked as I've been in my life, God has never abandoned me. Since my salvation, I am certain I've grieved the Holy Spirit much more than I realize. Yet, The Helper that Christ promised in John 14:16 has never abandoned me. With that thought, I offered a prayer of thanksgiving and praise for His faithfulness to help me find my way back to the path He planned for my life.
In what ways do you seek the Holy Spirit's help each day?
Click To Tweet
That evening, I thought about how my UTV saves me lots of extra effort around the ranch. I thought about how my spiritual helper, the Holy Spirit, saves me lots of regret and keeps me on track. He's the one who often shuts my mouth before I spew whatever nonsense pops into my head. It is the Holy Spirit that helps me delve into God's word during my studies, so I find a deeper meaning. When led to extend a kindness, do the right thing, or make decisions that align with the teachings of God's word, that's the Holy Spirit at work in my life.
Unlike my UTV, my spiritual Helper is not an "on demand" tool; He is a person who can be a constant companion if you allow Him. The Holy Spirit is not your loud Uncle Larry, who ensures no one can ignore him at every family gathering. Rather, to ensure His presence, you must remember two things. Invite Him to take part in your life; and live your life in a manner that He'll want to participate in. Too often, we don't remember that second part.
I've found that asking the Holy Spirit to walk with me throughout the day yields wonderful results. He not only orders my steps, but He controls and guides my thoughts. It's becoming easier for me to yield to His guidance than recovering from my mistakes when I rely on my carnal, human spirit. I pray you also find more ways to yield to His guidance throughout your day as God orders your steps through this life.
God's blessings,

Please join me each Thursday evening at 9:30 Eastern as host Coach Mark Prasek and I take a trip Around the Cross-Dubya. We discuss this week's blog post, offer insight about the lessons learned, and enjoy the fellowship of friends in the live chat room.