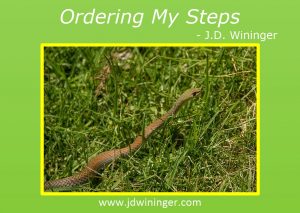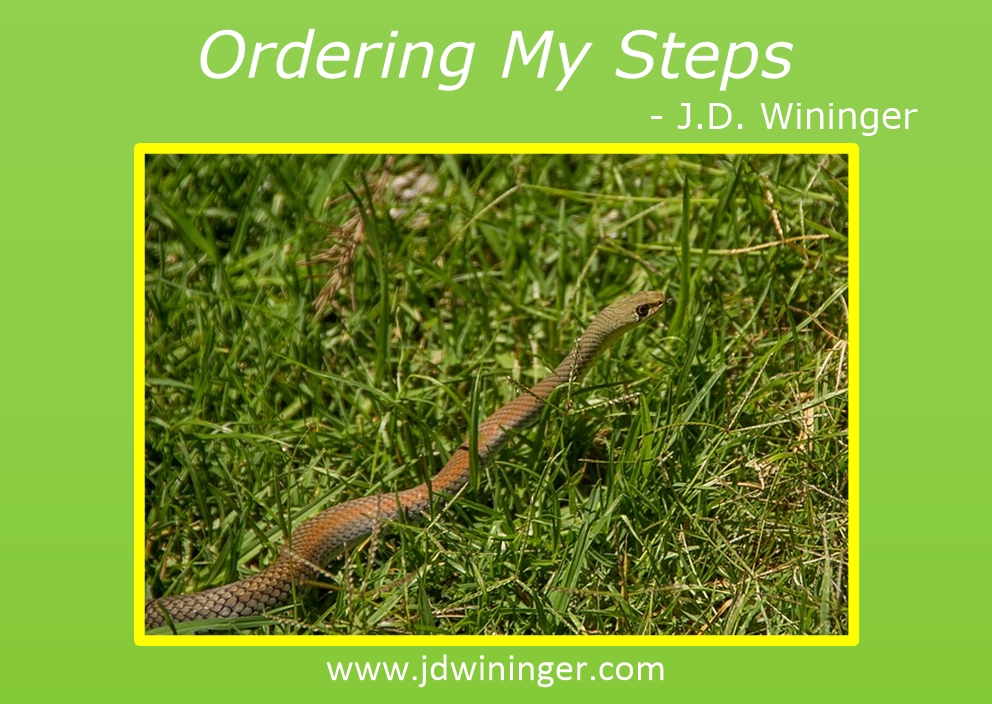 Snakes are plentiful this year; and like last year, they've bitten my pal "Bubba the Chocolate Lab" four times already; including twice in one day. You would think he would've learned by now to keep his nose out of drain pipes, stay out of ditches, and leave those slithering things alone. I thank God he's okay; as it seems he's developing some level of immunity.
With summer grasses plentiful, I prepare myself to work outside. Around the Cross-Dubya, I protect myself by wearing boots, carrying a gun, and keeping my eyes down and looking ahead. When I prepare to walk across a pasture, I silently ask God to order my steps to keep me from harm. I look for a path worn, or forage eaten down, by the livestock, rather than bulling my way through the tall grasses.
Something I've learned from life on the ranch, and in my Christian walk, is that evil doesn't like the light. Like those vile creatures, sin hides in the dark corners, beneath the posts, and in the tall grasses; waiting to strike. The same applies to those dark places in my soul where I've not yet allowed God's light to transform me. Life formed some of those places in me long ago. They include opinions, falsehoods, prejudices, and unforgiven acts.
Have you identified areas of your life where evil lies in wait, ready to strike?
Click To Tweet
In the same way I don't always see the snake before I step on it or Bubba discovers it, sin can appear out of nowhere and surprise us. We say something we shouldn't when stunned or angered. Other times we linger at the provocative scene on television or catch ourselves being envious of what someone else has, or has achieved. I doubt I'm the only person who has done these things; and as much as I don't want them to, they happen now and again. I think we all have tripping points in our lives.
So how can we minimize those times when sin can strike without warning? Something I'm finding helps is including God's word in my prayers each day. I do this by incorporating His word into them. For example, on days when I expect to enter uncharted territory, I include Psalm 37:23-24. "The steps of a good man are ordered by the Lord, and He delights in his way. Though he fall, he shall not be utterly cast down; for the Lord upholds him with His hand." This results in asking the Holy Spirit to order my steps; and reminding me that even if I stumble, God will keep me from falling.
It's not enough to ask God's help to get through your day. We must learn to keep our hearts attuned to Him so we might hear His warnings and guidance, as described in Isaiah 30:21. I've found that the closer I stay to God each day, the less I get tripped up by sin.
In what ways does God order your steps each day?
Click To Tweet
I remember dad telling my brother Ray, "Don't get so heavenly minded that you're no earthly good." I always thought that was his way of saying "get back to work" at our auto repair shop, but I later came to understand. What my dad was saying is that thinking on heavenly things and seeking God's face is good; but God doesn't want us to focus on Him alone. Instead, He wants us to share His light and love with the world.
It's important that we keep God at the forefront of our lives, rather than pulling Him out at prayer time and then shelving Him when we're done. This enables us to live out our lives as better witnesses for Him. It also gives God more opportunity to order our steps. I pray you find ways to invite God to order your steps as He walks with you throughout each day of your life.
God's blessings,

Please join me each Thursday evening at 9:30 Eastern as host Coach Mark Prasek and I take a trip Around the Cross-Dubya. We discuss this week's blog post, offer insight about the lessons learned, and enjoy the fellowship of friends in the live chat room.