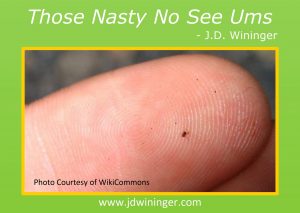 When April rolls around and days are warmer, they emerge; fleas, flies, ticks, gnats, skeeters, bark scorpions, snakes, and yes No See Ums. Smaller even than most midges, No See Ums are microscopic little blood-sucking biting flies (technically a midge) that pack a mean punch. While only the females bite you, it's disconcerting when you can feel something land on you, crawl across your skin, but you can't see them. Next thing you know, you feel a painful bite, which is really an injection, and then you itch like crazy.
Before you know it, little red bumps arise on my calves, ankles, and abdomen and the itching begins. Calamine lotion, rubbing alcohol, and even hydrocortisone offer scant relief. As the adage goes, the best defense is a good offense. Taking a proactive approach to these microscopic buggers by protecting yourself before you encounter them is the best defense. Sadly, No See Ums have never read General George Washington's military strategies or Coach Vince Lombardi's missives on football.
When asking my entomologist friend, Mr. David Lavender (I respectfully refer to him as "Bug Man–the caped crusader of creepy crawlies"), he shared some wonderful insights. Mr. David suggested treating my skin before I head out into the fields, pastures, barns, and other moist soils where they seem to congregate will help repel them. "While nothing is foolproof, using a lotion or cream containing DEET will help."
What I learned from researching No See Ums is that their bite is a harvesting mechanism. When the females bite (no comments please), they inject their saliva under your skin, which causes blood to pool. It is the victim's blood that females need to produce their eggs. All I know is that their bites are painful, bothersome, and aggravating; especially when they attack my sweet wife.
While treating the effects of these nasty little ankle-biters, I thought about how we experience spiritual No See Ums in our lives every day. We go along thinking everything is okay, and then a friend betrays or belittles us and we become discouraged. Other times we catch a news soundbite spreading falsehoods and fear, and we grow angry. I've learned that while we can defend against No See Ums, both the physical and spiritual varieties, we can't fully defeat them.
How do you combat those No See Ums that attack your spiritual journey?
Click To Tweet
As much as we try, we can't completely rid ourselves of the pesky No See Ums that show up around the ranch in spring and summer. The sin nature we are each born with ensures we will never rid ourselves of the spiritual ones. I understand that even though I am a Christian, I am yet human and will always have that sin nature within me. Many struggles in our Christian lives come from the battle of wills that take place between our human and spiritual sides. In the same way I asked my friend Mr. David for guidance, I did the same thing of our Lord. Father, how do I defend against those spiritual No See Ums that seek to disrupt my journey in faith?
In response to my prayerful plea, God kept taking me to one thought; grow up. What I believe He wanted me to understand is that although I will always battle with my sin nature within while in this world, I'm not a helpless victim. As we grow up or mature our faith, we develop the characteristics of Christ in our lives. These come in the form of the fruit the Holy Spirit instills within us. By maturing these Christ-like character traits, we become better equipped to defend against the spiritual No See Ums that creep into our daily lives.
In reading Galatians 5:19-25, I identified the names of many of those spiritual No See Ums; followed by the tools I need to defend against them. While I need each fruit, I'm finding that in my life the discipline of self-control is my most effective weapon. When I sense an attack by a nasty hoard of No See Ums in my spiritual life, using self-control to stop their progress is my best defense against them. I pray God help equip you to defend against all those nasty spiritual No See Ums Satan sends as he attempts to disrupt your spiritual walk.
God's blessings,