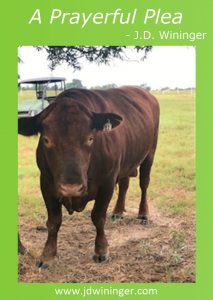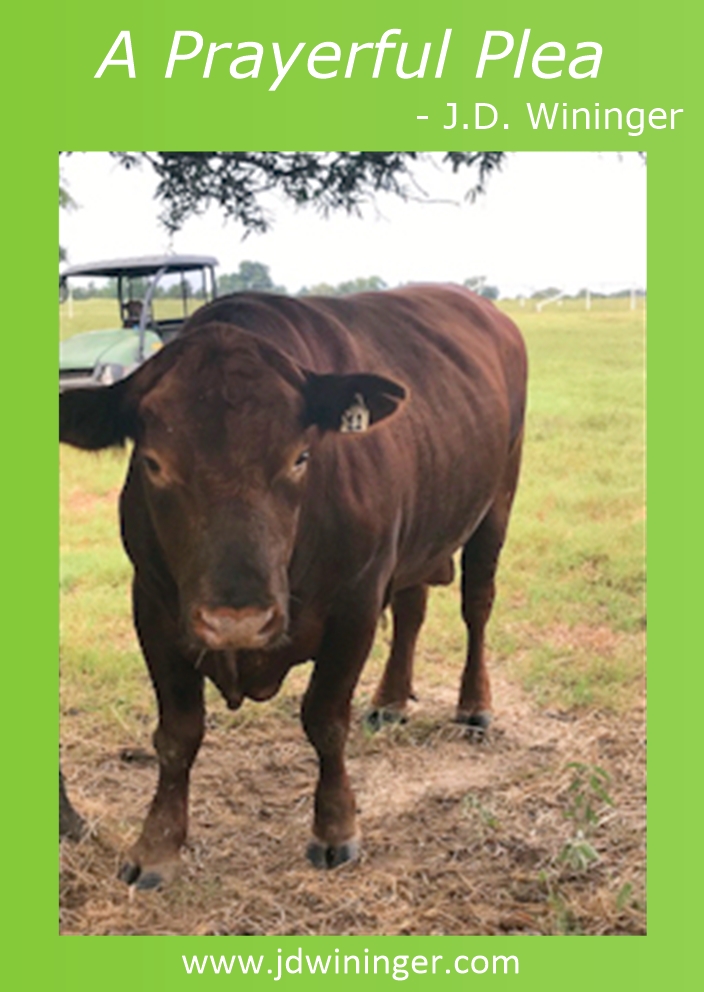 He stands at the far western edge of the ranch; solemn, alone, a stalwart watchman. As I enter the pasture to feed this morning, all the cattle have gathered for the feast—but for one. "Mavric" is my herd bull. Soon to be four years old, he is a registered Red Angus weighing in at almost 2,000 pounds of solid muscle and testosterone. Often the first one to the feed trough, I have to wonder why he's remaining so far away. After pouring out the feed buckets, Bubba the chocolate lab and I go to investigate.
Driving across the pasture, Mavric begins his loud bugling. At 6:30 in the morning, I'm certain all the neighbors in the surrounding counties are enjoying his calls. All my girls stop feeding and look up. Their sire is calling. With breeding season in full swing, he's been with my cows and heifers for several weeks. Why he's not with them now has me puzzled.
Then, as the amplitude and urgency of his bugling ratchets up, I see the first few dots appear on the horizon. As I get closer, I can see the neighbor's yearling cows and calves, along with their mamas emerging from the woods. My neighbor and I both turned our herds out on our back pastures this week, which means two things. It will be noisy, and I will need to keep a close watch on the fences. We try to avoid these things happening, but here in cattle country it's inevitable.
In full voice as I pull up to him, I reach out to scratch his poll and encourage him to abandon his quest. Even enticing my buddy with a few cubes will not deter him. Soon he turns from me and begins his piercing bugling again, laser-focused on attracting a new mate. Shaking my head, I return to the UTV and head back to the house; another cup of strong coffee is calling me.
I realize all animals, even humans, are driven to bugling to attract a mate. Male birds are more colorful and put on majestic displays with their feathers to appear larger and use unique calls to make themselves more appealing. Bulls, be they elk, deer, or the bovine variety bugle. With sounds ranging from low grunts to that of air escaping a balloon, this is part of God's natural world. Fellas, do you not think we have our own method of bugling? How many of you square your shoulders and puff out your chest a bit more when your beautiful wife or girlfriend enters the room?
In the days since, Mavric has broken the electric fence and caused two breaks in the barbed wire beyond that. I can't be angry at him, realizing it's a natural thing, but I need to be cautious he doesn't escape; or worse, the neighbor's bull visits my side of the fence. In preparing to make repairs, I starting thinking about how my prayer life needs to be as passionate as Mavric about pursuing potential dams.
I stopped to ask myself; When is that last time you prayed with that much passion? When is the last time you found yourself balled up in a pool of tears, pouring your heart out to God? It wasn't long before I parked under the pine trees and began my apology. I'm learning that when the Holy Spirit convicts us, we need to act in that moment, not file it away for a more convenient time. So in the light rain, my pal Bubba made his way into the hay barn while I tearfully pleaded with God.
When is the last time you poured out your heart to God in prayer?
Click To Tweet
Making a prayerful plea to God isn't coming to Him with a list of wants, needs, and demands. It isn't intercessory prayer for friends and family. It's humbling yourself before your Creator and begging Him to show His mercy upon your pitiful life. In pleading with God in prayer like this, we make a heartfelt plea for His mercy. It is, as Paul described in Philippians 4:6-7, an act of supplication—the action of asking or begging for something earnestly or humbly (the Oxford Dictionary).
It's impossible to think of examples of pleading prayers without many examples from the Old Testament Psalms coming to mind. David, the man after God's own heart, became a master at this form of prayer. Whether he was being hunted down by a deposed king or praying forgiveness for committing murder, we find him throughout his life, prone, uttering tear-filled pleas. Yet, we find many examples of people pleading with God through prayer throughout the Bible. Some include:
Joshua, begging God not to destroy the Israelites (Joshua 7)
Jeremiah, pleading his case to God (Jeremiah 12)
The widow seeking justice (Luke 18)
Hezekiah, pleading for his own life (Isaiah 38), and
Paul, pleading for God to remove his thorn (2 Corinthians 12)
In all these cases, the common thread I find is that these people came to God not with demands, but with humble requests to their Creator for His mercy. When I prepare to approach God's throne with my prayerful pleas, I think of Psalm 62:8 "Pour out your heart before Him; God is a refuge for us. Selah". You can only do this when you humble yourself to His sovereignty and majesty. While I am a child of God, I must remember that I am His servant and must always approach Him as such. In salvation, I surrendered my will, my life, to Him. Through His divine mercy, He helps me to let go of this world as I strive to move further into His.
In letting go of my worries, fears, and heartaches, I am reminded that my petition will not go unanswered. I know that God will not hold my confessed failings against me. I cling to His promise, "I, even I, am He who blots out your transgressions for My own sake; and I will not remember your sins." (Isaiah 43:25, NKJV). I pray you join with me in remembering that God is our deliverer; that no request of His dear children (when asked in a right relationship with Him) will be ignored. We must also remember that while we plea with God to remove our earthly desires, faults, and fears, it may not be immediate. There may be times when He needs us to resist them just a bit longer to strengthen our faith.
God's blessings,