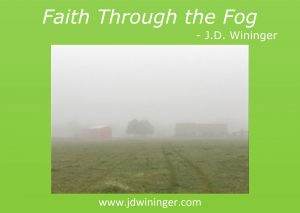 As Bubba the chocolate lab and I made our way across the pasture, the thick morning fog allowed only a faint outline of my destination. Home. Wonderful thoughts rushed through my mind. Driving back from morning rounds, I struggled to see our home. As God does, He drew near. I stopped the UTV and started praising Him for all the blessings in my life.
Looking at our house, I thought about how far God has brought my wife Diane and I in our walk with Him since moving to the Cross-Dubya. I pictured her snuggled in her warm bed, sleeping soundly. I thanked God for the special blessing and gift that is my life partner and very best friend. Bubba wiggled his way under my right arm as he likes to do when riding beside me on the bench seat. I patted his head and scratched his ears; and thanked God for bringing this silly boy into my life. I thanked Him for saving him from the serious snake bite last summer and asked his protection over my furry friend.
Having just completed calving season, I thanked God there were more gains than losses. I gave thanks for the health of all our livestock and asked His continued blessings with weather, forage, and my health to continue caring for all His wonderful creations. Even though we've had far more rain than we've needed, I thanked Him for the life-giving elements He brings.
Surrounded by dense fog, unable to see my barn or the front pastures where the other cattle were at, I had a thought. God, like this fog, I can't see what tomorrow will bring. I know my future is eternity with you, but what other trials, heartbreaks, and heartaches must I yet face? In the moment, God brought this promise to mind. "We don't yet see things clearly. We're squinting in a fog, peering through a mist. But it won't be long before the weather clears and the sun shines bright! We'll see it all then, see it all as clearly as God sees us, knowing him directly just as he knows us!" (1 Corinthians 13:12, MSG)
I smiled, realizing that in a few hours the sun would be up, the fog cleared away, and the day transformed into a bright, warm, glorious testimony to God's faithfulness. I would see clearly all God has blessed me with. A great sense of peaceful satisfaction enveloped me. My heart was no longer consumed with doubts or worry, but filled with the warmth of God's love. Oh how I love those moments of intimate connection with Abba. God reminded me on this morning that He is faithful to always be with us, whatever may come in this life.
How do God's promises sustain you in your journey?
Click To Tweet
We cannot know when this current pandemic will end. We can't know what the next trial will be. While I believe we are closer to Christ's return than ever before, I can't tell you it will occur before I cross the threshold from this life into eternity. What I know is that God is in control. My faith assures me that whatever tomorrow brings, I can overcome it with God. His promise of Isaiah 43:2 gives me the assurance I need to face an uncertain future.
As my donkeys brayed from the barn for me to bring their feed, I gave ole Bubba a squeeze and thanked God for His visit. While turning the key to restart the UTV, my heart whispered one last promise. "Therefore do not worry about tomorrow, for tomorrow will worry about its own things. Sufficient for the day is its own trouble." (Matthew 6:34, NKJV)
I pray God's blessings for peace, courage, and joy as we face uncertain tomorrows with Him. If you don't have that peace today, please reach out to a friend, family member, or church to ask their help in guiding you to Christ. If none of those are available, reach out to me. I'll find a way to help God help you.
God's blessings,