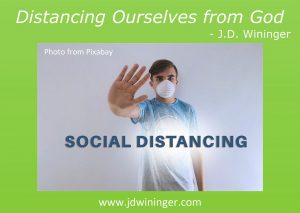 A new phrase has appeared in our culture, it's called "social distancing." Let me make this very clear, "I DON'T LIKE IT!" I understand the concept; I just don't care for its application. As older Americans, my wife and I have our share of health issues, requiring us to take more precautions with our health than when we were young and invincible. When flu season rolls around, Diane and I are more careful about protecting ourselves. I do the errands and shopping. We use hand sanitizer more often (we always wash our hands; I mean "ewww"), and we keep our distance around people who are ill.
Not that we don't get colds, bronchitis, or even the flu now and again, but we let common sense prevail and don't take unnecessary risks. As with any new or unknown thing, this latest coronavirus has caused levels of angst among people to reach almost unprecedented levels. I don't think the imminent threat of nuclear holocaust during the Cuban Missile Crisis or "Duck & Cover" drills in schools frightened folks as much as this novel flu bug.
It's true that this is not the first time on American soil the government has ordered social distancing. However, this is the first time this nation ordered healthy people quarantined in their homes. During the Spanish Flu pandemic over a century ago, schools and churches were closed, people wore masks, and they prohibited large gatherings. Yes, the death rate from the Spanish Flu was twice as high as what they project for COVID-19 (by some), but we should also consider the global population today is almost five times higher. I caution you not to draw statistical comparisons from numbers alone as many factors were in play. For example, personal hygiene, antibiotics/antivirals, and medical technology itself were all very different.
Whether the Spanish Flu pandemic was worse than this latest variant or not will be for historians to decide. The point I want to make is that the fear of an unknown coronavirus a hundred years ago did not shut down any nation's economy. People still worked, products manufactured, and services delivered. In 1918, they took precautions to flatten the curve, and there was an economic impact from the virus, but it didn't require the entire nation and its economy to come to a standstill.
Something else that was very much different 100 years ago? Media coverage. Today's mass media outlets (newspapers, television networks, Internet, etc.) have all moved to the polar extremes in their views, as has much of our culture. There's far right or far left, on or off. There seems less and less middle ground where logical people can have a healthy debate with each passing year. Remember when it was acceptable to disagree with someone yet still use a tone of civility and be respectful of the other? Today, besides words like social distancing and flattening the curve, we hear hate speech, doublethink, newspeak, and other words that seek to define others as being wrong. We commit thoughtcrime when we don't agree with the majority. We ostracize people who dare think for themselves.
I'm okay with the concept of social distancing—maintaining a safe distance between people to reduce the risk of an airborne contagion coming in contact with you. What I'm not okay with is how today's culture seems to equate this to being unkind, self-absorbed, scared, and alone. With each passing week of this extended period of enforced-quarantine, I see this more and more. Less eye contact, fewer smiles, stealing products from another's shopping cart; this is not the America I stand for and defended so many years ago. No folks, I don't like this anti-social distancing at all.
My dear friend Mr. Del Valine gave me the idea for this post a couple of weeks ago. He asked, "I wonder how all this social distancing feels to God? Haven't many folks been doing that to Him for years?" His question stopped me in my tracks. In pondering my response, his question caused alarm bells to ring in my head.
Have we been practicing social distancing with God?
Click To Tweet
I believe that God did not cause COVID-19, but He allowed this to occur. I say this because nothing happens without His knowledge. God is sovereign over all creation. I also know God can use this terrible trial for good, if we trust Him. My friend's question makes me wonder, "Has God allowed this virus to show us how we as a nation and world have been keeping Him at arm's length?"
Many of us claim to walk with God each day. Is it a short walk? Do we even spend 30 minutes (1/48th of our day) in study and prayer, and then never mention or think of Him the rest of the day? Do we keep Him hidden away in our lives, only bringing Him out on Sunday mornings when we want to put Him on display? In our Sunday best, with smiles plastered across our face and hands raised during the music; do we want others to see Him or us?
If these questions convict you as they did me, I'm sorry. I know these are tough questions, but folks, these are tough times. When troubles find us in this life, as Christ promises it will, we need to move closer to God, not farther from Him. I cannot help but think of these words as I write this. "Draw near to God and He will draw near to you. Cleanse your hands, you sinners; and purify your hearts, you double-minded." (James 4:8, NKJV)
Is this latest pandemic a sign of nature (naturally occurring) or was it created by a sinful man in a lab in Wuhan, China (Satan-induced)? It's too soon to know, but I am certain this is a remedial judgment by God to call our nation and the world to repentance. God's word tells us He will never tempt us, but He uses trials to correct and refine us.
Now more than ever we Christians need to show the world the light of Christ in us. We do this through our actions, words, and character. Each of us must let the world see the difference Christ makes in His children by exhibiting the fruit of the Spirit in our lives. We must show how our faith is greater than our fear. Will you join me in asking God to show us how we can become better ambassadors for His kingdom through this crisis and lead others to Him?
We will continue social distancing for a while, but all of us within the body of Christ should come together in our prayers and our service. Let's remember to pray for those who stricken with this disease and those selflessly caring for them.
God's blessings,