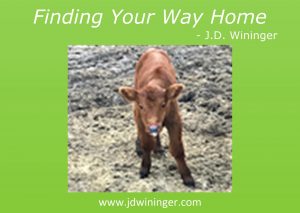 "Rocky" the calf (yep, old "milk-mouth" himself) is a pain in the tuchus. A few weeks ago, he decided he would slip through a loose area in the fence between pastures and go visit the fellas over in the other field. The fellas are yearling steers who are being gained to prepare for moving to a feedlot for finishing. While hanging with the big guys seemed a good idea, little "Rocky" didn't consider how the enticing temptation would lead to such heartache.
Once in the other pasture, the steers took turns giving him the sniff test; decided he didn't belong to their herd, and mostly ignored him. They didn't find his high-tailing (running in circles around them with his tail pointed skyward) amusing. In fact, he found their curiosity with him didn't last very long at all. As they all went back to grazing, "Rocky" stood there looking forlorn and confused.
Identifying where he escaped, I pulled the already stretched wires and tied them together with baling wire to make a larger opening. Logic told me that if he got out through this hole, he would come back through the larger opening in the same spot. An hour later, I remembered cows aren't logical creatures and they're not much for problem solving.
By 5:30 that evening, he decided it was time to eat. That's when he realized his mama, "Lulu Belle", was on the other side of the fence. As he walked up and down the fence line, crying out for his mama, she would respond. I knew he would be okay even if he didn't nurse for an entire day. "He'll figure this out" I thought. I watched him and his mama mirror one another on opposite sides of the fence for almost two hours. After watching him walk back and forth in front of the fence opening about a dozen times, I tried something different.
Getting a fresh square bale of hay, I called my cattle into the small adjoining pasture. As they enjoyed their early evening snack, I took one flake and set it just inside the hole in the fence. "Surely, he will come to get a bite of sweet hay and then he'll just walk the rest of the way through the fence." When I watched him put his head, shoulders, and front legs through the opening to get some hay, I thought resolution was near. Two minutes later, I'm shaking my head in disgust as he backs up into the other pasture and begins bawling again. I told myself, "Cows are so stupid." Then I thought, "How bright are you genius? You can't even get a cow to cross through a fence."
With dusk falling and supper waiting, I gave up for the night and went inside. By 8:30, I was back outside, spotlight in hand, on the other side of the fence. By this time, "Rocky" was so distraught, I drove the quarter mile, opened the gate between the pastures, and let him walk to his mama through the gate. With that brought the risk that the larger steers would get through the gate before he did. More work for me.
The more I chased the yearling steers away, the more "Rocky" seemed to get confused. Every time they would run from my butt bat, he would too. After 30 minutes of this, the steers gave up the game and left to bed down for the night, leaving me, "Rocky", and "Lulu Belle." Finally, I had to walk "Rocky" down the fence line with my ATV. Every time he would stop and try to get through the tight fence, he'd get more anxious. I'd get him righted again and we would make another 20 feet. Once we arrived at the gate, his mama took control. She let out a loud bellow, and he scampered through the gate to get to her.
I stood back and watched as she allowed him to nurse for just a moment and then brush him away with her leg and walk away. She would take a few steps, stop, bellow at him again, and make him walk to her. I secured the gate and loosened the fence wires I had tied together earlier. This scolding between mother and calf continued as they crossed the pasture. As they neared the rest of the herd, mama called him one last time and he nursed for a good 10 minutes.
Thinking about it as I showered, I realized how many times I've followed a temptation and landed headfirst into the cesspool of sin. I ignored the Holy Spirit's warning and dove in all the same. Like my little calf, it was later that I would come to regret my decision. Only then would I cry out for God to rescue me, yet again.
How often we succumb to temptation in the moment, only to regret it later?
Click To Tweet
The next morning, as I was feeding, "Rocky" came up to me and laid his head on my leg. As I rubbed his poll, he seemed to say "Thank you for rescuing me Papa." As aggravated as he made me the night before, I knew all was forgiven. I thought about how our Father in heaven reacts each time we come to Him after applying 1 John 1:9 in our lives yet again. I'm hoping "Rocky" doesn't turn out to be as bull-headed as his caretaker. I pray you always remember to turn to God and ask Him to help you find your way home.
God's blessings,