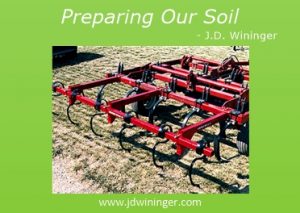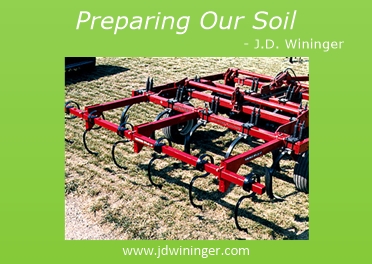 With what has seemed like monsoon season coming to an end here in Texas, it's time to get my pastures ready for spring and summer. As winter grasses and legumes give way to established summer grasses, I've got one pasture that seems to produce weeds as much as anything else. This year, I've decided it's time to till the ground and seed summer forage for my cattle.
While my other pastures will be a mixture of lush Bermuda and native grasses, sorghum Sudan grass will be in this pasture. I may get a fall hay cutting from it, but more than likely I'll be buying hay again this year. It's been so wet over the winter and early spring, that I'll not get a good harvest again this year. One of the many things I've learned since coming to the Cross-Dubya is that you have to have the right tool for the job. When it comes to preparing your soil, there are lots to choose from.
Deciding which tool you use when you prepare your soil for planting starts with determining the condition of your soil. This year, the pasture I'm preparing to seed is a lot like me; hard and crusty. To loosen up that crusty top layer, I'll plow six inches deep using a disc. This tool turns the surface of the ground ("turning the soil") over onto itself, which helps to loosen the first few inches of soil.
After turning/tilling the soil, I follow with a harrow to create a smoother surface. This loosening and smoothing eliminates many of the ruts and holes caused by tractors and cows moving over muddy ground over the winter. If the soil is packed and you don't want to turn it over, then a good no till option is to use a chisel plow (pictured above). The advantage of that, other than it leaves the ground's surface pretty intact, is that it plows much deeper. Going up to 18 inches deep, a chisel plow's shanks perform sub-soil tillage, which loosens the ground underneath the surface, allowing for deeper root penetration and improved drainage.
Turning plows, such as discs, cultivators, and moldboard or bottom plows, turn the surface of the soil. A chisel plow breaks up and destroys the roots that are embedded deep in the soil. So when your pasture has tough-to-control weeds with long tap roots (e.g. goat weed, thistle weed, etc.), using a chisel plow can help to keep them from coming back.
While planning my spring planting, I thought about roots in my soul. Born as a sinful human being, I have sin roots. Some have buried themselves deep within my soul, and while God is working to help rid me of them, I remain a work in progress. I've heard sin referred to in two ways; there are "fruit sins and root sins." Fruit sins are those that seem to keep reoccurring in our lives. Even though we might repent of a sin and God helps us to stop committing that act or thought, unless we remove the root of that sin, it reappears.
God's word is like a chisel plow for your soul. Use it to clear the root sins that keep reappearing in your life.
Click To Tweet
I often think of these verses when I see sin in my life. "You will know them by their fruits. Do men gather grapes from thornbushes or figs from thistles? Even so, every good tree bears good fruit, but a bad tree bears bad fruit. A good tree cannot bear bad fruit, nor can a bad tree bear good fruit. Every tree that does not bear good fruit is cut down and thrown into the fire. Therefore by their fruits you will know them." (Matthew 7:16-20, NKJV)
I like "fruit sins" to being one of my pear trees. I can remove every pear that grows from the tree, but because its roots are that of a pear tree, the next year, I'll get pears and not pecans. However, if I remove the tree and its roots and plant an apple tree in its place, I'll one day harvest apples. I think we must do the same in our Christian lives. We must replace those "root sins" with God's word and Christ's characteristics and let them grow deep within our souls.
The natural question you are asking right about now is "What are root sins?" God's word (Romans 1:29-31 and Galatian 5:19-21, for instance) lists many sins. I am convinced we humans are born with many of these sins, and the propensity for others, within us. However, there are three primary roots of sin from which all those listed come from. They are; lust of the flesh, lust of the eyes, and the pride of life. To recognize them, ask yourself these questions:
Will you lay down your life for the other? If not, then it's not God's love, but lust. If it's another person, or the goal is to satisfy your own selfish desires, then it's lust of the flesh.
Should God bring it into your life, or will He bless you with it? Really? If not, then it's materialistic lust of the eyes (it's I want versus I need).
Will it make me more important, if only in my own mind? Will others stand in awe of me? If so, then it's Pride of Life.
How deep have you tilled your soul lately?
Click To Tweet
As you go through this week, will you join me in praying God identifies our "fruit sins and root sins?" When He does, seek His wisdom on how to best prepare the soil of your soul to grow closer to Him, so you might produce sweeter fruit.
God's blessings,

p.S. I wanted to share a new book with you this week that has been a great blessing in my life in recent weeks. My friend Mrs. Lori Hatcher just released

"Refresh Your Faith–Uncommon Devotions from Every Book of the Bible". This easy-to-read, story-based devotional helps me find new gems from the treasure of God's word; many that I've missed in previous studies. I find it a great source for study, reflection, and learning. I hope you'll consider previewing it at Amazon.com or other fine Christian book retailers. Here's the Amazon link if you're interested.
https://www.amazon.com/Refresh-Your-Faith-Uncommon-Devotions/dp/1640700072
-J.D.