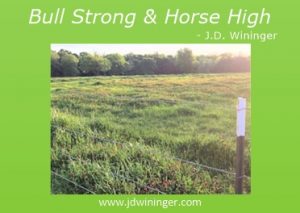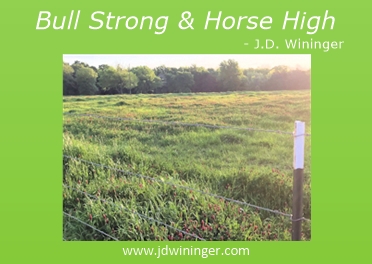 Any rancher will tell you, "Fences are almost always in need of repair." The reminder to build my fences bull strong and horse high came to mind while I worked on fencing this past weekend. I think the original quote, of unknown origin, is "Build your fences bull strong, pig tight, and horse high." Given we have no pigs on the Cross-Dubya, I'll stick with horses and cows.
For those of you who weren't blessed growing up or living in the country, I should explain this phrase. As it was years ago, and still is today, having broken down fences or livestock on the loose is a poor reflection on a farmer or rancher. Not only does it show they're either lazy or incapable of maintaining their farm or ranch, but it also reflects on how well they care for their livestock. In some areas of the nation, if your livestock gets loose and damages someone's property (e.g. gets hit by a vehicle), you can be held responsible.
So the origin of this idea was to keep fences high enough a horse couldn't jump over and strong enough a bull couldn't push them over. Anyone that's ever been around a ranch knows how T-posts can lean with 2,000-pound bulls using them as scratching posts; especially during the rainy season. And there's always a thousand pound cow, or six, sticking their head through the fence to nibble the grass on the other side.
As I was stretching wire, straightening T-posts, and affixing fence clips, my mind started thinking about other "fences" in my life. Fences come in all shapes and sizes. Some are walls, cattle panels, or dog-eared wood slats joined together. Others are strands of barbed wire, long stretches of split rails, or steel casing pipe and sucker rod. The choice of fencing depends on its purpose.
We erect walls or solid fences around those things we want to remain private. For my cattle, I use barbed wire; allowing me to watch over the herd while still keeping them safe. Regardless of fence type, their purpose is to restrict. Something I suspect few of you know is the importance of knowing which side of the fence you are on. Here in cattle country, if the barbed wire is on the inside of the fence post (pasture side), then the fence should keep whatever is inside the pasture in. If the wire is on the other side, its purpose is to keep things out. Many times, this also denotes fence ownership on shared fences bordering properties. To help you understand, the fence posts provide support for each span of fence. The wire spanning between the posts is stronger when you're pushing toward the post than pushing away. This makes me wonder if that's why we are encouraged to lean into God in times of trouble. He's our post, our firm foundation. It's when we push away from God that we get in trouble in our journey in faith.
Thinking about this, I realized that my faith is a fence in some ways. How I exercise my faith depends on what I want to restrict. If my faith is inward facing, then I am using it to guard against sins in my life. Sins like lust of the eyes, flesh, or the pride of life. When my faith is outward facing, I use it to protect against the world and its temptations that seek to disrupt my Christian walk. An important part of learning to apply self-control over your life is knowing which side of the fence you're on.
Which side of the fence is your faith on?
Click To Tweet
In my early Christian life, I saw my faith fence as being overly restrictive. I thought I could no longer enjoy living life. Perhaps that came from some religious folks who sat in church each Sunday with a dour look of sacrifice and suffering on their face. As my understanding of what Christ intended my Christian life to be increased, I found joy in living a God-pleasing life. What I discovered is that joy and happiness are very different. Happiness depends on your circumstances. Joy depends on your relationship with God.
As I've matured in my faith, I recognize that my faith is a double-sided fence. God shields and protects me from the world while His transformational work is happening inside. I pray too that your faith fence becomes double-sided. Perhaps we can adapt this old farmer's advice for our journey in faith. What do you think of this? "Build your faith fence sin strong and temptation high", so our sinful thoughts don't escape and temptations can't jump over.
God's blessings,