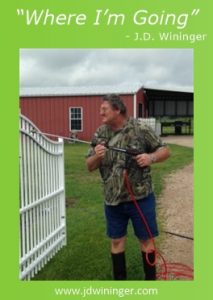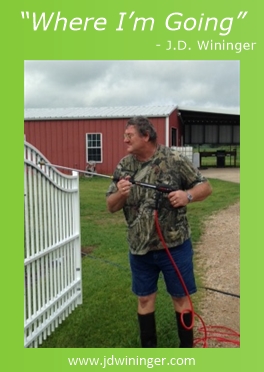 "It's okay; I know where I'm going." I've heard my brother speaking this in my heart for the past month. More than any other, that sentence sums up my brother's life of faith. With all the panic, craziness, misinformation, and mischief going on in this world over the past month, it's easy to understand how many have a sense of uneasiness about things. Paul's words have become a clarion call in my journey of faith.
I watched my 6'5" little brother put his faith into action in how he lived. Born with epilepsy, complications from grand mal seizures left my brother Paul legally blind, but not helpless. He learned to rely on his other senses like touch and smell to adapt his life. In our teens when we became family; to him, it was as though we had spent our entire life together. As brothers do, we teased, laughed, fought, learned, and cried together. Without question, my brother Paul was my best friend.
To my knowledge, there were only two people who could help my little brother through an epileptic seizure; my dad and me. I'd watched our dad grab Paul and hold him close several times when Paul would mention "the pretty rainbow" or ask about "the colors." Those were his triggers that a major seizure was about to overtake him. Holding him and speaking to him in a calm, steady voice prevented him from having convulsions and thrashing around. Somewhere in the process, he almost always lost consciousness.
My brother had surrendered his life to Christ before my adoption into the family. Watching him struggle to work out his faith (as the apostle Paul described it) was a wonderful example for me. I'll always treasure how my brother never gave up praying for me. Even after turning my back on my faith, every time I talked with him, he would tell me he was praying for me. He would add that he just knew God, and I would get it all worked out one day. I'm so glad he believed in me; as sometimes I didn't even believe in myself.
I remember two sayings that showed his faith. One showed his security in his salvation. "It's okay; I know where I'm going" was his reply whenever we spoke about fears and worries. He wasn't afraid of what tomorrow might bring, as he knew this world had long ago stopped being his home. Philippians 1:21 was one of my brother's favorite verses. "For to me, to live is Christ, and to die is gain." (NKJV) I remember driving him home from our service station one night and he asked me to pull over in Nye Jordan Park to ask me something.
I did; and he told me he had heard this verse, but he didn't understand what it meant. With my minimal understanding of God's word, I did my best to explain it to him. "As I understand what the apostle Paul was telling the Philippians, it was how they should try to live as Christians. If they followed Christ's example and lived as He did, then when their human life ended, they'd be found to be in Christ, and would therefore gain entry into heaven."
Paul asked, "So this means that because I am saved, I will go to heaven?"
I answered, "I think so 'Stretch' because if we are saved we won't want to do the things of this world, but will want to be like Christ." After a moment, I added, "People who say they're saved but still enjoy sinning; I don't think Christ is in them."
"So then I'm not going to heaven?" I asked why he thought that, and he exclaimed, with a pained look on his face, "But I still sin, so that means I'm not going to heaven."
Then, I explained how we all sin, and we all fall short of the standard of being sinless that Christ sat when He was human. I asked my brother if he felt bad after he sinned and did he ask God to forgive him for it. "We're not supposed to sin, even though we do."
"Exactly buddy!"; I explained that if we feel guilty when we do something wrong, it's a sign that Christ is in us, and we are in Christ. I added, "It's when we commit sin and we don't feel guilty we have to worry." That satisfied him, and soon afterward he adopted that saying.
Do you know where you're going?
Click To Tweet
The other saying, one that always made me laugh, was "When we get to heaven, there will be lots of charred folks up there." He would add, "I sure don't want to be one of those who smell like they lived in a smokehouse. They're gonna be all charred and have nothing left to place at Christ's feet." He was referring to 1 Corinthians 3:12-15. Before that, I had never considered how it might feel to stand before our King empty handed. "Stretch" understood that it's not what we do that matters, but why we do it. My brother understood how only what we did for God's glory, and not our own, would matter to God. All else—vanity, pride, arrogance, selfishness, self-serving—is worthless to God.
What parts of your life will remain?
Click To Tweet
Perhaps that's why Mom taught us to do everything with a joyful heart and to always ask ourselves why we were doing something. Were we doing it to serve another or ourselves? What a great question to learn to ask.
With all the fear, worry, and strife in this world I pray you too heed my little brother's words, reminding yourself "It's okay; I know where I'm going." I pray you're certain.
God's blessings,