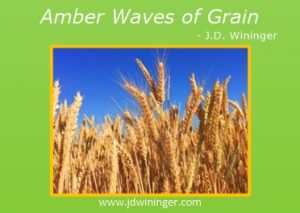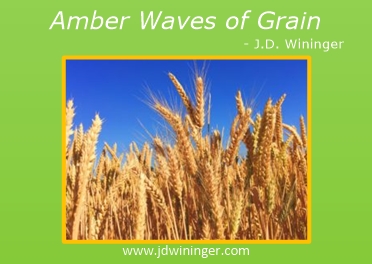 I've learned a lot about farming since I retired. Much has come from reading and studying the science of farming. When I combined that learning with the common sense guidance of many "old timers", it has helped me to produce some amazing harvests. Take winter wheat for example. Managed correctly, you can use it to pasture cattle on during the winter, and still get a good hay or grain harvest if you don't allow it to be over-grazed.
When I introduced some of my experienced farming friends to the Feekes scale, it helped them identify a more exact maturation stage of their wheat; allowing them to better plan the harvest. One lesson I took from understanding the wheat maturation process was how it resembles how we grow as Christians. Like the wheat plant shown below, we Christians mature in stages.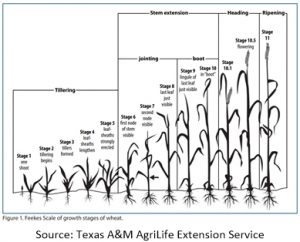 In learning how to read and understand what growth stage my wheat was in, the Holy Spirit guided me to a wonderful blessing I want to share with you. He brought the words of Mark 4:28-29 (NKJV) to life. "For the earth yields crops by itself: first the blade, then the head, after that the full grain in the head. But when the grain ripens, immediately he puts in the sickle, because the harvest has come."
In "America the Beautiful" we sing about the amber waves of grain. How many of you know what it means when wheat turns that beautiful amber color, and what it signifies? When a wheat plant changes from green to amber, it's a signal that the fruit has ripened and the grain is ready for harvest. Here's something I bet a few of you don't know.
The wheat plant changes color because its life is spent from producing its fruit. There's nothing left. Its life cycle has ended. In fact, at Feekes Stage 6, an interesting phenomenon happens. As the wheat plant matures, more of the plant's energy goes to producing fruit than to sustaining its life. At Feekes Stage 10.3, you can split the stem and up to 90 percent of it will be hollow! The plant next reaches the first of three Stage 10.5 conditions, called the "Flowering Stage." This is when the wheat head produces tiny yellow flowers (called Anthers); first in the middle, then at the top, and finally the entire plant head. During this stage, the plant pollinates itself and begins the grain-producing process.
When pollination has occurred, the tiny yellow flowers (anthers) turn white, and the fruit begins the four stages of ripening. It is during Stage 11 that the wheat plant consumes all its remaining energy. When fully ripe, the grain becomes hard with very little moisture content. It is then ready for the harvest.
As I prayed about that process, I couldn't help but ask the Holy Spirit to confirm my lesson. My prayerful question was this; "Lord, as a Christian am I meant to give my life in service to you as I produce fruit for Your harvest?"
"If so Lord, I fall so short. Please help me mature my faith so I may give You the maximum harvest Father."
It was at that moment when God gave me the biggest "Heart Hug." I felt reassured that while I may never reach Feekes Stage 11.4 during this short human life, God promises to complete me at the coming rapture. He will then reward me for the good, lasting fruit He has produced in me.
The maturation of wheat resembles our growth as Christians. Are you producing anthers yet?
Click To Tweet
As a Christian, I can't think of a better metaphor than to have spent my life maturing and producing spiritual fruit that has helped lead others to Christ. I pray you'll join me in this quest.
God's blessings,