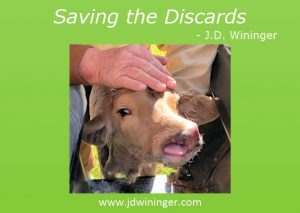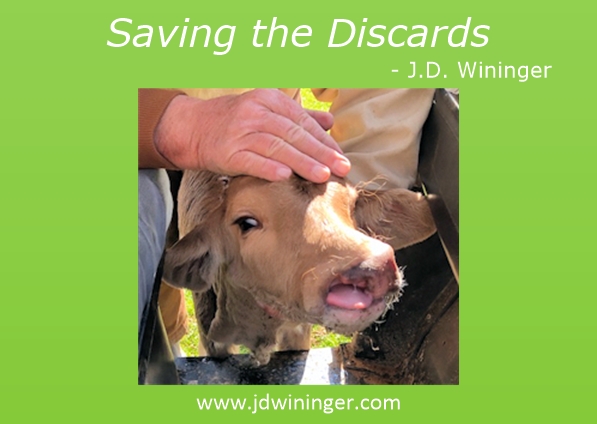 Runt, throwaway, cull, lung-er, reject, discard—all words that speak of little worth in this world. Ranchers use these words to describe calves born with defects or challenges that will require extra care, and sometimes still result in death. "Rowdy", born just a few weeks ago, is one example of that. After being born with a cleft palate and rejected by his mother, he was left to die alone in a vast, lonely pasture. That was until the godly spirit of one rancher resulted in a chance to live.
When calves are born in less than perfect condition, many ranchers make the choice to destroy the animal. They consider it an acceptable loss when a sickly calf requires more care and resources than a healthy one. It blessed me when my ranching friend and Christian brother, Mr. Donnie Bookout, chose instead to put God's words into action.
Unable to nurse, "Rowdy's" mother followed her natural instincts and abandoned the little calf. Without his mother's nourishment, he would not last 24 hours. When Donnie saw the calf being pushed away by its mother, he knew intervention was needed. Sometimes, you can place a mama in a squeeze chute and allow its baby to nurse. Upon arrival in the pasture, my rancher friend saw the reason for the mother's rejection.
"Rowdy" was born with a cleft palate and only one formed nostril. When Donnie realized the calf's tongue was hanging out the right side of its face, he feared the worst. He inspected the spunky little calf and tried his best to get the mama to allow it to nurse. The old rancher had a decision to make; destroy the calf or pray. His decision was to give it every opportunity for life.
So on a cold, damp afternoon, my friend Donnie carried the little calf in his arms and got him into a small corral leading into the barn. There, he finished cleaning it off, dried it as best he could, and prepared some colostrum. He didn't even know if the calf could drink from the bottle, but his gentle heart told him he had to try. With manipulation to the nipple, he got the newborn calf to ingest the needed formula. As he sat with the calf, he prayed.
I can't tell you what my friend Mr. Donnie prayed; I'm certain it was along these lines. "Lord, help guide me to do the right thing to help this little fella. Help him Father to get him the nourishment he needs to survive the next hours, the coming night, and the next day Lord. Father God, help me speak life into this little calf." That night, as he checked on the calf, he found it sleeping on a bed of fresh hay. Knowing my friend, he prayed again.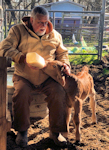 When morning came, Donnie rushed out to check on his little bull. In his heart, he knew to expect it would be dead. To his amazement, the calf was standing and peering through the fence for his new mama (Donnie) to come feed him. Donnie prepared another bottle with replacement milk and sat down and fed his new baby calf. This ritual has continued four times per day for the past month; and this week, we expect "Rowdy" to eat small, pelletized cattle feed as he moves to solid food.
In praying for my friend and his calf, God has been revealing many truths:
All of God's creations have value; in God's kingdom there are no discards.
The words we speak and hear should come from God and not the world.
God doesn't promise that His answers to prayers will be what we ask for, but will be according to His will, not ours.
Speaking life into God's words through our prayers; putting God's words into practice in our lives through our actions, pleases God.
Similar to calf development, young Christians must move from milk to solid food if they are to grow and mature.
The reward comes in the effort put forth, not the result.
Do the words we speak, hear, and act upon, reflect God or this world in our lives?
Click To Tweet
Recently, I've thought about how many times I've heard words of brokenness and rejection spoken into my life by others and sometimes myself. I think also of times in my life where my adopting parents spoke loving, God-inspired words into me. I thank God for those, and the many times since, when my wife, family, and friends lift me up in their prayers or send words of encouragement as I journey through this life of faith.
Like my dear friend Mr. Donnie, I pray you speak life into others by using the words God has written upon your heart. I hope you gained a little insight into a side of ranching very few ever see or understand; what makes Christian ranchers such a special breed.
God's blessings,