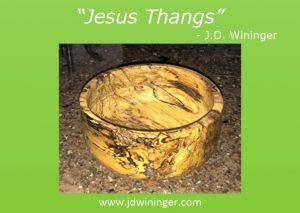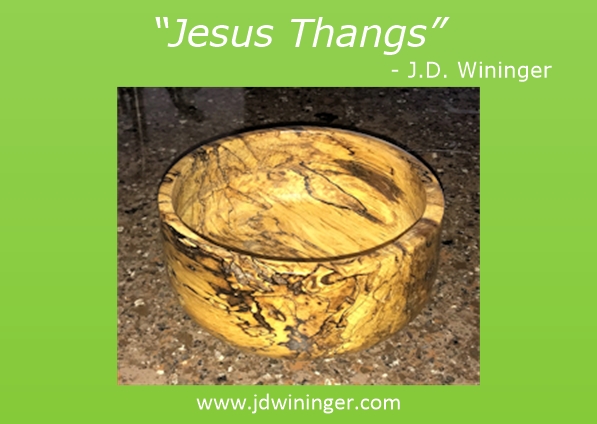 When my family settled in Texas in 2013, I quickly began learning lots of new quaint sayings and pronunciations. For example, we didn't move to Texas, we moved to "Taxes"; and we don't reside in Cooper (Coo-per), we reside in Cooper (kupper), using a short /u/. Among my very favorites was when my new friend Mr. Gary used his homespun Texas drawl to express a blessed coincidence when I brought him a cold Gatorade® on a hot summer day. As only he could say "Jee-im (Jim is a two syllable word in Texas), that's a Jesus thang right there. How'd you know I was a thinkin' about a cold drink?"
A recent visit by our Virginian friends, Guy and Connie Wohlford, brought this saying back into my mind recently. Coming through Texas on a trip to celebrate their 50th wedding anniversary (Happy Anniversary, in April, folks); they were kind enough to stop and visit the Cross-Dubya ranch for a couple of days. My wife Diane had not met either of them before, and I had only spent a short time with Ms. Connie at a writer's conference last year. We were excited to share a little hospitality with our new friends and learn more about one another as we anticipated their afternoon arrival.
After helping them get settled in from a long day of driving, we shared a relaxing meal and chatted well into the night. The next morning brought "the fifty-cent tour" where Guy, Ms. Connie, and I toured the ranch. We started with Ms. Connie visiting "Elpis the donkey", named after a beloved character in her new Easter book for children, The Lord Has Need of YOU. What joy was found in feeding treats to Elpis, Magic (who fell in love with Ms. Connie), and Mavric the bull. We spent time with the mama cows and their calves. Next, I laughed watching my friend Mr. Guy feeding hay and just loving on "Aunt Louise" as she ate hay right out of his hand.
We spoke about gardens, vegetables, fruit trees, and my front yard full of pecan trees. I wondered why my friends looked at one another when I suggested I had a pound or so of pecans they should take with them. Later that evening, I would understand. Mr. Guy and I also took a look around my workshop as I explained all my woodworking tools, lathes, and lots of raw material to use. I lamented that I've done very little woodturning since I became a rancher.
After a traditional Texas barbecue dinner of brisket, barbecued baked beans, coleslaw, and peach cobbler for dessert, Ms. Connie announced she and Guy had a gift for us. She scurried off to the guest room and returned with a large bag. She was commenting that while she was selling books at a country store, she came across a gentleman selling his wares and she just knew this was the perfect gift for her Texas friends.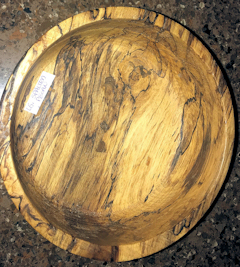 From the bag, we revealed a beautiful hand-crafted wooden bowl made from spalted pecan wood. Ms. Connie shared with us how the maker had commented that an ice storm had brought down all his pecan trees; and he used the wood from them to create treasures like this. Diane and I were thrilled with this amazing gift, as it fits with the décor of our home perfectly. We thanked our friends for their precious gift and assured them it would be displayed in a prominent place in our home for many years to come.
Guy & Connie's gift of a beautiful handmade pecan bowl was selected long before their visit to the Cross-Dubya. Long before they knew I was a woodturner or that I had pecan trees on the ranch. I wondered aloud, how did they know the perfect gift for our home? The only answer that made sense was "It's a Jesus thang!" I am certain our Lord had a hand in helping Ms. Connie select a gift we would enjoy, treasure, and show His presence in our four lives.
Many of us can recall times when things just seem to fall into place and our lives are somehow made easier in the process. Examples in my life are praying for a family who would love me; and God relocated a family all the way from Massachusetts to Florida to answer my prayers. Another was praying for many years for a soulmate who was a gentle, caring, loving helpmate whom I could depend upon and grow old with. God gave me my Diane. Other times, I've prepared a welcome for our church only to learn my short welcome dovetails perfectly into the pastor's sermon.
Do you view things as coincidence, happenstance, or God's provision for our lives?
Click To Tweet
I've been learning that these things were not mere coincidence, kismet, or luck, but they are God's gentle reminders that He is with us always; and He blesses our lives each day—often without us even recognizing His provision.
So, the next time you get the last item on the shelf that is on sale. The next time you make all the traffic lights on your way to a meeting, or wonderful friends share a perfect gift with you. Consider that it isn't just coincidence—It's a Jesus thang―and take just a moment to thank Him for all His blessings in our lives.
God's blessings,