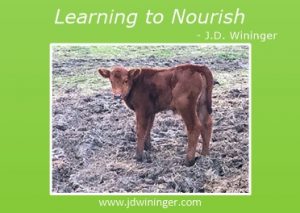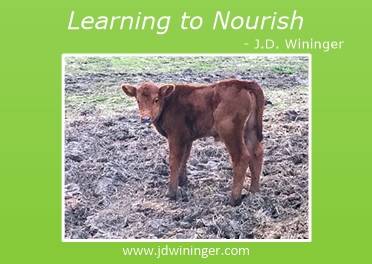 "I don't know Honey; the odds are stacked against this little fella. He will need to be a real fighter to survive." The stiff breeze combined with the dampness created a wind chill in the 20s. "Lulu Belle" was the first Cross-Dubya born heifer to calve. I thought to myself, I wonder if there is such a thing as a great grandcow? On this cold January morning, I was about to find out.
While I love all the animals God has placed in my care, "Lulu Belle" holds a special place. She was the second calf born here on our ranch, and her gentle nature was present from the start. To this day, whenever I enter the pasture, she is among the first to greet me. She nuzzles close and waits for me to pat her poll or scratch her chin or ears. She eats out of my hand; and is always patient when I'm around. Heifers are those females who have not yet had a calf; making them the ones ranchers worry about most when calving season rolls around.
As calving day drew nearer, I watched my "little girl" (as much as you can call a 950-pound cow little) become less and less comfortable. She was last to get to the bunk feeders, slow to move, and it seemed she just couldn't find a comfy spot in the pasture to lie in. Looking across the west pasture on the last day of the month, I knew her time had come. Finally, my baby's baby was having a baby. Great grand-cows. Woo Hoo!
I watch for signs of trouble as the birth progresses. Hooves first, angled downward. Another contraction. She looks up at me with a look of confusion mixed with immense pain. As I kneel beside her head, I place my hand on her neck, gently stroke, and begin praying. Time seemed to be crawling as labor progressed. I'd check the time and had to resist the urge to interfere in the natural delivery. After about forty minutes, business picked up and with a few good pushes and some gentle coaxing, a beautiful little bull calf emerged.
Elated, I patted my girl and moved away to thank God for His presence and observe. When calves are born, I try to always give mother and calf some private time to bond. After just a minute or two, a cow's natural instincts kick in and she gets to her feet and begins caring for her calf. After fifteen minutes, I began to worry. Here was a fifty-pound calf, soaking wet and covered in "yuck", laying on the cold ground fighting for life. Mama hasn't moved since the birth, only lifting her head to eat some fresh grain I had placed near her head to help replenish her strength.
Another fifteen minutes pass and I knew I had to act. If I don't get mama up, then I need to carry the little calf around to her front and encourage her to clean him up. With some encouragement, she got up. She looked at her calf, looked at me, and moved away. I'd heard about this, but have never experienced it. Her pain was greater than her instinct to mother. I realized I had to teach my new mama cow how to be, in fact, a mama cow.
When I got her moved back to her calf, I began wiping the calf with a towel to clean it up. All the time, I'm encouraging "Lulu Belle" to come help; to come "meet your baby." Finally, she starts helping. As she's licking its head, I move away to let nature take its course. Soon, the first soft cries between mother and baby are heard. Before long, other mamas come to join in. Each takes their turn to come smell the little calf, give it a lick or two, and welcome it to the herd. If you've never experienced the gathering of the herd upon a new birth, it is a magnificent sight to witness. I leave mother and calf to bond.
Thirty minutes later, and it's time for me to check on the pair. Usually, the calf is ready to stand and take its first awkward steps; find its way to its mama's supply of nourishment and ingest the colostrum needed to activate its immune system. Before I can get to the gate, I realize something is wrong. I see "Lulu Belle" lying down, and I see a small lump two-hundred feet away. Then I see the turkey vultures starting to gather. "Not this time" I scream! As I race to get out to the location where the little calf is laying, I see it's still alive. Shivering from the cold, half-cleaned, and weakening, I fear I may be too late.
I grab towels and begin wiping the calf to get it cleaned up. Cleaned, I then tried to herd mama back to her calf. It's not that she's a bad mama cow, it's a case of her pain is greater than her instincts. She doesn't know how to be a mama cow right now. I determine I have to teach her. "Lulu" doesn't want to get up. She's hurting, tired, and just wants to rest. I go back to the little calf and ask God what to do next. With arms cradling its chest and abdomen, I try helping it stand. I have to get it to its feet if there's any chance of getting it to take nourishment.
As I'm working with the tiny little newborn, I continue to implore his mama to come to me. Mercifully, she gets up and comes to see me. All the while, the little calf is struggling to learn to balance and stand. I have to teach it to use its rear legs first to stand. How will it know how to get up if no one ever teaches it, I wonder. "Now you're getting it little fella!" I'm elated to see signs of desire, struggle, and determination from the little calf. "Oops… it's okay, let me help you back up" as I once again cradle him in my arms.
With mama now next to us, I help move the little calf into position to begin nursing. "Lulu's" teats are tender, she's in pain, and here's this little thing with a mouthful of teeth wanting to nurse? Each time the little calf reaches to nurse, his mama backs away. Now he is chasing her around in circles, attempting to find the nourishment he needs. If calves don't get the natural antibodies from a mother's first milk, their immune systems can be easily overtaken. Hand-feeding some grain and hay, I'm able to still "Lulu Belle" enough to allow her little calf to nurse.
A few more minutes and it's time for me to move away and let them bond. As I drive away, I raise my arms to praise God for His presence and guidance through the morning's ordeal. Sipping a cup of coffee as I watch mother and calf through the kitchen window, Diane asks me what we should name him. Given her penchant for Italian names, I've no idea what to expect. Explaining the ordeal to her, she states matter of fact "We'll call him 'Rocky', although I'll be calling him 'Sly.'" And with that, "Rocky" got the name he deserved.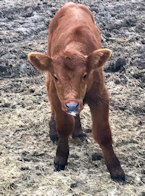 If you look closely at the photo, you'll understand why at three weeks old, I have nicknamed him "Ole Milkmouth." To this day, whenever I go out to feed, "Rocky" comes up and nuzzles close, saying hello to his great grandpa.
Later that evening, as I often do, I asked God to reveal to me what lesson I can take from the day's events. On this day, it's a surprising one. I felt God telling me "Today, you learned the importance of discipleship." You see, just like a new mama cow, or a new calf, new Christians don't know what they don't know.
We more mature Christians must be willing to help show them what to do. Too often in today's churches we see new lives commit themselves to Christ. We rejoice in their moment of salvation. We shake their hand or give them a hug. Later, we do it all again at their baptism. Too often, we then leave them to struggle in learning how to deal with their newfound faith. It's as though we expect them to "get it" through some spiritual osmosis of some kind.
In what ways can you promote growth?
Click To Tweet
Instead of leaving them to struggle alone, sometimes in the cold, unsure of what to do next or how to do it, we must gently teach them. We must help develop the foundations of their faith upon which they can be nourished and grow to full maturity. I can only speak of my own experience here, but when I was saved, I didn't know how to study the Bible. No one explained to me what it meant to be a Christ follower. I was never taught how to pray or about the importance of fellowship with other believers. The result was many years of struggle, failures, and eventually a period of turning away from my faith.
If you are a young or immature Christian and you have questions, doubts, or fears, I want to encourage you to ask someone in your church to help disciple you. If you're a mature Christian who bears the scars of spiritual battle, I encourage you to become a mentor, a friend, a "Disciple Maker." Whether a one-on-one situation, a small group, or a large gathering of like-minded Christians who seek to grow together, please look for the guidance you need or can provide to other Christians. We are not made for solo journeys in faith my friends.
God's blessings,