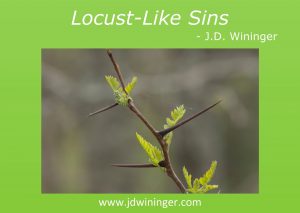 Our friend Mrs. Cathy Baker (www.cathybaker.org) responded to one of my January posts, writing "Pride is one of those parasitic sins because it just pops up unexpectedly in our lives." The honesty of her comment floored me. As I thought about it, I likened it to how hard I fought to rid my pastures of locust trees right after we purchased our Cross-Dubya ranch.
As shown in the photo above, you can understand why farmers and ranchers have a healthy hatred of locust trees. Growing up to finger-long, these rigid thorns are notorious for flattening tires, getting stuck in the feet and hide of livestock, and even ending up in hay bales now and again. I can't imagine anything worse for one of my cows than reaching for a mouthful of hay and pulling back with a mouth full of thorns. So, we work to eradicate them whenever we find them trying to invade our pastures and fields.
You would think cutting down the sapling or tree would solve the problem, wouldn't you? Makes sense that if I cut down the tree, then burn that rascal, I solve the problem. Weeks or months later, you learn the hard lesson that locust trees are just not that easy to get rid of. You discover they have a tentacle-like root system that runs in all directions just under the surface. And when you separate that root system from its large tap root, it triggers these sucker roots to sprout a hundred new trees.
I suspect you're beginning to see what I did during the first 18 months of ranch ownership. Cut down the tree; wait for new growth a few feet away, cut it down. Over and over I went until the manager at the local farmer's cooperative explained to me what was happening. He suggested that when I surface cut the tree or sapling, that I saturate the freshly severed root system with a herbicide named Tordon®. What a difference!
It wasn't enough to remove the tree or its tap root; I had to treat the remaining sucker roots. When I started doing that, less and less new growth would appear. Some five years later, I'm happy to report (so far) I have no locust trees left on my property. My cows are happy. My arms and legs are happy. And my tractor tires are, well, at least they're not flat.
In thinking about my friend Ms. Cathy's comment, I realized how those parasitic sins we had spoken about were much like those pesky locust trees. Unless you treat the roots of your sin, it will return. Sometimes, when and where you would least expect it to.
What is your solution for treating the root of your sin?
Click To Tweet
So when I discover those pesky parasitic sins in my life, how do I treat them? What works for me is to first admit they're there by confessing them to God. Next is to repent and ask His help in ridding myself of them. Third, and most important, is allowing the salve of His grace to reach into my soul and treat the root of my sin. Be that pride of life, lust of the eyes, or lust of the flesh, most often one or more of these three are the culprit. God's word confirms this. "For all that is in the world—the lust of the flesh, the lust of the eyes, and the pride of life—is not of the Father but is of the world." (1 John 2:16, NKJV)
When we understand the root of our sins, we are better able to treat it most effectively. Like those locust trees, until you destroy the root system our sins will just keep coming back to trouble us. Thank you Ms. Cathy for reminding me of this ever-important lesson.
God's blessings,

p.s. I wanted to share one last thought with you today. I recently received a copy of Little Faith, Big God from my writing friend Mrs. Debbie W. Wilson. While I've read her new new book, and even written a review of it, I wanted to share a thought that has stayed with me for the past couple of days. In sharing a story for her children's Easter pet adventures about Jordan and Rosie, she referenced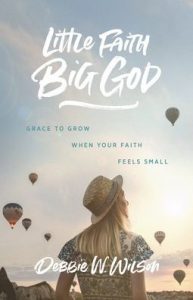 James 1:15 (a verse that I hold close in my heart). She went on to write "In Noah's time, wickedness brought judgment to the whole earth. God's tears must have mingled with the rain when he watched people and animals that bore his thumbprint drown because of humankind's violence." When I think on these words, I cry out for forgiveness of any part I have in making this world ugly. I hope you'll consider this wonderful Bible study from Ms. Debbie, available at  Amazon or a bookstore near you.
J.D.