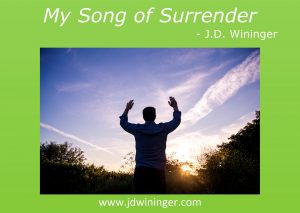 German poet Heinrich Heine (1797-1856) stated "Where words leave off, music begins." I could not agree more. There's something about a haunting melody, a well-paced rhythm, and the right harmony that brings words in a song to life. For the past two years, there's been one particular song that moves me like no other. Good music will set my toes or fingers to tapping, bring a smile, or cause me to sing along while driving, where my voice offends no one. Great songs elicit strong, visceral emotions that stir the soul. Lately, that song is "New Wine" by Hillsong Worship. Every time I hear that song, tears flow.
Some of you may have heard me use the term "Heart Hugs" to describe those special and precious moments when I connect with God. You may recall how they almost always come with tears. I describe those tears as "God squeezing the world out of me." We don't always understand how God can use all things He created to speak to us, but I'm certain music is one of His favorites.
Since being called to use my meager talents in this writing ministry, I've experienced more personal growth as a Christian than ever before. What is interesting to me is how I view myself as God's reformation project. Before He can build new character, strength, and faith, He must remove my base, worldly views and habits. To do so requires my surrender. This is where that song comes into play. More often than not, as I sing along to its chorus, the Holy Spirit comes alongside and points out those things in my life next to go.
The more I fight to hang onto them in those moments, the more my tears flow. I didn't understand this until one day last summer while driving. As the song played, I asked God to help me understand why this song brings about such strong conviction and emotion. It isn't any better than the thousands of other songs I listen to. In response to my plea, He brought Isaiah 43:19 to my mind.
"Behold, I will do a new thing,
Now it shall spring forth;
Shall you not know it?
I will even make a road in the wilderness
And rivers in the desert."
(Isaiah 43:19, NKJV)
As they perhaps intended the words of the song to do, they usher me to a state where I am safe, protected, and nurtured. There, I am encouraged to leave the world behind so God can build the next new thing in my life. In the words of the prophet Isaiah, we see God's eternal promise to His people that encourages them to let go of the past and focus on the glorious future that awaits us. I don't know what tomorrow holds for my writing career or my life, but I know who holds my future and that's enough for me.
Who can you trust to move you into your future?
Click To Tweet
So during this long season of growing and learning, this has become my "Song of Surrender." I pray each one of you finds a song, a scripture verse, and God's promise that moves you beyond this ugly, hate-filled world, and into His arms where you can rest, grow, and become all God intends us to be.
God's blessings,