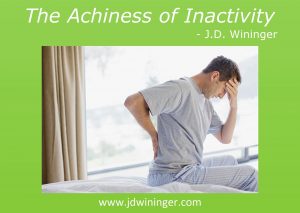 Mornings are the worst for me. I wake up and as soon as I rise from bed the Symphony of Old Age begins. My knees pop, my ankles crack, my neck crunches, and every movement is accompanied by a low groan. As for my surgically repaired left shoulder? It stands silently by, awaiting my first attempt at movement. Then, like crashing cymbals, it sends a crescendo of pain through my neck, chest, and arm.
I have learned that anytime my body remains motionless for any extended period of time, a recovery process is required. Relative inactivity for more than one hour must be followed by a routine of slow, precise, shortened activities in which the concept of movement is reintroduced. My once long, confident stride is reduced to a slow shuffle. The lifting of my head requires a three-minute warm up period of small rotational movement. I have learned that until I can get to the pulley system affixed to my workshop door.
Until I can shuffle outside, I must only use my arms from the elbows down. Only after I've completed a five-minute stretching routine to loosen up the joints can I even attempt to reach above my head for anything. Why do I have the pulley system outside you ask? It's outside because my loud groaning awakens the wife.
As I thought about how my body aches whenever it's been inactive for too long, I wondered what else in my life becomes stiff and inflexible when not used. As I prayed on the topic, I realized how my spiritual life becomes less active when I don't apply the spiritual gifts given to me. When I become too worldly, the gifts of patience, kindness, self-control, joy, and others tend to become less useful in my life. I become more stiff and inflexible. When that happens, my soul starts to ache (to long for) the activity of godly character to help restore my right relationship with the Lord.
Psalm 119:20 states, and here I prefer the Good News Translation, "My heart aches with longing; I want to know your judgments at all times." In the Matthew Henry Commentary on Psalm 119, he explains "David had prayed that God would open his eyes (v. 18) and open the law (v. 19); now here he pleads the earnestness of his desire for knowledge and grace, for it is the fervent prayer that avails much." It is when I am seeking God's wisdom and knowledge, and applying His will in my life, that I find myself most active, happy, and productive.
How do you prevent spiritual achiness in your life?
Click To Tweet
The activities I use to prevent spiritual achiness in my life include studying God's word, seeking His will and wisdom through prayer, and actively allowing His grace, mercy, love, and character to shine through in my daily life. Many days, I feel I've hidden His light behind a curtain or under a basket. On my best days, I've allowed Him to guide and direct my life in a way that showed Him to others. What I have found is that on those days, just like on days when I've been physically active throughout the day, I am more comfortable, relaxed, pain-free, and able to rest more easily.
God's blessings,