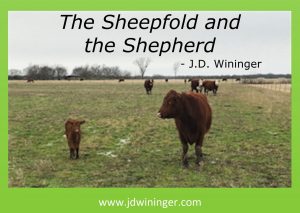 A few weeks ago, "Aunt Louise", my prized Saler cow, gave birth to little 52-pound "Giuseppe." He's the first bull calf she's given birth to and boy is he an active little fella. At three weeks old, he's now into everything. He loves to come up and bull the tires on my ATV, eat hay, and play. He spends his day "high-tailing" it all over the ranch. Most of the time, I see him out there running in circles around his mother. It seems if he's not nursing or napping, he's running.
While "Giuseppe" has always been active, he wasn't always excited to see me show up in his pasture. This post shares the lesson God used him and his mama to teach me. When calves are born, most of the mamas lead them into the feedlot next to the barn. The other cows leave them alone there to bond with one another. The pair, mother and calf, remain separated for a day or so, and then rejoin the herd. As gentle lowing and cries between them continue, they are as comforting to this old rancher as to each other.
I encourage mama cows to move their babies into the feedlot for two reasons. The barn provides warmth and protection from the elements; and steel cattle panels (with four-inch squares) surround the feedlot so nothing of size gets in or out (coyotes, calves, dogs, etc.) The morning after "Aunt Louise" had her baby, I entered the feedlot.
"Giuseppe" was standing under mama, and immediately darted for the far corner of the feedlot, crying out, and trying to escape. Had I not put the panels in place, he would have tried to squeeze through the barbed wire and tore himself open. As he tried to escape, mama walked over and "gentled" her baby with her soft cries. The little calf immediately settled down. Mama then prodded the calf forward and guided it toward me. I remained still, waiting for the pair to approach me.
When she brought her calf to me, I was already in tears as the words of John 10:1-13 emerged from within. In that moment, I understood how mama cow and her calf are both my sheep; I am their shepherd. I rubbed on "Louise" softly and after a few minutes I slowly reached down and patted "Giuseppe." Mama and calf moved away, and I finished my feeding. The next day, when I peered into the barn where mama kept her calf hidden during sub-freezing temperatures, the little calf ran to me, even though mama was off feeding. I couldn't help but praise God for giving me care over His majestic animals. I prayed He helps me to be, like Him, a good shepherd to my flock.
As I prayed about this episode later, God revealed to me a wonderful lesson. He showed me how I'm not only to be a shepherd to the animals He's placed in my care here at the Cross-Dubya. I'm also a shepherd for the people He places in my care. My family, friends, workers and co-workers, and just casual acquaintances who cross my path; I am to shepherd all of them. For some, it might be just a word of wisdom from God or a prayer to help them through a fiery trial. Others, like my ranch hands, I am to disciple them as they seek to grow in Christ. Yet others, my wife and loved ones for example, I am to guide, protect, serve, care for, and nourish them.
Are you leading your lambs to The Shepherd?
Click To Tweet
Lambs appear not only as defenseless, baaaaahing, bleeting, furry little creatures. Some have two legs instead of four. Some weigh over a thousand pounds and like to step on your toes. In all cases, God brings lambs and sheep into our lives for His reasons. Our job is to care for them and guide them into Christ's sheepfold, where they will remain protected for eternity. I love knowing that one day I will give my sheep to The Chief Shepherd (1 Peter 5:4). I pray God's guidance over each one, so I might deliver all placed in my care to His sheepfold.
God's blessings,