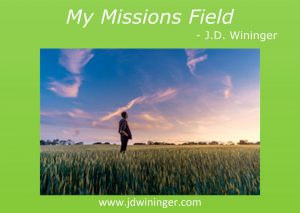 Last fall, I was invited to take part in a Missions Board meeting held by one of my clients, who has become more like family than a client to me. Knowing their company puts its corporate profits toward missions work around the world, I recognized the enormity of this effort. When I saw the list of other board members in attendance, Satan told me I was "out of my league."
"What business does a semi-retired rancher on a fixed income have sitting in a boardroom with powerful ministry leaders and world-renowned missionaries from around the globe?" My dear friend the CEO assured me I could add value to the meeting; and even if I didn't understand my purpose in being there, God did. Like some of you perhaps, I let fear take hold of my introverted self, and every time I tried politely backing out, she overcame the objection. It ended up being a wonderful meeting. Attending certainly blessed me, and I hoped I had added some value.
During the event, I learned about The Joseph's School in Jaipur, India. Here, "rag picker" children are fed a warm meal, given an opportunity for an education, medical care, and taught God's word. I learned how something as simple as clean drinking water can prevent illness, blindness, and transform a village in central Africa. With a report from a missionary in the DRC, I learned of the horrific treatment of women because of sharia laws being imposed against Christians. And yes, I learned of the plight and ongoing captivity of a young Nigerian girl who refuses to denounce her Christian faith (#FreeLeah).
With each report, I saw the impact for God's kingdom that was being made by the love offerings given by this very successful American business. My heart overflowed with joy to see all the lives being impacted by God's love. In the days that followed our meeting, Satan once again tried his best to plant doubt about myself in my mind. He tried to make me feel inferior.
I didn't travel around the world digging wells, caring for the sick or destitute, or feeding the hungry children suffering from famine and overcrowding. I've learned that when Satan attacks, it's an indicator of two things. One, you are doing something right. Two, it's time to pray for reinforcements.
In my prayers, God came alongside and reminded me of His plan for me. My job isn't to emulate my Christian brothers like Lee Cantelon, John Bongiorno, and others. I don't risk my life to carry the gospel throughout the world. My job is to help them achieve God's plan for their lives. By helping his company secure new business, I help ensure the funding stream needed to support these philanthropic missions. It reminded me of Paul's words in 1 Corinthians, Chapter 12. We are one body, with many members; each with a specific role within the body of Christ.
Thinking on this, I realized that my missions field was just outside the door of my home in tiny Cooper, Texas. The wheat and hay I grow, the cattle I raise, the proposals I consult with clients to write; these things contribute to my missions calling. My wife Diane and I don't control the local food bank; we contribute to it as often as we can. We don't determine how the women's shelters her You Matter Card Ministry supports raises funds or teaches life skills. Instead, my wife's handmade greeting cards share her love for each recipient; giving them acknowledgement, inspiration, and encouragement. By using the spiritual gifts and talents God has given us, we each can contribute to His master plan. My missions field is the community I live in and the world my meager talents help support. So take that Satan!
In what ways can you support God's mission for your life?
Click To Tweet
In 1 Corinthians 7:17-24, the Apostle Paul suggests we "bloom where planted" in the way he instructed the church at Corinth to "Live as You are Called." If God saw fit for you to be a slave, then be a slave, but know your freedom is in Christ. Wherever God places us in this life, we are to work for His glory and not our own. We should strive to be the best servants of God we can be and everything else will take care of itself as God sees fit.
Being a servant of God doesn't mean going to a mission field abroad, but seeing the mission field around you and noticing the needs of others. The Bible says, "My little children, let us not love in word or in tongue, but in deed and in truth" (1 John 3:18, NKJV).
God's blessings,