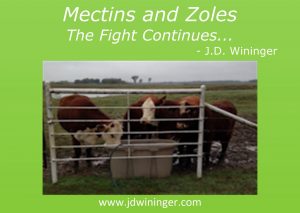 Many who survived English Literature in high school remember the Montagues and the Capulets. Anyone from Kentucky or West Virginia knows about the Hatfields and McCoys. How many of you know about the feud with the Mectins and the Zoles? For ranchers, this feud has been going on since the fall of man.
Like other famous feuds throughout history, this one extracts a heavy price. The "bottom line" in ranching is that that better condition cattle are in, the better price they bring. Malnourished, sick, underweight, or poorly conditioned cattle mean lower selling prices. A lower price results in less profit; it's a simple formula. So what are "Mectins" and "Zoles" and why do ranchers get all worked up at their mention?
These little critters are the parasites, both internal and external, that can wreak havoc on your cattle if not controlled. You may know them by their given names; roundworms, Ostertagia, liver flukes, hair worms, gut worms, etc., but most cattlemen I know use these generic names. Parasites are a year-round problem for ranchers, as you have to treat them seasonally to ensure an effective control and prevention program. The Greek word for parasite is parásito, and defined as "One who lives at another's expense; a person who eats at another's table." With this definition, it's easy to see that parasites exist in all shapes and sizes.
I wondered, Why did God, the Creator of all things, make parasites? I found my answer in Genesis 3:14-19. When God created the world and all that's in it, He said it was all "good." Since there's nothing good about parasites, I believe they didn't exist until The Curse was applied upon the fall of man.
The terms "mectins" and "zoles" come from the medicines we use to treat these parasites. Mectins like to infect cattle in spring and summer. They live both on and inside of cattle in the form of lice, mites, flies, flukes, and worms. Zoles are those internal parasites who want to hibernate (inside a cow) during the fall and winter. While zoles eat little while they're dormant, their mere existence causes all kinds of problems in cattle. The key to managing these parasitic creatures is in knowing what to apply and when to apply it.
Perhaps the best way to explain these terms is the treatment. In the spring, we treat all kinds of active parasites with mectins, such as Ivermectin™, Ivomec™, Agri-Mectin®, Ausmectin™, or other macrocyclic lactones. How do you like that for big scientific words y'all? We treat for zoles after the first hard freeze using a "white" dewormer containing benzimidazoles or fenbendazole like Safeguard® pellets.
As I was treating my livestock for zoles this winter, my mind focused on parasites. Most parasites are small creatures, nearly invisible to the naked eye. It isn't until damage occurs that you notice them. Cattle getting bald spots, the consistency of their bowel movements, lack of appetite, or weight loss are all key indicators. The problem with parasites is you don't see the damage they're doing until the damage is done. If you wait to treat them when you can see the damage they're doing, you're already behind.
Caring for livestock is much like owning an automobile or home. The cost of preventative maintenance is much less than having to make a major repair when something breaks down. The same principles apply to our own health. Something to know about parasites in our animals is that they can re-host themselves in human bodies. It's not uncommon to learn of a cattle worm being found in human eyes, stomachs, etc. In most cases, our immune systems can handle them, but if in a weakened state, the parasites can overwhelm a human body to the point of severe illness.
As Bubba the chocolate lab and I sat watching the cattle, I asked the Holy Spirit to help me understand how parasites affect my spiritual life. Thinking and praying, I realized that parasitic sins, those small innocuous sins that few ever see, can wreak havoc in my walk with the Lord. I questioned, What are parasitic sins? The Holy Spirit brought words like unforgiveness, unrepentance, worldly thoughts, lack of commitment, pride, and no engagement to mind. Left unchecked, we and others seldom notice these sins.
As they increase in number or frequency, these sins show up in noticeable ways in our lives. We become irritable, lose our temper, and become selfish and self-centered. Like the cattle parasites, we notice them after the damage is done.
How do you prevent parasitic sins from damaging your spiritual health?
Click To Tweet
I don't have a doctorate in Theological studies, and am not qualified to offer you a prescription to treat any parasitic sins in your life. The best course of action in my life is one I hope might help you. The preventative maintenance I apply to prevent my parasitic sins from becoming an infestation is reviewing my day and coming clean with God before I fall asleep each evening. In doing so, I let go of unforgiveness and I free myself from the bonds of sin I've placed myself in through confession and repentance. My evening prayer, just before I drift off to sleep, is the right medicine for me to rest peacefully in God's arms. When I do this, I awaken refreshed, renewed, and ready to face the new day God has given me. I pray this works for you also.
God's blessings,