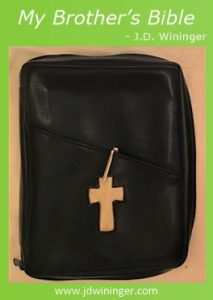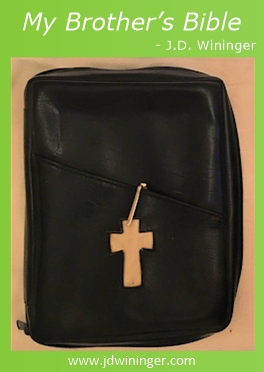 Do you have a "Comfort Item"? I never thought about that term until a friend posted about her hospital shirt and how it brought her comfort and peace. After reading Mrs. Melissa Henderson's post (https://melissaghenderson.com/2019/12/16/the-hospital-shirt-finding-comfort/), I thought about things that bring me comfort.
My first thought was of my wife Diane. She is a great source of peacefulness in my life. We've grown comfortable together, which is not to be confused with complacent. We know each other and can more easily recognize triggers, signs of stress, need, etc. I love how we so often complete each other's thoughts and sentences. I also thought of how God's word identifies the Holy Spirit as "The Comforter" in John 14:26 (KJV). Both bring me peace and comfort, but they are persons and not things. My wife and the Holy Spirit are both "help mates" who come alongside me in this journey called life. So I continued thinking.
Next, I thought about the Bible. "God's word brings me great comfort" I thought. "But wait, Hebrews 4:12 tells me God's word is living." Yes, it brings comfort, but it's not an item or a thing. Then, in His still small voice, I heard a single word deep in my soul; "Paul."
I sat there wondering to myself, Why did God remind me of "Stretch" right now? That's when I realized, my little brother's Bible was both God's living word and an item that brings me great comfort. My brother Paul, who at six feet five inches tall, we called "Stretch", was tragically killed in a vehicle incident in 2016. His loss was a time of great personal grieving for me. Without question, we could celebrate his death because we knew it signaled his arrival in heaven. Making the arrangements and speaking at his funeral was perhaps the most difficult thing I've ever done.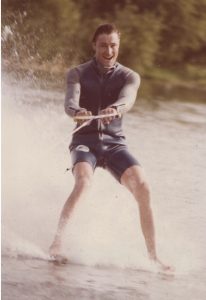 Paul, legally blind and epileptic, was a champion barefoot water skier in his division. He trained with the Powell family in Lakeland, FL (multiple championship skiers in their own right); and some of our favorite memories as a family were those spent skiing in the Chain of Lakes near Winter Haven. The sheer joy on his face when he was skiing was the same one I saw when we worshiped. He lived out the lessons of faith our mom and dad taught us.
More than anything else, from the time of my adoption into his family at fourteen, Paul was my model for living a life of faith. He taught me to worship and praise God. Even though he couldn't read, he would listen to the Bible every day on cassette tapes. Sometimes, when we were swimming in Mr. Gallemore's pool or preparing to close up the family service station at night, we would talk about scripture. He would pause whatever we were doing and ask a question. We spent many hours discussing a particular verse; what it meant to us, and how we might apply it in our lives. I guess it only natural after his funeral, as we dispositioned his meager estate; there was only one thing that had any real value to me. It was the large print Bible he had carried for so many years.
Unable to read its pages, my brother knew and lived by the power of its words. Paul faithfully carried it to each service at his little country church. His wife Sharon would look at the bulletin each week and mark his Bible so he could quickly turn to it when the pastor read from the Word of God. "Stretch" couldn't read, but he could sure memorize scripture and Jesus' parables; often quoting them to me almost word for word.
After his wife could not leave home to attend church, he still went every time the doors would open. Neighbors and fellow church members would transport him most nights as it was just too unsafe for him to drive his ATV in the dark and cross the sometimes busy highway.
Returning home from his funeral, I unpacked his Bible and placed it on a shelf in the bookcase behind my desk; between photos of him and our mom. A few weeks later, grieving my little brother's loss, I carried it to church with me one Sunday morning. I looked through the bulletin from his church, stuffed in the front pocket from the weekend before his death, and found a handwritten note. Knowing this inked note was in his "chicken scratch" printing, I ran my fingers over it. I remembered how he always signed the parts tickets from the pretty girls who delivered auto parts to our service station "Love, Paul".
The referenced scripture verse brought me to tears. "When you pass through the waters, I will be with you; and through the rivers, they shall not overflow you. When you walk through the fire, you shall not be burned, nor shall the flame scorch you." (Isaiah 43:2 NKJV) (emphasis mine). It was as though my sweet, gentle brother had asked God to reach down from heaven and let me know he was happy and okay. I knew then how all the sadness and grief he had felt from losing his dear wife of over thirty-five years was gone. He was happy, most of all for being in God's presence. I think also because it reunited him with his mom and wife; the two who loved him more than any others.
Do you have a treasured comfort item in your life? If so, how does it connect you to God?
Click To Tweet
Each year, on or near his birthday of September 3rd, I wear his cool camouflage shirt with the flap in the shoulders and carry my brother's Bible to church. I loved having his Bible near me each day as it brought a sense of comfort; reminding me that his memory would always keep him near. I miss the nightly calls I used to have with him after his wife, Ms. Sharon, died. We laughed, cried, celebrated each success as he learned to live more independent; and we prayed. More than anything else, I miss hearing him ending our calls with "I love you too bonehead."
These days, my brother's Bible is bringing comfort to our dad back in Florida. Each week, Dad attends Sunday morning services carrying Paul with him to church in the form of his Bible. I know it will return home to me one day, when dad goes home to be with those who have preceded him. Until that time, my brother Paul continues to bring comfort to our family as only he can. I love knowing my brother's Bible is helping to meet our Dad's spiritual needs; just as Paul's examples of faith helped meet mine all those years ago.
God's blessings,