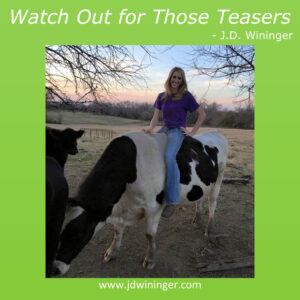 In case some of you may not know this, I'm "crazy" about my cattle and livestock. I talk, rub, and pray over them daily. Some say "JD has the most pampered cattle in Delta County." While the tiny community of Ladonia, TX may or may not be in Delta County, it depends on which side of the road you live on, I can assure you I do not have the most pampered cattle in northeast Texas. My young Christian friend, Miss Kelsey Shetler of the KLS Cattle Company takes that prize. That's her sitting atop one of her bulls ("Uno") in the photo above.
With her daddy's help, she started out showing cattle as a young girl; and her love for ranching and animals has grown from there. "All grown up", Ms. Kelsey oversees a cow-calf operation specializing in producing high-line cattle for sale to other breeders around the United States. In these parts, many call her a Triple Threat Cowgirl; meaning she is pretty, intelligent, and capable—driven to succeed at everything she attempts. Without question, she is all those things.
Having watched her grow and mature these last years, I refer to her as a Proverbs Girl. Why? Because I think her much more than being a Proverbs 31 woman (often thought of as a godly wife and mother). Proverbs Girls are triple-threats in their own right. When I think of this young lady, I see someone who is also wise, kind, and humble. These traits make her more than a successful businessperson or rancher; they make her a beautiful and godly person I am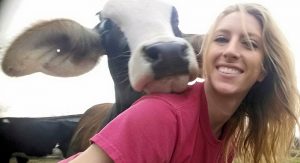 honored to call my friend. Among all these traits, if you ever meet her, I expect you'll agree it's her kindness that makes Ms. Kelsey Shetler such a special person. When I think of this young woman, Proverbs 12:10 always comes to mind.
We both stay busy with ranching and working, and go to different churches, so I don't get to see my young friend as often as I used to. She does post photos and videos of her cattle on Facebook™ often, so we stay in touch. It was in viewing one of her posts last month that this blog post was born.
Unlike my little cow-calf operation, producing commercial beef cattle, Ms. Kelsey focuses on breeding stock. With her focus, she pays careful attention to ensure calves (bulls or heifers [boy or girl]) have the right traits and characteristics needed to produce other top-quality cattle. One way she controls quality is through artificial insemination (AI). By using specially selected materials, rated across more than 25 different Expected Progeny Differences (EPDs), or traits, she can generate a herd of cattle that meets her selection criteria.
Every rancher should consider whether or not to use AI or natural (bull-bred) methods; as there are pros and cons to each. Each straw can cost anywhere from $12 to $200, in addition to other costs. With AI only being sixty-to-seventy percent successful, many still need to factor in the cost of a "clean up" bull. Another consideration is how careful you have to watch your heifers and cows for signs of estrus (generally a 21-day cycle). Ms. Kelsey has chosen to use "Uno" the teaser bull for this job. "Uno" is a Holstein bull, which means he's only useful to dairy farmers who are interested in making more dairy cows, or hamburger. In "Beef Country", Holstein bulls are sort of like placing a milk bucket under a bull; it's there, but it ain't good for much.
So what do you do with a bull that's not much good for making beef cow babies? You give him a job as a teaser bull. A teaser bull is a healthy bull, with as much testosterone as any male, who has been rendered infertile. Yes fellas, bulls can get vasectomies too! While the drive and desire to procreate is still there, they are effectively "shooting blanks", which makes them ideal for spotting heifers and cows who are ready for an AI procedure.
When female cattle enter their estrus cycle, when most fertile, they become receptive to being bred. One sign of this is trying to mount one another. A sure sign is when they enter standing heat, which means they will allow mating to occur. Thus, teaser bulls are ideal to determine the best time to AI a cow.
So now that you've learned more than many of you ever wanted to know about ranching and raising cattle, I'd like to share with you what I learned from Kelsey's post about "Uno" being on the job, spotting as a teaser bull. Reading her post, I realized how Satan employs that same method to identify those who he can tempt and have the best chance of success; he teases us through any myriad of ways, which all find their source in one of the three primary methods we are warned about in 1 John 2:16.
"For all that is in the world—the lust of the flesh, the lust of the eyes, and the pride of life—is not of the Father but is of the world." (1 John 2:16 NKJV)
In this verse, we (saint and sinner alike) see how every worldly temptation we face stems from one of these areas. Satan knows this too, and is a master at using them.
Lust of the flesh: This is pleasure-focused temptations such as food, sex, other "guilty pleasures", etc.
Lust of the eyes: These focus on our carnal human nature to possess material things such as homes, cars, money, etc.
Pride of life: This is the self-focused part of human nature that makes us want to compare ourselves to people and things. It's what causes us to be boastful, arrogant, with little or no concern for others.
Satan doesn't play by the rules. How can you avoid being tempted by his teasers?
Click To Tweet
Unlike cattle, we humans were made with the capacity to control our desires and apply self-control so as not to act on instinct, but with discipline and integrity. Unfortunately, God also gave man free will; and Adam and Eve chose themselves over God. In doing so, our human nature was corrupted. The good news of the Gospel of Jesus Christ is found in John 3:16 (NKJV); "For God so loved the world that He gave His only begotten Son; that whoever believes in Him should not perish but have everlasting life." In the person of Jesus Christ, we can be born again and upon our true salvation, the Holy Spirit comes to live within us.
It is only through His indwelling that we can begin the reformation of our incorruptible spirit. Through the spiritual gifts He blesses our lives with, we can develop the tools (e.g. discernment, knowledge, wisdom) and armor (Ephesians 6:10-20) needed to withstand Satan's teasers in this life.
I realize these are not radical new spiritual concepts to many of you, but as my mind focuses on "the reason for the season", I wanted to take just a moment to remind each of us that God has not forsaken us. He will not surrender His greatest creation, made in His own image, to this corrupted world. I leave you with the words of the Apostle Paul from 1 Corinthians 9:24 "Do you not know that those who run in a race all run, but one receives the prize? Run in such a way that you may obtain it." In the coming year, will you join me in desiring to spend more time in the Word than in the world?
God's blessings,