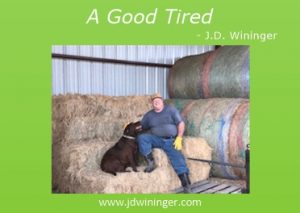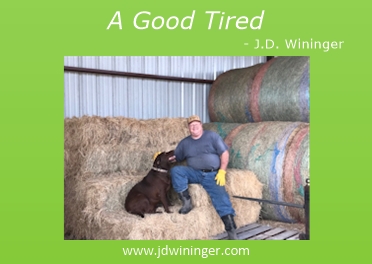 Every muscle ached, legs felt mired in concrete, shirt soaked through with sweat; still I hadn't felt this alive in months. In my sixth month of shoulder rehab, I knew the last warm day of the year had arrived. I called a young friend from church to help. This past Saturday was the first full day of work around the ranch I've done since June. Boy, did it feel good!
Still unable to load or unload sacks of feed, I'm working to regain arm strength and shoulder flexibility. I'm not there yet; nor am I expected to be, but when projects you've needed to do around the ranch for months beckon, you "suck it up buttercup" and get them done.
With help, fencing repairs, feedlot organization, barn cleaning, and preparation for the coming winter months gave me enough projects for the day. It felt good to put in the first full day of work (ten hours) on the Cross-Dubya in a long time. There's more to do; like fell a dead tree before the rest of it falls on my fence. A project for another day. As the sun was sitting, I breathed a huge sigh of relief at everything we accomplished.
Walking inside, I told Diane I needed a shower and would make us a pizza for dinner afterwards. Exhausted, I shuffled down the hallway, adding "Tonight, I'm a good tired." Good tired may be a new phrase to some of you, but it's how I've expressed my satisfaction with my day for as long as I can remember. Many will ask "If there's a good tired, then is there also a bad tired?" You better believe it; and in my life I think I've had more bad ones than good ones.
A good tired comes from a hard day's work that results in the feeling you've accomplished something; that you've made a positive difference. In those moments, we are at peace with ourselves. Our breathing and pulse is slower, our spirit settled, and our mind is at ease. Conversely, a bad tired is often the result of struggling through your day, dealing with everyone else's problems, needs, demands, and complaints. You're left stressed out, hyper-sensitive, and unsettled.
In either case, we need to rest and restore our strength to face the next day. I've found that on those bad days, rest was difficult to achieve. My mind would replay the day's events as if I were attempting to somehow change the event or its outcome. I would lie in bed tossing and turning; or more often rise and play out the day in my mind all over again. The problem with that is it changed nothing and just made the next day more difficult because I didn't get the rest I needed.
Something I've discovered is that the decision to have a good day or a bad day is up to you. In this world, bad things will happen to us. Christ told us to expect this in John 16:33. How we handle those events determines our day. With God's peace, we are better prepared to deal with the unexpected trials and demands placed upon us. We can deal with what comes and still move towards our goals and objectives.
Whether we spend our day doing physical labor or working with our minds, we must rest. The best rest I have found is resting in the Lord; and a good tired makes that much easier to do. On those days, I am reminded of the words of the prophet Jeremiah, who stated God's promise to His people. "I will strengthen the weary and renew those who are weak." (Jeremiah 31:25 CEB) When we rest in the Lord, we are renewed.
Entering into God's rest is a simple thing to do. We need to quit striving to be perfect and eliminate our restlessness. We must put away our culture of competitiveness and always striving to be first, best, or most important; and place our lives into God's capable hands. It is only when we purposely seek His presence that He acts to restore us. When we let go of our attempt to control our lives, we find rest in God. God can then work His miraculous wonders in our lives—bringing us the inner peace and rest we all seek.
When I busy myself with the things of this world, God waits; but when I surrender my time to Him, to rest in Him, He acts.
Click To Tweet
I pray each of you seek His peace to start and end each day and achieve many more good tired days in your lives.
God's blessings,