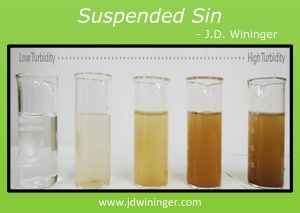 In September, Mr. Ron Gallagher (an insightful writing friend), published a post entitled No Breath–No Life (https://gallagherspen.com/2019/09/21/no-breath-no-life/). His thoughts about a stagnant pool of water in his neighborhood led me to think about two things. First, I thought about how my pools (man-made ponds) can become so muddy my cattle won't drink from them.
Rainwater fills my pools. As a non-aerated, non-flowing body of water we must maintain the oxygen and pH levels of the water to ensure the water remains tasty, nutritious, and life-giving. The fish and small animals that live in and near the pool depend on both oxygen and sunlight to fuel the ecosystem. One of the biggest challenges to this at our ranch is clay turbidity. Turbidity occurs when cattle, crayfish, and bottom-feeding fish stir up the clay soil at the bottom of the pool.
When this happens, clay particles can separate and become suspended in the water as they are lighter than the water itself. This creates muddy or murky water as shown above. As the water becomes more opaque, less sunlight reaches the underwater plants. When proper photosynthesis does not occur, the pool generates less life-sustaining dissolved oxygen.
The result is a change in the water's pH balance and it becomes less palatable. As you look at the photo above, which water would you rather drink? Cattle also prefer, and deserve, clean water. The fix for the clay turbidity in my pools is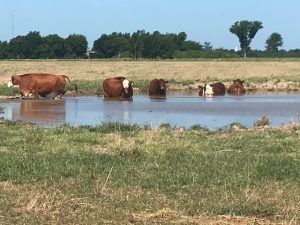 hundreds of pounds of gypsum; a natural mineral that helps to bind the suspended clay particles together. When the clay particles rejoin, they become heavy enough to once again settle back on the pool's bottom. As you might imagine, with water runoff from my pastures and my cows spending their summer afternoons in the hot tub, I battle turbidity throughout the summer.
I also thought about how sin causes our testimonies to become obscured. Turbid testimonies, both an individual's and a church's, limit our impact for God's kingdom. As a proclaiming Christian, which I define as someone unafraid to tell the world about God and all He's done in my life, I must always guard against sin. I'm far from perfect, but have become adept at avoiding "major" sins these days. Just like those clay particles, so-called "little" sins find their way into my life each day.
I think it's a part of living in this world; we're bound to get some muck on us now and again. Perhaps that's what Christ wanted us to learn from His feet-washing example. He washed me clean at my salvation, but as I travel in this world, I will get some of it on me. Regular soul-cleaning, through confession and repentance, helps avoid faith turbidity. Note how I use the term "in this world," and not "of this world." This small two-letter change reminds me that my true home awaits me.
Are you "in" this world or "of" this world?
Click To Tweet
If I allow enough faith turbidity to build up in my life, my testimony becomes unclear and ineffective. Sometimes we don't even realize it's happening. It happens every time we stand around the water cooler when someone shares an off-color joke. Other times, it's when we engage in idle gossip, lose our temper, or grow impatient easily. When others see me, obscured by my suspended sins, do they think "If that's a Christian, why do I need to change?"
I wonder how much more effective our churches would be if we recognized the faith turbidity in ourselves and our churches; and resolved ourselves to do something about it. Too many of our churches willingly allow worldly sin to live in their congregation, and guide their decisions, because they believe that's the only way to keep their member happy and doors open. How many times do we see churches who are more interested in their balance sheet, how large their worship band is, or how popular they are? Instead, churches should focus on preparing its attendees to survive this world and prepare them to live in eternity.
How much faith turbidity can a church withstand before it becomes ineffective?
Click To Tweet
When did membership size become more important than true discipleship? How is having the most spectacular Christmas or Easter extravaganza in town become more budget-worthy than serving the community throughout the year? When our churches allow these things, and others (e.g. cliques with exclusionary practices, acceptance of blatant, purposeful sin in the pulpit or church leadership roles, etc.), our communities see this. In doing so, our testimony and impact for God's kingdom is weakened.
As guilty of being turbid as anyone, the question becomes "How does someone combat faith turbidity?" I believe we find the answers in God's word itself. The entire Bible teaches and guides us. If I had to recommend just one of its sixty-six books for every Christian to read it would be Paul's letter to Titus. In Chapter one, Paul shows us how the church can avoid and deal with false teaching. In Chapter three, he encourages us to live godly lives; taught to us throughout God's enduring word.
The best method I've learned to deal with faith turbidity in my walk is always seeking to learn, understand, grow, and exhibit Christ's ways in my life. As we near the end of this one and prepare for the coming year, I pray you also embrace the need to increase the effectiveness of your testimony.
God's blessings,