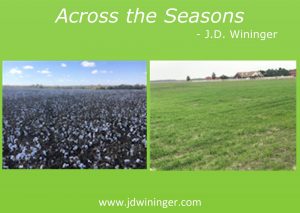 Isn't it amazing how God can use all of His creation to teach us? Just last week, He taught me that whatever season of life we are in, there's value we can bring to His kingdom. Driving back from Paris (Texas y'all), the beautiful field of cotton (photo left), prepared for harvest, overwhelmed me. Making the last turn on the county road before my drive, I looked across the field of new winter wheat (photo right) toward my house. Lush and green, I thought to myself "That's a nice stand coming up there", as it was getting difficult to row it up (i.e. look down the distinct rows). Turning down my drive, God gave me His daily lesson from the stark comparison of the two scenes.
The cotton was ready for harvesting. It had grown to its full maturity, evidenced by the bolls having popped open and filled with cotton. They applied the defoliant, causing the plant's leaves to fall away; allowing the harvesting equipment (cotton pickers) to be most effective. Once harvested, a process that removes the cotton from its boll and places it into large bales or cubes weighing up to twenty thousand pounds each, it is ready for ginning.
Like oranges in Florida or California, cotton is a flower that transforms into a fruit. Did you know that cotton is a living organism with genes and DNA? And did you know cotton comes in different colors/varieties, with some even being flame resistant? I've wondered how God came up with the whole concept of transformation through maturation. He seems to apply it everywhere.
Less than three miles from the cotton, the winter wheat had emerged and was flourishing after the recent rains. While fall rain can be ruinous for the cotton harvest, farmers who have planted their fall and winter crops welcome it. Did you know that God made rain to be a natural fertilizer? Among its many helpful, natural nutrients is nitrogen, which promotes healthy plant growth.
Unlike the cotton, harvested for its seed and fibers, the wheat is winter cattle forage. Eaten down, grown back, and eaten again, the wheat may never reach full maturity and bear its grain before its growing season ends.
For everything we plant, we need the right combination of soil and nutrients to grow. Too much or too little of any one item can have disastrous consequences. Understanding the pH balance of our soil, its N-P-K (nitrogen-phosphorus-potassium) content, moisture, and other factors help determine a plant's efficacy. To state it simply, "You get out what you put into it." I'm sure there's a faith lesson in that statement somewhere.
As I thought about what God was showing me that afternoon, I realized His example was a metaphor for our lives. Like the cotton, I am maturing my life in faith to where I am producing fruit. I am preparing for the coming harvest. Like the winter wheat, young Christians are less mature in their faith. They are still growing, and given the surrounding signs, some may never reach full maturity before Christ's return.
The lesson I learned this day is that "Whatever the season you're in, you have value in God's kingdom." More mature Christians have a responsibility to share the fruits God has produced in us with others. We are to be the examples of what God can do for others to follow. God has directed us throughout the Bible on how we should serve others, with the books of Proverbs, Titus, and Timothy coming to the forefront of my mind.
I believe that younger Christians bring great value to God's kingdom. With their energy, vitality, and strength, they can use their spiritual gift of helps in ways that benefit both older Christians and the world. Their boldness in speech and action is the fuel needed to encourage us more mature Christians to join in and help reach out to the world.
As mature Christians, one of the most important tasks God gives us is to help teach those coming after us how to best serve His kingdom. How to make sure they grow in and mature their faith. They must learn how to avoid the busyness of their lives and focus their attention on God's will, His plan, for them. When less mature in my faith, I thought my greatest contribution was in doing it all. I tried to teach, witness, speak, disciple, worship, and be all things in the church (the body of Christ). I call that ocean boiling and have recognized the impossibility of achieving my greatest impact for God's kingdom with that approach. It took a more mature Christian brother to help me learn that lesson many years ago.
Before someone fusses at me, let me assure you I understand that maturity is not synonymous with one's age. I know younger people who are much wiser than many of us older folks. And I also know that, as George Bernard Shaw said "Youth is wasted on the young", or young at heart. The important thing I want you to remember is whatever season you find yourself, you have great value in God's kingdom and many gifts to offer in His name.
In whatever season of growth you find yourself in; have you considered how you can help others?
Click To Tweet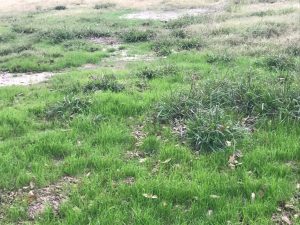 I think the best illustration I have for this concept is this photo of my pasture. In it, you see how old and new (mature and new growth) work together to meet the need. As my summer grasses are fading away and losing their nutrition, my winter grasses are emerging. Together, old and new coexist and work together to feed my livestock. As Christians, we should remember this lesson and apply it in our churches and communities.
God's blessings,